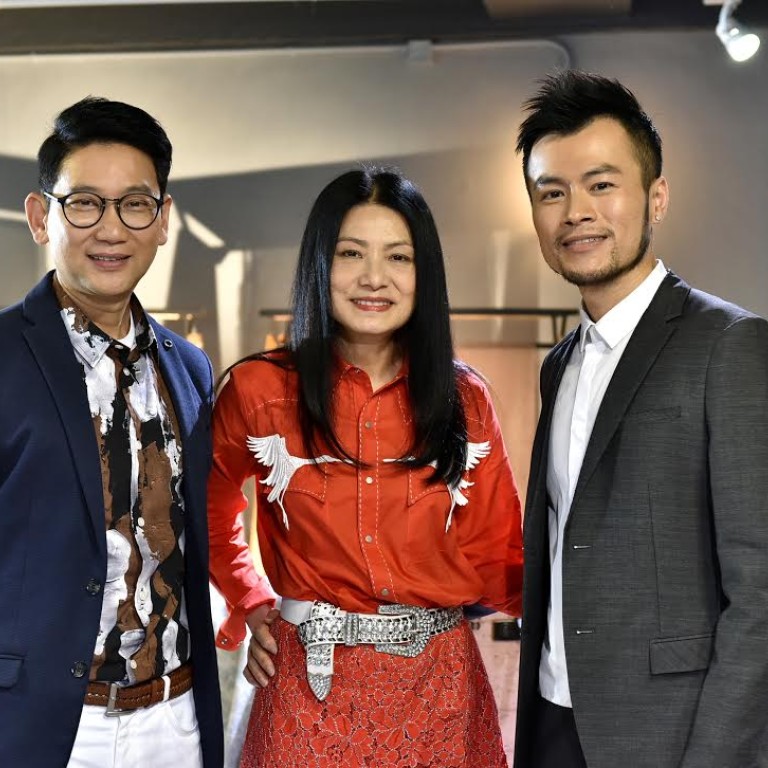 "Transformers": RTHK programme features cross-generation talks with iconic figures
[Sponsored Article] We all know the big story: once described a "barren rock", Hong Kong has been transformed into an international city thanks to its people's perseverance and creativity. 
In Partnership With
Information Services Department
[Sponsored Article]
We all know the big story: once described a "barren rock", Hong Kong has been transformed into an international city thanks to its people's perseverance and creativity.
But, what about the little stories of each of the individual "transformers" who have contributed to the magnificent changes to the city over the years?
Well, RTHK TV's special series Transformers (香港有你) provides insight on just that with a cross-generational approach to Hong Kong success stories.
Produced to mark the HKSAR's 20th Anniversary, the series provides a glimpse of how aspiring younger generations, armed with their drive and determination, have learnt from role models and mentors to excel in their chosen field – and contribute to Hong Kong.
The series consists of 10 episodes each featuring a pair of outstanding personalities of two generations from a specific sector.
In the first of 10 episodes aired on May 17, architects Raymond Fung and James Law talked about Hong Kong's scarcity of land and how this taught them about the proper use of open space.
"We have to enjoy open space with dignity," said Fung, 65, who's behind the designs of the West Kowloon Waterfront Promenade, the Sai Kung Waterfront Park, and the Hong Kong Wetland Park.
Fung recalls that the construction of the Wetland Park in Tin Shui Wai was not easy and very much mirrored the development of Hong Kong.
"Everybody thought the place was already very beautiful in the first place, and all we had to do was merely to install a building. They say it's easy," Fung recalled.
"Not at all. There used to be nothing but yellow soil… The project began with the planting of trees. We waited for the trees to grow up."
He also recalled his endeavour to convince the government to approve a 10,000 square metre lawn rooftop of the visitor.
"I knocked on the doors of different departments. Perhaps they would think I'm a strange person... But, I kept asking them to listen to me. You have to try your best to tell them your ideas are for the well-being of the public," Fung said.
The veteran architect says he likes to "build less for more" and rid his designs of what he calls "superfluous elements". But, his younger counterpart, James Law, who is in his 40s, takes a much more avant-garde approach.
For example, the Capital, a green office building he designed in Mumbai, India, has what looks like a giant glass egg embedded in the middle of a building.
Take a closer look and you will realise there are many balconies, or what Law calls "sky terraces" lining the side of the "egg".
"The offices can decide what to do with the space, like planting flowers, or holding meetings outside. We want to tell people that they don't have to always sit at the desk. They can come out to look at the scenery, to take a breath of fresh air," Law explained.
Its external wall is curved like a wave and serves to collect rain water for reuse.
The pair may differ in age and style, but they both agree that architects carry with them the social responsibility to ensure people's quality of life is not compromised in the face of surging housing demands.
In the second episode broadcast on May 24, renowned fashion designer Vivienne Tam told her aspiring younger counterpart, Mountain Yam, how she went to New York previously all by herself to promote her design, back when the world still treated Hong Kong as a manufacturing hub.
"They would say 'so, you are from China? Hong Kong? Do you want to show me your cheap blouses and cheap t-shirts?'" Tam recounted.
Although she's now based in New York, Tam said Hong Kong and its unique market habitat has been her source of inspiration in the past.
"It's really amazing! You can't find in any other countries places like Nam Cheong Street in Sham Shui Po that sells cloth. They give you a lot of inspiration!" says Tam, whose face lights up when she talks about the bazaars.
Mountain Yam acknowledged Tam's achievement, but said business models are changing: "When I was still in school, I'd already heard of the brand Vivienne Tam. You'd already made your name in the United States.
"But we often forget the fact that Hong Kong is an international city by its own right. That's why, starting from last year, I had worked to bring the focus back to Hong Kong… Instead of taking our products overseas, I hope foreigners will come to find us."
In the years ahead, Yam said he hopes to act as a bridge, to connect the vast mainland market with markets in Asian cities and the rest of the world.
But the young local designer said he'd always be grateful for what Hong Kong offers.
"Hong Kong is a great place where different cultures mix. We got to learn about different things. So, designers who grow up in Hong Kong are very capable of developing in a wide range of areas," Yam said.
Other highlights in the series include discussions between the vice-chancellor of the Chinese University of Hong Kong, Professor Joseph Sung, and dean of the University of Hong Kong's Li Ka Shing Faculty of Medicine, Professor Gabriel Leung, on how crises like the SARS and swine flu outbreaks transformed the healthcare system, as well as the education of medical personnel.
Both educators said that, professional knowledge aside, it is of the utmost importance to remind aspiring doctors and nurses that they are there to serve.
"For a doctor, the right mind set is most important. Does it make you a good doctor if you score one or two points higher than others in a public examination? It's not hard to find an efficient doctor, but it's rather difficult to find a good doctor," Leung said.
Sung, meanwhile, said reform in the public healthcare system may help young doctors retain their passion.
"I've always told my students not to be too short-sighted or narrow-minded," Sung said.
But he added that, right now, doctors are like tiny screws in a huge factory. They work on specific areas, and they spend more time facing their computers than patients… So, they lose job satisfaction over time.
Looking ahead, both believed that young doctors should be allowed more hands-on opportunities in different procedures in public hospitals, to attract more of them to stay within the system.
The programme is hosted by Raymond Young, a former high-ranking civil servant who worked in different policy bureaux and departments over a three-decade career.
The upcoming episode on June 7 talks about the film industry with one of the Hong Kong Film Awards' best directors, Ann Hui, alongside Derek Kwok, who was named best new director in 2009. Olympic medallists Li Ching and Sarah Lee will be the guests for the sports sector of the June 14 episode.
Guests in other five episodes (dates to be confirmed) include social entrepreneurs Chong Chan-yau and Ada Ho; industrialists Edward Chan and William Shum; business entrepreneurs Peter Wong and Joe Ngai; classical pianists Colleen Lee and Rachel Cheung; as well as snooker players Marco Fu and Ng On-yee.
The English version of the programmes will be broadcast from August every Tuesday at 7pm on TVB Pearl and every Wednesday at 5pm on RTHK TV 31.