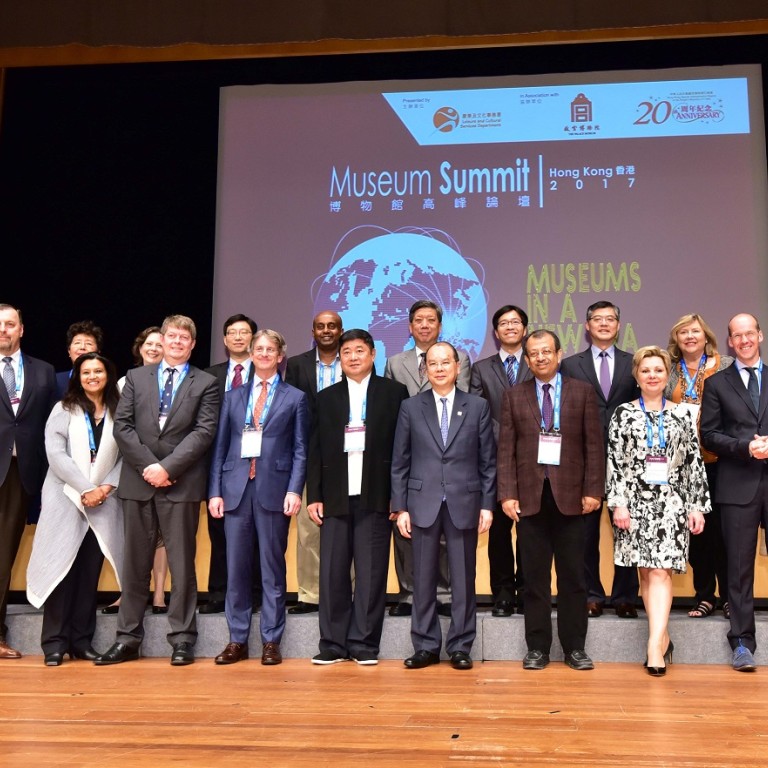 Museum Summit puts Hong Kong on world map
In Partnership With
Information Services Department
Hong Kong is home to some 70 museums, and their treasures combined make for a respectable collection of cultural artefacts. Still, Hong Kong cannot yet be considered among the world's great museum cities.
Now, the recently concluded Museum Summit has certainly put the Hong Kong Special Administrative Region (HKSAR) firmly on the world's museum map.
Out of the brainstorming efforts of heritage administrators was born this global event that attracted like-minded top executives and curators to converge on the Hong Kong Convention and Exhibition Centre in Wan Chai late last month. This is the first-ever event of its kind in Hong Kong.
Chan Shing-wai, Assistant Director (Heritage and Museums) of the Leisure and Cultural Services Department (LCSD), recalled: "About a year ago, we at the LCSD were engaged in planning an event in the heritage and museum field which would help celebrate the 20th anniversary of the establishment of the HKSAR."
The resulting Museum Summit, carrying the theme "Museums in a New Era", was organised by the LCSD in association with Beijing's Palace Museum.
With an eye on a summer schedule, Chan's team dived into months of communication, even gentle arm-twisting, and finalised the speakers list in February. That was followed by a hectic period of coordinating both the logistics and the contents. It was, Chan said half-jokingly, "an energy-draining exercise!"
When June 26 and 27 dawned, the three-decade LCSD veteran of cultural and conservation services looked on with pride as top professionals from 20 of the world's leading museums and galleries assembled. Most were curating executives, whom the department had reached out to via an established network of information channels that ensured news of the approaching event got through to people who would be most interested in it, he said.
The Summit served two main purposes.
First, as the host, Hong Kong played the role of a "super-coordinator" by offering a platform on which professionals could share insights, exchange best practices and establish closer relationships, to the benefit of everyone involved.
These closer relationships forged between Hong Kong and museums elsewhere help fill gaps between exhibitions while enabling Hong Kong to bring in new treasures from around the world.
Secondly, the Summit helps local museum professionals to learn from other top-trained counterparts. Its six sessions held over two days covered a range of topics, inviting an honest exchange of ideas.
Vinod Daniel, Chairman of AusHeritage, Australia's international cultural heritage network, felt strongly that Hong Kong's organising of the Museum Summit would ultimately prove highly beneficial to the city.
The Summit was about interpersonal relationships, he said, and the top international museum professionals who attended would now be able to nurture professional relationships with their local colleagues.
 "A particularly interesting aspect for Hong Kong to play in the heritage field is as a leader in education in museum practices." By enhancing its relationship with leading international institutions and their staff, he said, Hong Kong would equip itself better for future changes in this field.
"There are many talented people in Hong Kong, and the city gets people from all over the world whom young people can learn from. Ultimately, a city needs the local community to move up into senior jobs [after proper education] and to be sustainable."
It was important to nurture professionals who, in addition to technical expertise, had the capability to work in a cross-cultural environment, Daniel said. The celebrated heritage conservationist saw great potential for professionals in Hong Kong.
"In recent years, mainland China has opened between 200 and 300 new museums annually. Macau will also see interesting developments. The whole landscape in this part of the world is changing dramatically."
Daniel has accumulated three decades of experience in the field, starting from the Los Angeles-based Getty Conservation Trust and then moving to Australia after five years. Today, he takes pride in having always striven to contribute to smaller countries – which may not have the needed resources to best conserve their heritage and cultural treasures. He discussed the topic in his summit speech, "Museums in developing countries: Sustainable way forward". A museum's success, according to him, was measured not just by how many visitors it received, but by the impact it made on the wider community.
Trained as a chemical engineer, Daniel pioneered an innovative measure to remove oxygen from certain display cases so as to better preserve their rare contents. And it was this valuable innovation which brought him to Hong Kong in the early 1990s, where he became involved in conservation-related workshops.
Across the world, he has been involved in over 40 projects, including current efforts to conserve a mummy and helping to transform part of Myanmar's Secretariat Building of General Aung San into a museum.
Apart from Daniel, the Summit was also joined by Suhanya Raffel, Executive Director of M+ Hong Kong.
A noted specialist in modern art and contemporary architecture, Raffel used to work at the renowned Queensland Art Gallery & Gallery of Modern Art, leading the institution's flagship project, the "Asia Pacific Triennial of Contemporary Art". But it was at Australia's Art Gallery of New South Wales, a distinguished 146-year-old museum with a significant collection of Victorian art, that she made a name for herself.
Raffel fits well the title of a top museum curator. She also understands the importance of having a highly talented and motivated support team of curators.
"M+ Hong Kong, which is the SAR's museum of visual culture, has a team of eminent, full-time specialist curators from Hong Kong and beyond. We have an international staff that befits an international museum," said Raffel.
While the M+ building is not scheduled to open until 2019, the team has wasted no time in preparing its exhibitions. "Canton Express", now going on at the M+ Pavilion in the West Kowloon Cultural District, brings back a "ground-breaking" exhibition of contemporary art by Pearl River Delta artists.
Raffel explained: "The [Canton Express] exhibition is drawn out of an exhibition that came to M+ as a gift, from the eminent collection of Guan Yi. It was part of a bigger exhibition, "Zone of Urgency", curated by Hou Hanru in the Venice Biennale 2003.
"And this was the first time that contemporary art from the Pearl River Delta was introduced to an international audience." Upon receiving the collection, Raffel said, the team of curators decided to re-interpret and represent it at the M+ Pavilion to better engage the learning public.
Many of the Summit speakers talked about the importance of attracting larger audiences through the use of technology, and Raffel was no exception, sharing with fellow museum executives a wealth of practices initiated by M+ Hong Kong.
She was met with knowing nods from her listeners as she talked about Mobile M+, street exhibitions around Hong Kong and M+ Matters, a forum for symposiums, workshops and public lectures.
The top executive of the museum, who assumed the position in November, was particularly delighted with the M+ Rover, an important innovation that started last year and has hit the road three times so far.
"It is a travelling artist studio that involves working with artists and designers on a semester basis and they construct the programmes of engagement with primary and secondary schools, and community centres, across Hong Kong," she says.
"There is a hunger and it's clear from our programmes that young people are very interested in what we are doing."
The Museum Summit will not transform Hong Kong into a city of museums overnight. But with ever more world-class curators keen to visit the city to share and connect, plus the contributions of emerging young local talent, it is hoped that Hong Kong will play a more active role in the field of heritage and museum.