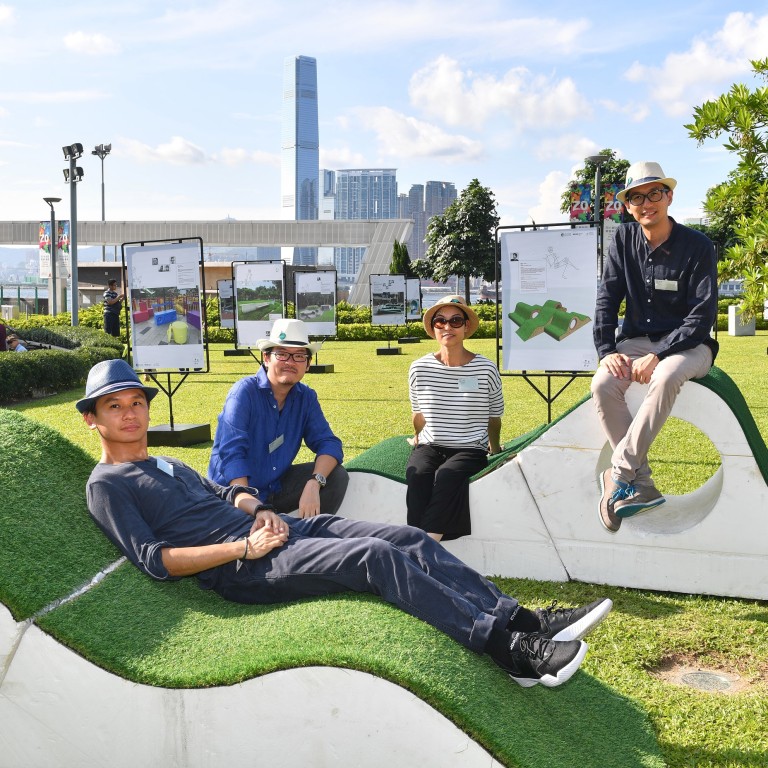 Public art you can sit on, put your legs up and chill
The sun beats down on a seating sculpture at Culture Plaza, next to Tamar Park, setting off rays of green and white among the foliage. Primarily a piece of park furniture, the sculpture recalls touches of Chinese calligraphy and the traditional Chinese art of paper cutting that would make it perfectly at home in a museum of modern art.
In Partnership With
Information Services Department
[Sponsored Article]
The sun beats down on a seating sculpture at Culture Plaza, next to Tamar Park, setting off rays of green and white among the foliage. Primarily a piece of park furniture, the sculpture recalls touches of Chinese calligraphy and the traditional Chinese art of paper cutting that would make it perfectly at home in a museum of modern art.
But here it is at the Admiralty open-air venue, freely available for public use. Recently, it was the centre of attraction when the Leisure and Cultural Services Department (LCSD) threw a free-admission opening party on July 22 for its "City Dress Up: Seats·Together" outdoor art project, drawing hundreds of architectural and creative talent, social innovators and members of the public.
" 'The City Dress Up: Seats·Together' was an unprecedented undertaking with projects across all 18 districts of the territory," according to Dr Lesley Lau, head of the Art Promotion Office (APO). Twenty public spaces managed by the LCSD had been selected for local talent to work on the collection.
At the party were many parents with young children, including pupils of Kau Yan School and Ying Wah Primary School who had contributed to Happiness Here by creating patterns, which the designer then incorporated on the surface of the marble used in the artwork. Galvanised steel and wood-plastic composite were other materials employed by the award-winning architect.
The artwork Happiness Here, designed by Japan-born, Hong Kong-based Hikoko Ito (also known as Hikoko Chan), is one of 20 newly created sets of artistic seats under the project, presented by the LCSD to celebrate the 20th anniversary of the establishment of the HKSAR and organised by the APO.
Ito took time to explain her creative concept to the gathered crowd, which included key government officials Secretary for Home Affairs Lau Kong-wah, Director of Leisure and Cultural Services Michelle Li, and representatives from the 18 District Councils.
For the "Seats·Together" undertaking, the APO worked with four guest curatorial teams, which in turn coordinated with 20 teams of artists, designers and architects, involving a total of 54 creative individuals.
The engaged parties were given freedom to work on their artworks, but they were expected to make the seats as relevant to the environment as possible, while allowing users to interact with one another as they sat together.  Lau expects that the newly created installations require no extra care compared to regular park seats, adding that the seats will be allowed to evolve into creative public art. "They can be performance stages for the wider community, or in some cases used as workshops."
A leader of the guest curatorial teams was Billy Tam, who enjoyed being a part of this project. "We have been given freedom to put a bit of artistic touch into the creation of seats at various venues, so that these public spaces will all look a little different and playful."
Like the other guest curatorial teams, Tam led five groups of artists. One of his groups created Netscape, a set of steel seats on a beach – whose physical environment posed nothing less than a major challenge for young architects Alvin Kung, Edmond Wong, Eugene Leung and Steven Ho.
"We spent a lot of time checking out the suitability of different locations of the beach," Tam recalls. The group's members conducted multiple field studies, at times wandering from one end of the Clear Water Bay Second Beach all the way to the other. The final result has now become pure joy for them.
Another particularly eye-catching piece is located at the Central Pier Waterfront where passengers would sit on the steps there and wait for the next ferry to come. An experienced architect Lee Shu-fan noticed that the steps stretching the whole length of the Piers, functioned as a temporary public space for the people who passed by. He thereby designed an art piece Step-in Vacuum at Pier No. 9 in the form of a stepped circle to symbolise the terminus of the pier steps and to allow the public to sit and enjoy before their trips.
Besides brainstorming within their own teams, the guest curators would also discuss among themselves their concepts for the 20 venues so as to produce varied creations each different from the rest.
For example, the husband and wife team of Brian Lee and Denise Chan emphasised that, in addition to making a visual impact at the venues concerned, the artistic seats would also be suitable for regular public usage.
To ensure this, the various teams went to five of the assigned sites – North District Park, Sha Tin Park, Nam Cheong Park, Tsing Yi Promenade and Mody Road Garden – to talk to the park managers and learn more about the needs of their most frequent visitors. Interestingly, the teams discovered the park-goer profile was quite varied across these parks.
Surrounded by traditional villages, North District Park is frequented by a community which likes to express its opinions about the layout and practicality of the park. But Nam Cheong Park is different: "Despite its close proximity to the relatively older community of Sham Shui Po, Nam Cheong Park regularly attracts young women with children, as well as amateur photographers who like to shoot the lush and expansive greenery and flowering plants there."
And how did this affect the style of the seat designs? Architect and spatial designer Ng Hoi-chi came up with Community Field Terrace in North District Park, which can easily double up as a performance stage, whereas Patrick Ng designed Green Wave in Nam Cheong Park to allow young parents to relax on a comfortable surface while their children played among the seats' openings. Photographers can also lean on the seats to stabilise themselves to get the perfect angle. To top it off, the seats' green-surface installation art blends well with the surrounding grass.
Yet more ideas came from curator Yip Chun-hang. "I'm interested in narratives," he said of his own artistic approach. "I'd like the artist teams to tell the public their stories through their artworks."
He was not disappointed. Under his guidance, the young architects at public art group Atelier J-AR set out to enhance an existing artwork, Flight, by Professor Norman Ko Wah-man in front of Wanchai Tower on Gloucester Road after they had talked to the celebrated dynamics and acoustics expert. The Flight has since been given a Runway.
An architect himself, Yip shares the urge of fledging architectural professionals, such as the quartet at HOUR25 Production, to "experiment with ideas of space and time, and to try alternative realms of architecture", as well as the drive of installation artist and sculptor Roy Ng "to explore the relationship between humans and nature".
Along with a group of social innovators at Wheel Thing Makers, the team of HOUR25 Production created Checkerboard Bench at Kowloon Tsai Park. This recalls the distant pre-1997 memory of large planes making a thrilling dog-legged banked turn while flying low over Kowloon Tsai Park.
Roy Ng, meanwhile, single-handedly brought into existence Ocean Chair at Tai Po Central Town Square using stainless steel, marine plywood and boundless imagination.
For the next three years, the unique seats will be engaging the public at large. To get practical information about individual projects, including a map where you can locate those nearest to you, go to the dedicated website:
www.seatstogether.hk
Remembering guest curator Joshua Lau
One of the "Seats · Together" guest curators, Joshua Lau, passed away last month, Art Promotion Office head Dr Lesley Lau said.
She remembered a fine man and a competent professional, saying the diligent curator was generous about sharing his experience and thoughts with his artistic teams. He was most concerned with the curatorial concept "Urban Wellness", she said.
Dr Lau said the passing of the young and competent architect represented a grave loss to the profession.