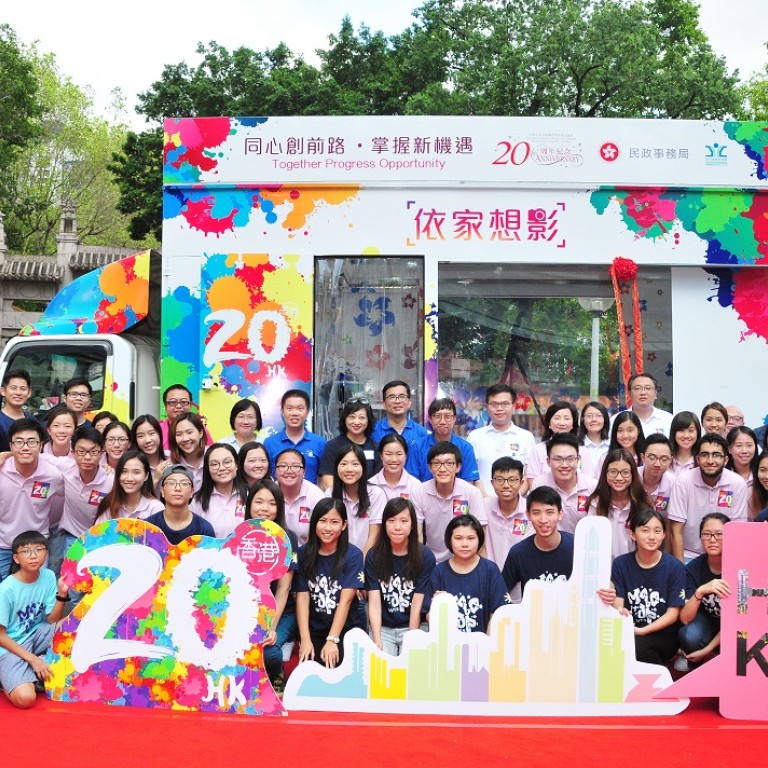 Youth Ambassadors bring creative energy to the community with DIY project
In Partnership With
Information Services Department
[Sponsored Article]
Out in the open before Kowloon's famous Wong Tai Sin Temple, two grinning youths in cotton candy pink were busy making quick strokes of their cosmetic tools to spruce up an elderly lady ready for the camera, while about two dozen other youngsters scurried round ushering families to photography booths and explaining the many games and souvenirs on offer.
The mainstay of this hive of activity was a goods vehicle turned mobile photo studio that, wherever it went, helped local residents capture moments of their families in harmony. Amazing was the range of equipment it transported: beauty kits, photo frames, props, laptop computers, printers and other modern communication devices.
But when it came to instant communication needs, nothing beat the reliability of strong legs. The youngsters, all Youth Ambassadors engaged in the celebration of the 20th anniversary of the establishment of the Hong Kong Special Administrative Region (HKSAR) programme regularly dashed between work stations and the studio on wheels, making for a feverish scene dominated by the vitality of the young and zealous.
Having worked closely with the Youth Ambassadors since February, Angel Choi, a Senior Consultant of the government's Home Affairs Bureau, was quick to give them a pat on the back.
"The Youth Ambassadors have proved their capabilities over the months," said Choi. "Not only have they offered many supporting roles in many large-scale celebratory events, international exhibitions and conferences, some have also acted as masters of ceremony, reporters, narrators and translators on different occasions with aplomb."  
The Youth Ambassador project allows 100 generous, community-oriented youths aged 18 to 29 to broaden their horizons by working on many of the 20th anniversary celebrations. Their good works were many, among them two Do It Yourself (DIY) programmes – this mobile studio, and an awards ceremony held in July for a smartphone film production competition.
They came under the wing of Choi, who re-joined the bureau in February following a short retirement. With experience in conducting district youth programmes over the past few years and a strong passion for nurturing Hong Kong's young people, she has been inseparable from the many youth development projects related to the 20th anniversary celebrations, such as the Mainland Thematic Internship Programmes at the Palace Museum, Beijing, and Wolong National Nature Reserve, Sichuan.
Choi was well aware that co-ordinating the work of 100 eager young people would be more than a nine-to-five job. "More often than not, the best way to contact the Youth Ambassadors has been after normal working hours," she said.
Gradually, the former District Officer of Wong Tai Sin got to know each individual's background and talents, as well as who would be available at certain times, enabling her to engage them in a most rewarding manner.
The fact that every one of the Youth Ambassadors had their own study and career commitments posed a huge logistics challenge from time to time, admitted Kiki Hung Wing-ki, 22, a University of Hong Kong student doing the Government & Laws and LLB programme.
She remembered the manpower shortage faced by the DIY programme on the award ceremony held in July. "Due to several other exchange and internship programmes held outside Hong Kong, a large number of Youth Ambassadors were out of town. So they could only support us spiritually via Skype meetings and online forums. Luckily, we had support from the Home Affairs Bureau."
Despite such unavoidable scheduling complications, the DIY programme in July was successful. In fact, the Youth Ambassadors seemed to have bonded even more closely because of that difficult challenge. Hung said: "It was a pity that some of our fellow Youth Ambassadors could not join us in person after all the preparation work, like lobbying different bodies."
Perhaps thanks to the experience gained in the July programme, the DIY mobile studio was less stressful for a lot of Youth Ambassadors who were on hand in Wong Tai Sin, the second of four sites to locate the studio on wheels. The other districts were Tuen Mun, Siu Sai Wan and Sha Tin.
Over three days this month, the mobile studio allowed 20 to 30 families on average at each community stop to take their portraits. The best images from every shooting session were selected for retouching and then printed out for the family.
The Youth Ambassadors initiated, planned and executed the programme, while the bureau offered its support and guidance whenever they needed to engage stakeholders in the community.
Youth Ambassador Sam Chong Yan-kit explained the idea behind the mobile photo studio.
"This programme serves two purposes," said the 27-year-old organising committee spokesman. "One is to celebrate the 20th anniversary of the establishment of the HKSAR. The other is to promote the idea of harmonious families in the wider community."
Chong, founder of several social enterprises, said the Youth Ambassadors were divided into four working groups, each with specific responsibilities. Yet it was still a challenge to get every Youth Ambassador in any group involved at the same time.
"We could discuss the best way forward only after normal working hours. Sometimes we even gathered round dim sum tables," he said.
Michael Fung Kwong-chiu, 26, whose background was in computer science, dealt with the site's computer system in a timely manner if anything did not run as smoothly as wished.
His work as a developer of mobile applications that helps individuals with physical disabilities better access community resources also gave him a good sense of how to reach out to people. "We work with community organisations in the different districts to recruit families, as they know the local community well," he said.
Fung said other Youth Ambassadors were responsible for the design of exterior decals and worked with vendors to transform the old goods vehicle into a modern mobile photography studio.
Despite that sweltering day in Wong Tai Sin, and the threat of dehydration it brought, the Youth Ambassadors combined their efforts, skills and creativity into providing memorable family photographs which will long be cherished by all those participating families.
Surely this DIY programme is a textbook example of how Hong Kong's young people can work together for a good cause to produce a project that truly lives up to the mission: "Celebration for All"!

This content has been created under the direction of an advertiser. It contains no editorial input or review from the South China Morning Post (SCMP), nor does it reflect the position of, or the editorial standards used by, the SCMP. The advertiser has paid for and approved the content.