A new medical landmark opens in Hong Kong East
HKSH Eastern Medical Centre, the newest member of HKSH Medical Group, has recently begun serving the public in the local community and beyond.
Paid Post:
HKSH Eastern Medical Centre
[Sponsored Article]
Visitors to Shau Kei Wan will now see a brand new modern building that is set to become an integral part of the Eastern district offering comprehensive and advanced medical care. 
The Li Shu Fong Building of HKSH Eastern Medical Centre was officially opened on July 11, housing a specially designed cancer centre, a community-based family medicine outpatient clinic and a health assessment unit.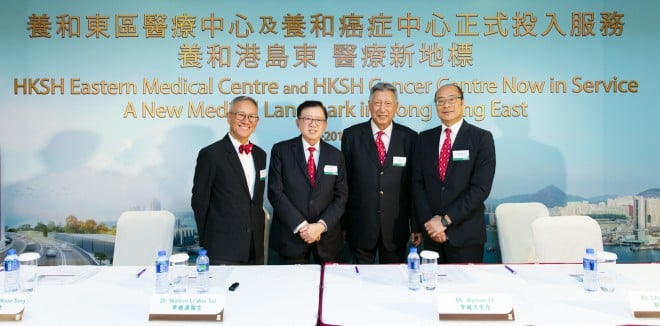 State-of-the-art diagnostic and radiotherapy equipment
Designed to rival the world's best facilities, the HKSH Cancer Centre is Hong Kong's first non-hospital-based facility specially designed for cancer care from diagnosis to management, including radiotherapy, chemotherapy, immunotherapy and targeted therapy for a full range of cancer disciplines and an ambulatory spectrum of cancer patients. Its comprehensive range of diagnostic and therapeutic equipment includes Asia's first clinical Unity MR Linac and Hong Kong's only two MR Simulators.
The establishment of the cancer centre was spearheaded by Mr. Wyman Li, Chief Operating Officer of HKSH Medical Group and Manager (Administration) of HKSH.
"In the past, an oncologist would request a magnetic resonance imaging (MRI) to delineate the tumour and uses a CT image with contrast for planning and positioning. With the MR Simulator, the 2-tier planning requirement could be combined into one in certain types of cancer and this will help minimise the geometric distortion to the image," said Mr Li.
Since MRI creates no extra radiation, patients can receive daily scanning to monitor changes in the tumour. The MR Linac takes this technology one step further.
Asia's first clinical Unity MR Linac enables a high degree of precision in radiotherapy as guided by MRI, combining imaging and radiation. "A tumour–its position, shape and the organ at risk–can be checked on a daily basis, before and during radiation treatment. We are now collaborating with a global consortium of leading international medical centres to explore the clinical application of this technology," Mr Li added.
A cancer treatment facility separate from a hospital means that patients who only requires out-patient care can receive treatment in a facility tailored to their needs, and their family's, away from the trauma that usually associates with a hospital.
Dr Walton Li, Chief Executive Officer of HKSH Medical Group and Medical Superintendent of HKSH, who has been cured of cancer, is determined to craft a patient journey and environment that put patients' mental and physical wellbeing a top priority. 
"At HKSH Cancer Centre, we provide more personalised support to patients, their families and carers every step of the way with our case nurse team, counselling, patient support group, dietary consultation and cancer rehabilitation." 
"Our service model sets out to help them overcome fear and anxiety in a pleasant environment for patients and their carers. They get our support, no one needs to walk alone and fight alone. Given proper treatment, continuous care and support from families and our staff, cancer patients can preserve the quality of life," Dr Li said. 
Serving the community: family medicine and health assessment
Dr. Lau Chor Chiu, Chief Operating Officer of HKSH Eastern Medical Centre said: "It is estimated that the over 65 population in the Eastern District will rise to 28.2% in 2024, from 17.6% in 2014, according to the HKSAR Planning Department. The establishment of the HKSH Eastern Medical Centre is well timed to meet the district's rising demand for medical services."
Family medicine outpatient and health assessment services are also offered at HKSH Eastern Medical Centre, the former is accessible from a separate entrance for better infection control. Family Medicine and Primary Care Centre (Island East) is open from 9 am to 7 pm with a plan to extend it to 24 hours in the future. CT and MRI services at the centre are offered for patients from public hospitals at a discount.
"HKSH is also introducing its first cancer-related screening services at the Department of Health Assessment (Island East) on 6/F. Packages are available for male and female patients. Vaccination services are available to promote public awareness of disease prevention. " Dr. Joseph Chan, Chief Medical Officer of HKSH Medical Group and Deputy Medical Superintendent of HKSH added.
A new hospital and proton therapy centre in 2022
The HKSH Medical Group also celebrated the topping out of the adjacent Tsao Yin Kai Block, where a hospital and a proton therapy centre are being built with completion expected in 2022, coinciding with the centenary celebration of the founding of HKSH.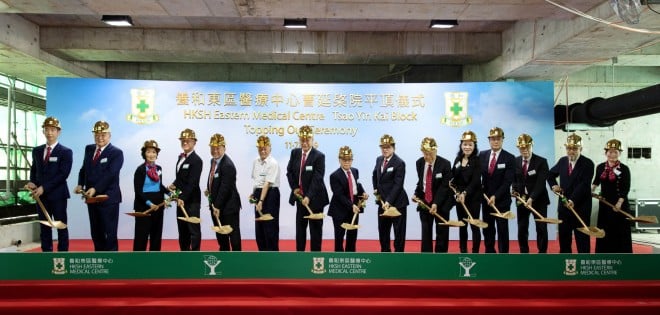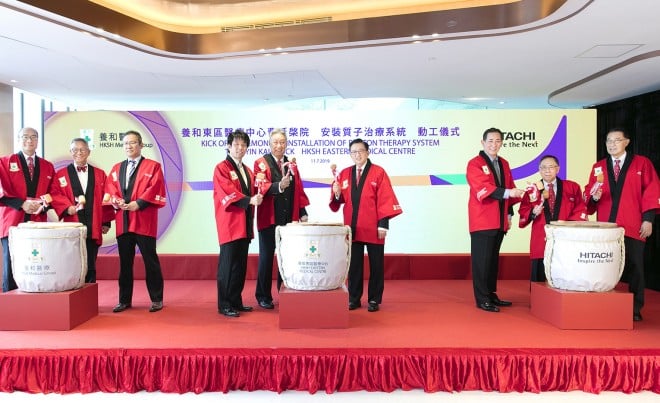 The building will feature an exoskeleton architectural design, allowing maximum interior space for 100 hospital beds, operating theatres and proton therapy centre. Dr Li had had the vision to introduce proton therapy to Hong Kong since 2004, so its imminent completion will mark yet another milestone for HKSH.
The proton therapy centre will be situated in the basement, 30 metres deep into the ground. The first phase of the project has been completed in time, with the site successfully handed over to Hitachi for the installation of the proton therapy facilities.