First-ever Hong Kong Science Fair Supports Hong Kong's Innovation Development
Paid Post:
Hong Kong Innovation Foundation
[Sponsored Article]
The Hong Kong Government is committed to promoting the development of innovation and technology and to grow Hong Kong as an international technology hub. Scientific work and technology has helped humankind in amazingly creative and innovative ways. Last year, the Hong Kong Innovation Foundation (HKIF) launched the first-ever Hong Kong Science Fair to encourage and challenge young minds to 'Think Big Be Innovative'. Science projects provide opportunities for students to explore, learn from research and to discover new things. The Hong Kong Science Fair encourages students to be innovative and use technology to look at problems in different ways and to solve them. It is important to offer such opportunities to young people as it allows them to go through the thinking process which helps to develop their creativity and problem-solving skills. Interest in innovation and technology also grows as they grow these life-long skills.
According to the Global Innovation Index 2020, the Shenzhen-Hong Kong-Guangzhou technology cluster is ranked the world's second largest. With increased funding and investment in the necessary infrastructure from the Hong Kong government, the start-up ecosystem has expanded with a 6% rise in the number of start-ups in 2020 from the previous year (source: HKTDC). Hong Kong start-up' major focuses include information and communication technologies (ICT), software as a service (SaaS), the Internet of Things (IoT), data analytics, biotech, artificial intelligence (AI), robotics, virtual reality (VR) and augmented reality (AR), as well as new materials. These start-ups operate in a number of sectors including  fintech, smart city and smart home, healthcare and big data applications.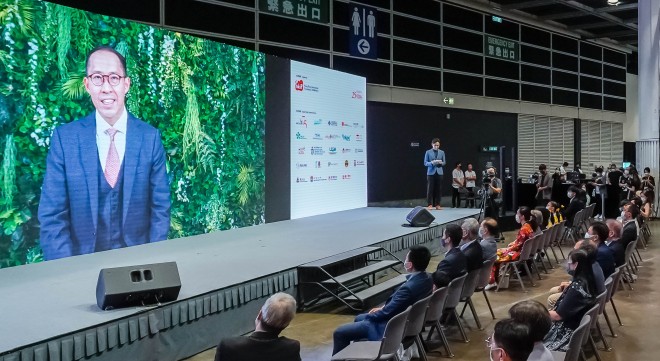 Dr Daryl Ng, Chairman of the HKIF commended students for their dedication and zeal to complete their projects under challenging times. "We are honoured to have the opportunity to present the inaugural Hong Kong Science Fair. This holds special meaning to us as we celebrate the 25th anniversary of the establishment of the Hong Kong Special Administrative Region this year. Nurturing innovation and technology talents from a young age is vital to the personal and professional growth of our young generations, to help them prepare for the future.  This is crucial to Hong Kong's growth as an international I&T hub," said Ng.
To promote and support young people in the areas of innovation and technology, students from Primary 4-6 and Secondary 1-6 were invited to participate in the Hong Kong Science Fair. Over 400 project proposals were received from teams of more than 1,200 students from local schools based on the fair theme, 'Think Big Be Innovative'. From more than 400 submissions received, 120 were shortlisted to participate. The Hong Kong Science Fair has brought together a large swathe of experts and professionals to work with the promising young minds participating, with extensive support from Hong Kong Cyberport, Hong Kong Science and Technology Parks, The Hong Kong University of Science and Technology, The University of Hong Kong, MIT Hong Kong Innovation Node,  and over 40 partners from various sectors. As an inaugural event, the support from the greater innovation and technology community is significant and exemplifies the importance of these skills for young people. At the award presentation ceremony on June 26, the students were supported by the virtual presence of Mrs Carrie Lam, Chief Executive of Hong Kong SAR, Mr Alfred Sit, Secretary for Innovation and Technology (I&T) of Hong Kong SAR and Dr Daryl Ng, Chairman of the Hong Kong Innovation Foundation.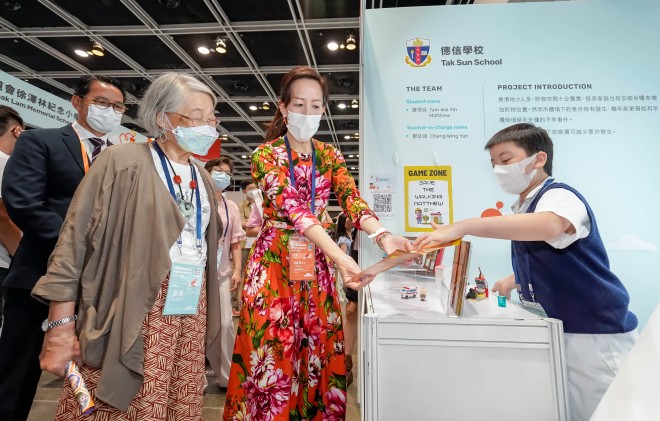 Mrs Carrie Lam, Chief Executive of the Hong Kong Special Administrative Region said, "I would like to extend my thanks to the Hong Kong Innovation Foundation for their zeal in offering opportunities for the younger generation to nurture a love for science and technology and hone their innovative thinking skills. The inaugural Hong Kong Science Fair has been a most valuable experience for students. It is inspiring to see how they have been able to tap their creative spark and apply the knowledge and passion they have for science and technology to their innovative projects, with the opportunity to exchange ideas and gain insights from scientists and experts in the field of I&T."
As they began work on their projects, the student teams were supported with workshops and sessions with experts and researchers from different fields within the areas of innovation and technology-from hypothesis to development and creation of solution prototypes to exhibit at the fair.
At the Hong Kong Science Fair on June 25-26 at the Hong Kong Convention and Exhibition Centre, the shortlisted teams exhibited their projects and visitors learned about the inspiration, creativity and big thinking behind their work.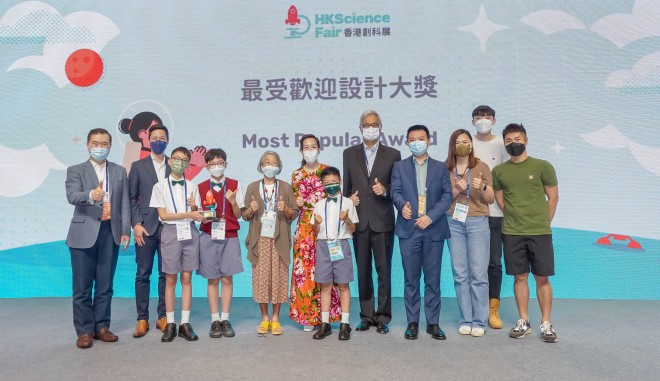 As the global pandemic has recently illustrated, innovative technology helped to facilitate many adaptations that people made to their lives, especially when many people were asked to work from home and students attended lessons online. With the application and active use of available technologies and innovative thinking, the ability to continue to work and learn in very new and different ways was possible. As life continued, young people quickly adapted to their new normal as they continued to pursue their learning and development goals.
Mr Alfred Sit, the Secretary for Innovation and Technology, said, "As the COVID-19 epidemic has accelerated the pace of digital transformation around the world, there has been keen demand for I&T talent in various sectors. To ride on the wave of digital transformation and seize the opportunities, we must nurture I&T talent in their early years."
The projects that were awarded Gold at the Hong Kong Science Fair were PLK Fung Ching Memorial Primary School (Smart Water Tank+) in the Primary division, Po Leung Kuk Lee Shing Pik College (Inno-Beehive) in the Junior Secondary division, and Heung To Middle School (Potassium Reduction Device) in the Senior Secondary division. At the Hong Kong Science Fair, teams also encouraged visitors to vote for their project and the team with the most votes, Ying Wa Primary School (Toilet Cleaning Assistant), won the 'Most Popular Award'.
"Students have come together thanks to their love of science and technology, and the passion and dedication they have demonstrated over the past few months, amid the pandemic, is truly inspiring. I would like to sincerely thank the students for participating, to the parents, teachers, and headmasters for supporting our young innovators, and encouraging them to pursue their dream, empowering them to present their creative ideas and inventions today," Ng added.
Primary division Gold award winner, Ng Cheuk San, designed a smart toilet water tank that has a disinfecting function as well as a filling system for the water tank. He explained that an interest in conserving natural resources was built into the design as water collected from around the home, such as water used to wash vegetables or pets, could also be used in flush toilets.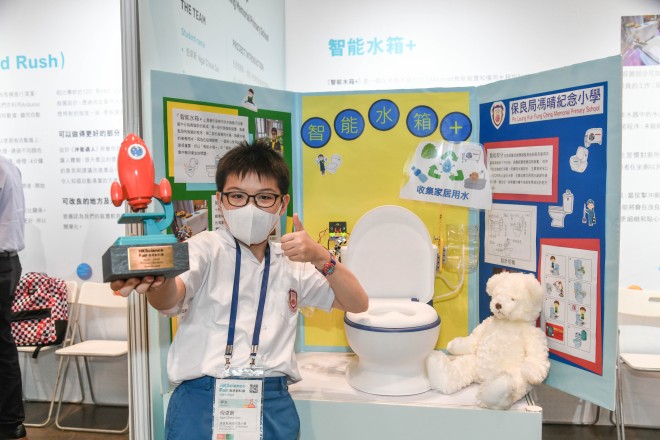 In the Junior Secondary division, the Inno-Beehive team created a smart beehive offering bees a temperature- and humidity-controlled environment to thrive in. "Bees are a keystone species in the ecosystem and many animals depend on bees for their survival because bees pollinate their food sources," said team member Lin Ruo Yu.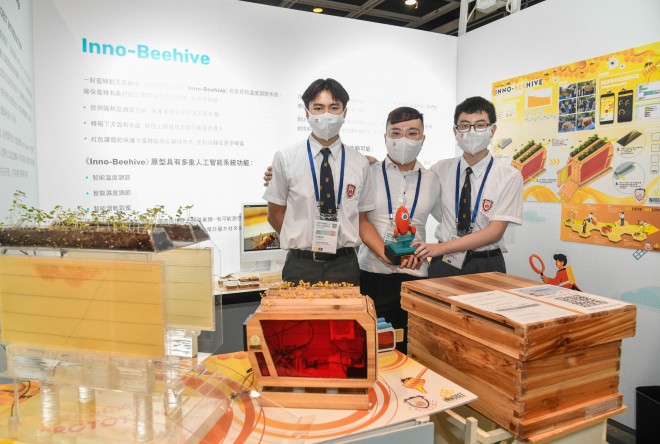 From the Heung To Middle School, Raymond Lam Ka Ho said, "I wanted to use science to make life better for those afflicted with kidney issues and hopefully this can help many people." His Gold award project uses cellulose and other materials to reduce the amount of potassium in food. He added that the win has given him confidence to continue his studies and excel.
Established in 2018, HKIF supports young people through activities designed to encourage students to explore the world of innovation and technology, and to cultivate the spirit of innovation in the younger generation.