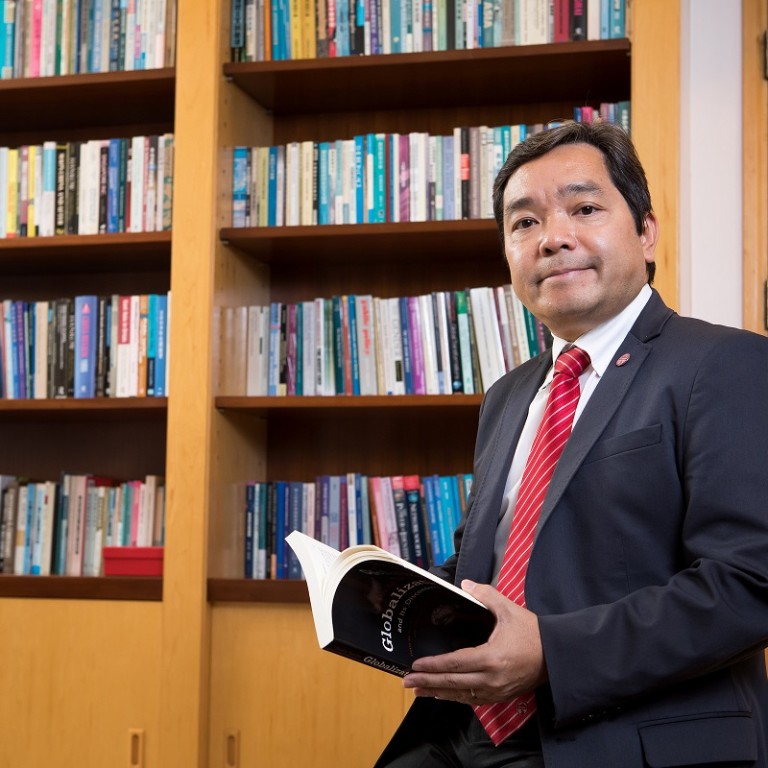 As the top liberal arts university in Hong Kong, Lingnan University (LU) has encouraged faculty members and students to contribute and make an impact to society through research and knowledge transfer.
In Partnership With
Lingnan University – 50A
[Sponsored Article]
Professor Joshua Mok Ka-ho, LU's Vice-President, says that the university's unique pool of experienced scholars in the arts, business, and social sciences disciplines combine scholarly work with applied, policy-oriented research. It addresses topics in areas like finance, fiscal and monetary policy, cultural policy, creative industries, health and aging, population, and institutions and governance.
Mok is also a chair professor of Lam Man Tsan Comparative Policy, the director of the Division of Graduate Studies, and the director of the Asia-Pacific Institute of Ageing Studies.   
Outstanding results reflect success
To show how well the university's research has performed, Mok points out the LU's outstanding results in the 2017/18 funding exercise of the Research Grants Council's General Research Fund (GRF), the Early Career Scheme (ECS), and the Humanities and Social Sciences Prestigious Fellowship Scheme (HSSPFS).
LU has successfully obtained funding for 16 GRF and six ECS projects, with a total amount of about HK$7.4 million. "Compared with last year, we more than doubled the number of successful projects and saw a 61 per cent increase in funding," Mok says.
"It is a recognition of the university's research performance," he says.
The significance of knowledge transfer
Vice-President Mok says that LU has made great strides in engaging academics in knowledge transfer so they can achieve impact from research and their professional knowledge. He says success is seen "not only in the number of projects completed, but also in the new platforms established, and the new opportunities identified".  
Mok says that LU allows undergraduates to participate in research work with researchers. "This approach can inspire the students and the researchers, and raise the standard of the research," he says.
To project the message that knowledge transfer is a university-wide endeavour, Mok says that the university has launched a new internal funding scheme, the Knowledge Transfer Project Fund (KTF). This is open to academic staff from all faculties, departments, and research centres. In 2014/15, a total of 12 projects were funded.
Mok says that a significant rise from 38 to 51 was recorded in the number of consultancy, contract, and collaborative research projects, as well as social and community projects, undertaken by academic staff. In terms of income, there was an increase from HK$15 million to HK$18 million.
Research works influence policymaking  
Mok says that "research" and "education" cannot be separated, and that excellent research can influence policymaking. He points out that LU's practice of letting students join relevant research projects helps them to become inspired, and eventually leads to enhanced critical thinking ability.
More than HK$2.8 million of funds have been secured by LU's researchers in recent bids for competitive grants to support policy-related research in areas of social, political, and financial developments.
Real cases include "A study of contracting out social services and changing welfare governance in China", with a grant from the General Research Fund of Research Grants Council. There was also "Deriving public policy for Hong Kong as an infrastructure financing hub and super-connector in project finance: the Belt and Road Initiative", which was supported by the Public Policy Research Funding Scheme run by the Central Policy Unit, etc.
Mok praises the university's researchers, who have generated new ideas on provision of social service and policy measures to address concrete social problems. Examples include ideas arising from the research projects "E-learning project benefits underprivileged in rural China", and "Helping children with traumatic experience through the language of art" (a GRF grant project).
Mok recalls that in 2016, the university partnered with other renowned overseas universities to set up the Centre for Global Higher Education (CGHE). This is the largest research centre in the world to focus on higher education and its future development.
Mok adds that CGHE is led by the University College London Institute of Education. Apart from LU, its other partner universities are located in Asia, Europe, the US, and South Africa. Mok is CGHE's International Collaborator.
LU has joined forces with 12 universities outside of Hong Kong to establish the Asia-Pacific Higher Education Research Partnership (APHERP), which promotes higher education research. APHERP plans to launch an international postgraduate programme.

This content has been created under the direction of an advertiser. It contains no editorial input or review from the South China Morning Post (SCMP), nor does it reflect the position of, or the editorial standards used by, the SCMP. The advertiser has paid for and approved the content.