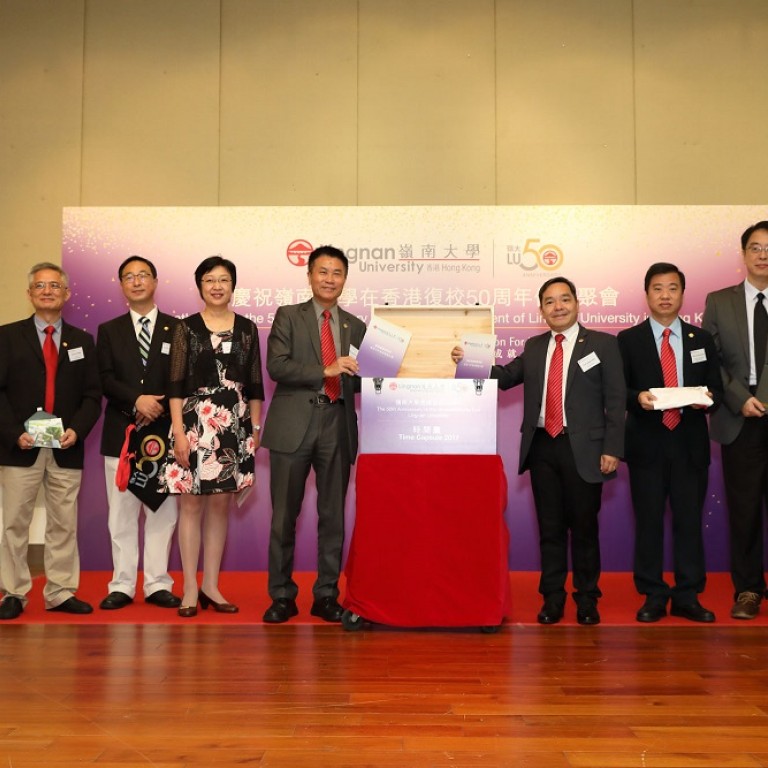 Lingnan University receives its 50th Anniversary of re-establishment in Hong Kong with a series of celebration activities
In Partnership With
Lingnan University – 50A
[Sponsored Article]
This year marks the 50th Anniversary of the re-establishment of Lingnan University in Hong Kong.  On reaching this important milestone, Lingnan University will organise a series of celebration events starting from late September which will last for a year.  A simple sealing ceremony of a time capsule enclosing a collection of materials and items related to the current development of Lingnan and the Anniversary celebration was held on 13 September 2017.
At the Ceremony, Prof Leonard K Cheng, President of Lingnan University said that when Lingnan was re-established in 1967, there was about 100 students and classes were conducted at Lingnan Middle School.  Now we have a total of about 3,100 students, enjoying a beautiful campus with an area of about 11 hectares, offering some 2,600 hostel places which allow us to provide full residence for undergraduate students.  Since it resumed its journey in 1967 in Hong Kong, Lingnan has become an internationally renowned university with 90% of its undergraduates being able to go on overseas exchange.  It provides a highly internationalised liberal arts education with about 30 different nationalities now being represented in the student population on campus, opening up a world of opportunities that enable students to transform and flourish in their lives.
"These achievements are the results of hard works of generations of Lingnanians who had overcome challenges one after another, and insisted on perpetuating our mission in education and the Lingnan Spirit.  The path taken by Lingnan University over the past 50 years is a typical story of Hong Kong people who strive hard, help each other and fight for the future.  The story of Lingnan University over the past year is a touching Hong Kong story," said President Cheng.
Prof Joshua Mok Ka-ho, Vice-President and Chairman of the Organising Committee of the 50th Anniversary of the Re-establishment of Lingnan University in Hong Kong introduced the key celebration events in the coming year.  They include the Launch Ceremony on 19 September, the launch conference of the Alliance for Asian Liberal Arts Universities on 20 to 21 November, Principal Forum in the Greater China Region on 6 December, launch of the 50th Anniversary publication "50 Years of Lingnan Spirit" in January 2018, and the Lingnan University 50th anniversary in Hong Kong Celebration Banquet on 20 January 2018.
Various faculties, departments and units of Lingnan will also organise a variety of events, for example the Art Exhibition of Professor Siu Fai Wing from 23 September to 6 October, annual meeting of the Hong Kong Sociological Association and a seminar on social policy analysis from 8 to 9 September, Lingnan Arts Festival in March 2018, and a conference on the development of insurance industry in Hong Kong in September 2018 in collaboration with the industry.
At the Ceremony, staff and students of Lingnan put various commemorative items inside the time capsule to witness the University's ongoing development and proud achievements.  These items include souvenirs for the 50th Anniversary celebration, publications that showcase the University's latest development, messages by the President and Vice-President on their aspirations on Lingnan University 50 years later, and notes written by about 30 Lingnan students to themselves 50 years later.
In his message, President Cheng said higher education should have experienced overwhelming changes half a century later.  "I deeply believe that 50 years later, Lingnan University should have nurtured generations of capable and virtuous leaders with broad horizon and perseverance through its unique liberal arts education. I am also confident that 50 years later Lingnan's liberal arts education will further flourish, and apart from contributing to the development of Hong Kong, the nation and the region, it will become an important propelling force behind the advancement of human civilisation and well-being."

This content has been created under the direction of an advertiser. It contains no editorial input or review from the South China Morning Post (SCMP), nor does it reflect the position of, or the editorial standards used by, the SCMP. The advertiser has paid for and approved the content.