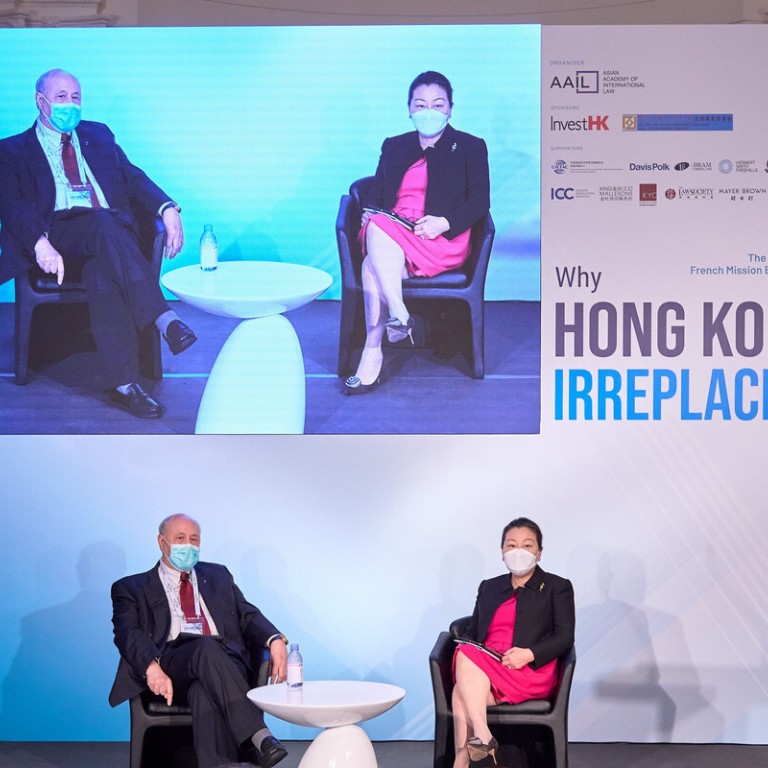 Why Hong Kong Is Irreplaceable
Paid Post:
Asian Academy of International Law
[Sponsored Article]
The city's luminaries and key legal practitioners shared their findings and insights on why Hong Kong remains the place for doing business and dispute resolution with over 1,000 registrants from 59 jurisdictions at a hybrid event titled 'Why Hong Kong Is Irreplaceable'.  
Irreplaceable geography and history
According to Dr Anthony Neoh QC, SC, JP, Chairman of the Asian Academy of International Law (the Academy), which organised the event, an important aspect of Hong Kong's role as an international financial centre is having the right environment and the laws to enable people to have confidence in the deals they make. 
The other key aspect is the city's own geographical location which is irreplaceable. "Hong Kong is the international financial centre nearest to China and is part of China as well.  The other two financial centres in China – Shenzhen and Shanghai – are not quite as international as Hong Kong for one simple reason.  Their currency is controlled, and of course, their civil law system is less well known and less transparent than that of Hong Kong's, which uses the common law system, a very transparent system. Hong Kong is really the premier international financial centre for China and will be for really quite some considerable time in the future. The other two international financial centres – London and New York – practice the common law as well. So, we have a historical and geographical position and exceptionalism with the international system, which allows us to become an irreplaceable centre."  
Neoh kicked off the four-hour webinar held on 26 February by stating that China has only one time zone since establishing the People's Republic in 1949. Regarding unity as the most important thing, the then leadership collapsed the previous four time zones into the Beijing time zone of GMT+8. "This synchronises the Hong Kong clock with that of Beijing, and because of the one-China time zone, with that of Shanghai and Shenzhen.  The most important political and financial centres are thus inextricably linked," he said. "The idea of 'One Country, Two Systems' is founded on this historically cherished concept of unity. But at the same time, it is infused with the considerable pragmatism that has made China what it is today. It is an unbeatable combination of ideas, which has been working well both for China and Hong Kong." 
Preferred FDI destination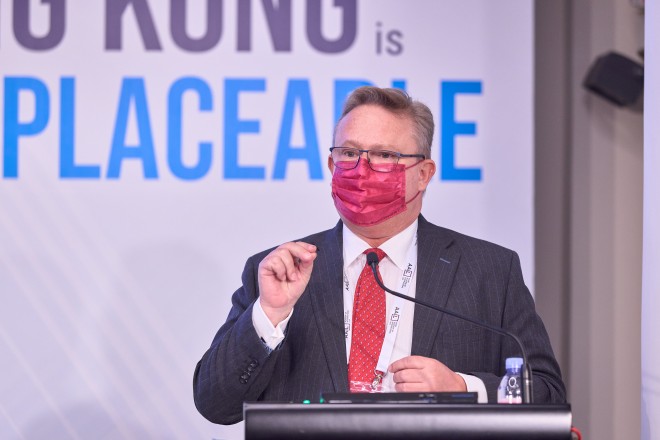 Hong Kong's geographical location, the rule of law and common law system under the umbrella of 'One Country, Two Systems' are also fundamental attributes that made Hong Kong the preferred FDI destination, said Stephen Phillips, Director-General of Investment Promotion at Invest Hong Kong.
The big drivers of FDI in the future are the Greater Bay Area which he regards as the single most exciting economic development initiative on the planet, the Belt and Road Initiative, and RCEP, which will add fuel to Hong Kong's role within the region. In terms of the particular sectors where he sees upside, he said: "I envisage ECM asset management, fintech, and family offices being uppermost in my mind. Innovation is another area where we see more and more FDI. With the supportive funding and tax environment inherent in Hong Kong, great universities, high-quality talent, there are exciting opportunities in life sciences, smart cities, AI and robotics and much, much more."
Powerful ecosystem and opportunities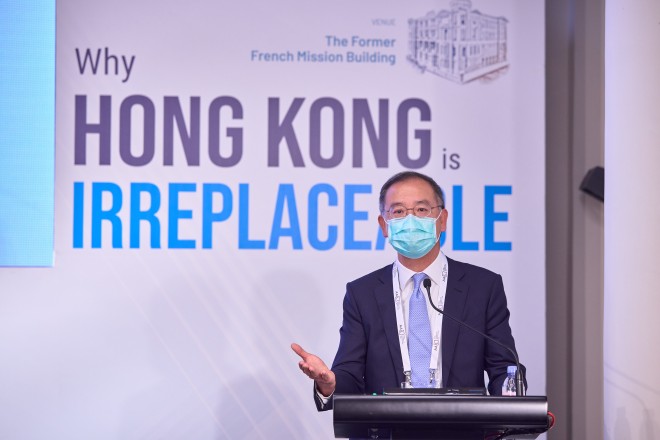 Hong Kong's exceptional resilience under the extraordinary challenges the city has faced since mid-2019 has reinforced the city's value as an international financial centre, said Eddie Yue, Chief Executive of the Hong Kong Monetary Authority, in his keynote speech. Stability, the bedrock of the financial ecosystem, remains strong with the Linked Exchange Rate System standing up to the test and the banking sector's capital strength, liquidity position and non-performing loan ratios comparing favourably with those of international peers. The asset and wealth management sector is robust, as is the full spectrum of financial products that the city offers. "And let's not forget the legal system and regulatory environment," he added. "Hong Kong is renowned for its unique bilingual common law system. We have a highly regarded, independent judiciary – as well as an internationally-recognised, forward-looking regulatory environment.  This means we offer a fair and predictable marketplace in which all financial institutions can operate and prosper."
In terms of opportunity, Yue summed up the future of finance for Hong Kong in three words – China, green and technology. Connecting the Mainland and international financial markets via Hong Kong, focusing on sustainable finance and innovation, staying at the forefront of the global fintech scene, and maintaining competitiveness by enhancing the Hong Kong platform's attractiveness are keys to cementing Hong Kong's long-term future as a financial hub.
Game-changing arrangements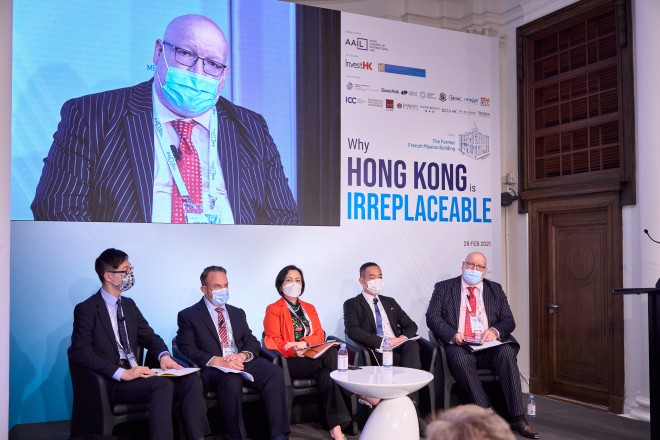 After two informative panel discussions on deal-making and dispute resolution by key practitioners, Teresa Cheng GBS SC JP, Secretary for Justice of the Hong Kong SAR, highlighted two game-changing arrangements unique to Hong Kong in her closing remarks.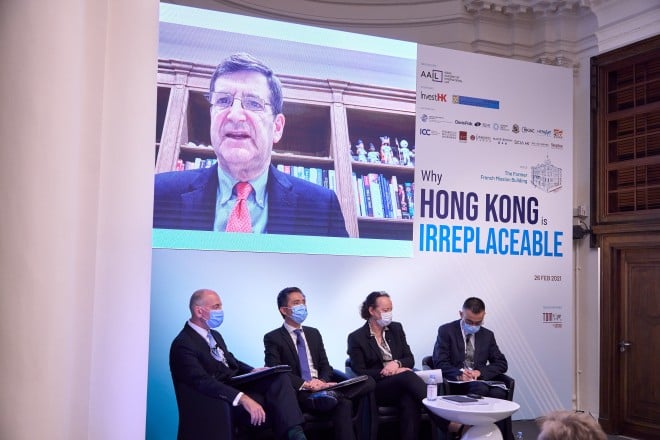 Since 2019, parties to arbitral proceedings seated in Hong Kong and administered by one of the six designated arbitral institutions can seek assistance from the relevant court in the Mainland to obtain interim measures. Hong Kong is the only jurisdiction outside the Mainland that can provide this service. 
Another feature is the opportunities under the Belt and Road Initiative and in the Greater Bay Area. Examples include Hong Kong enterprises registered in Qianhai, Shenzhen can now choose Hong Kong law as the applicable law for their contracts. Hong Kong lawyers can take a special exam and be qualified as a PRC legal practitioner in the Greater Bay Area. 
In closing, Cheng said: "There are certain intrinsic strengths, opportunities, and attributes that are unique to Hong Kong. Businesses will see for themselves where lies the greatest opportunities and find a geographic location that has the necessary infrastructure, services and talents that would best serve their interests. I hope that you have enough objective facts and data for you to form a fair and rational opinion about Hong Kong and I leave you to draw, which I hope is the inescapable conclusion, that Hong Kong is irreplaceable."
The recording of the 'Why Hong Kong Is Irreplaceable' webinar is available for viewing at
https://aail.org/past-event-2021-why-hk-is-irreplaceable/
. The Academy will also be organising a series of 'Why Hong Kong?' webinars in the next few months. For more details, please visit
www.aail.org

This content has been created under the direction of an advertiser. It contains no editorial input or review from the South China Morning Post (SCMP), nor does it reflect the position of, or the editorial standards used by, the SCMP. The advertiser has paid for and approved the content.