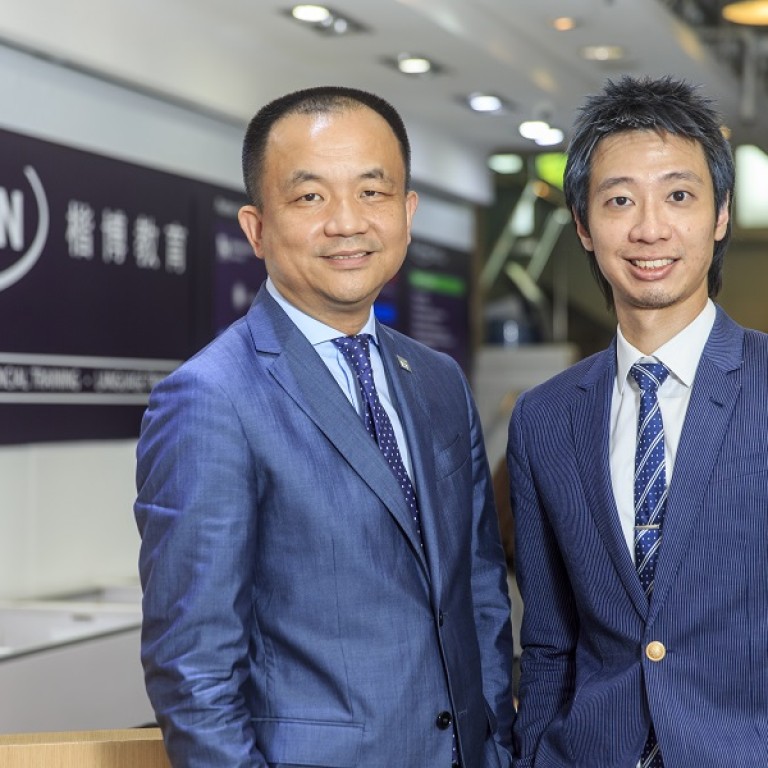 CPA credentials allow accountants to access a wide array of industries at home and abroad
In spite of fluctuating economies, political uncertainties, and unpredictable business cycles, few professions offer the stability and long-term career opportunities of accountancy.
In Partnership With
Kaplan Financial (HK) Limited
[Sponsored Article]
In spite of fluctuating economies, political uncertainties, and unpredictable business cycles, few professions offer the stability and long-term career opportunities of accountancy. That's especially true if the professional is equipped with a certified public accountant (CPA) credential.
Michael Wong, Partner, Greater China talent leader with "big four" accounting services firm Ernst & Young (EY), says the CPA designation is a solid foundation for a rewarding career. "During any business cycle, whether it is auditing, tax, corporate finance, transaction, or consulting and advisory services, accountants are needed by all industries across all sectors,'' explains Wong.
Global recognition of the qualification also opens the door to traveling and working abroad, Wong adds. Businesses are continuing to globalise, including those in China, so accountants are needed around the world to provide companies with tax and auditing requirements, due-diligence, and financial risk services. "The CPA qualification is a global passport for those that want to live and work in different parts of the world," Wong says.
Those with a CPA designation have access to varied and exciting work. For instance, qualified professionals can work as accountants in the music and entertainment industry, handling production budgets and royalty distribution. Or they can become environmental accountants who budget for the cost of pollution management, and other ecological issues for large organisations.
Forensic accountants investigate white-collar crime such as money laundering and fraud, and help settle financial disputes. Accountants are also needed to work for governments and auditors, as well as listed companies and non-government organisations.  Hong Kong's fintech (financial technology) and business start-up communities are expanding, so Wong believes there will be additional opportunities for accountants looking to work in these sectors. He adds that accountants can often move into senior management and leadership roles such as chief finance officer.
Professional service firms often provide useful insights into the profession of accounting. Such firms provide excellent training, and expose professionals to different types of businesses. CPA candidates with a "big four" firm such as EY work closely with client companies, where they experience how business operates at its uppermost levels. It's varied and interesting work, says Wong, dismissing the commonly held notion that accountants spend all of their time doing taxes. "There is a great deal of diversity in what CPAs do," he says. Accountants, for instance, can be business partners that clients and employers turn to for advice related to finances and operations. "Accountants are valued for their commercial awareness. They have the ability to tell the story behind the numbers by anticipating what will happen in the future, based on in-depth analysis and current information," says Wong.
Another myth Wong is keen to dispel is that accountants must have an academic background in finance. "As our clients operate a diverse range of businesses, we welcome people with diverse experiences, and from diverse educational backgrounds,'' says Wong. "With support and training through a conversion programme, people who may have done an arts, science, or engineering degree can readily adapt and become a CPA. The Kaplan Conversion Programme can certainly help students become equipped with fundamental accounting knowledge." The keys to becoming a successful CPA are a commitment to learn technical skills, a passion for business, and communication and interpersonal skills. "At EY, we acknowledge the benefit that diverse skills and experiences bring. They strengthen our business, and allow us to provide a better service to our clients,'' says Wong.
Kaplan Financial has been running Conversion Programme to non-accounting graduate trainees for one of the "big four" firms since 2000. Kaplan Financial is accredited with the Hong Kong Institute of Certified Public Accountants (HKICPA), an approved learning partner of the Hong Kong Association of Chartered Certified Accountants (ACCA), and an official partner of CPA Australia. "Our non-accounting students usually complete our Conversion Programme within four to seven months, when they become ready to apply to join the professional accountancy examinations,'' says Taky Lo, Director of Kaplan Financial, Accountancy (Hong Kong).
As the city's largest and longest established private provider of professional training to the accountancy profession, Kaplan Financial focuses on helping prospective CPA candidates achieve their career goals. "It requires a big commitment in time management and effort to fully understand the fundamental knowledge and information needed to pass our Conversion Programme exams,'' says Lo.
Taught by experienced lecturers who have professional accounting training in addition to practical experience, students learn how to reinforce exam techniques through intensive practice, while developing strategies targeted towards professional accountancy exams. "We have successfully prepared and trained a steady stream of CPA graduates for the accounting profession in every year," says Lo. "We have helped them to master the necessary skills to answer exam questions through in-depth discussion on examinable topics, and by using effective revision techniques.''