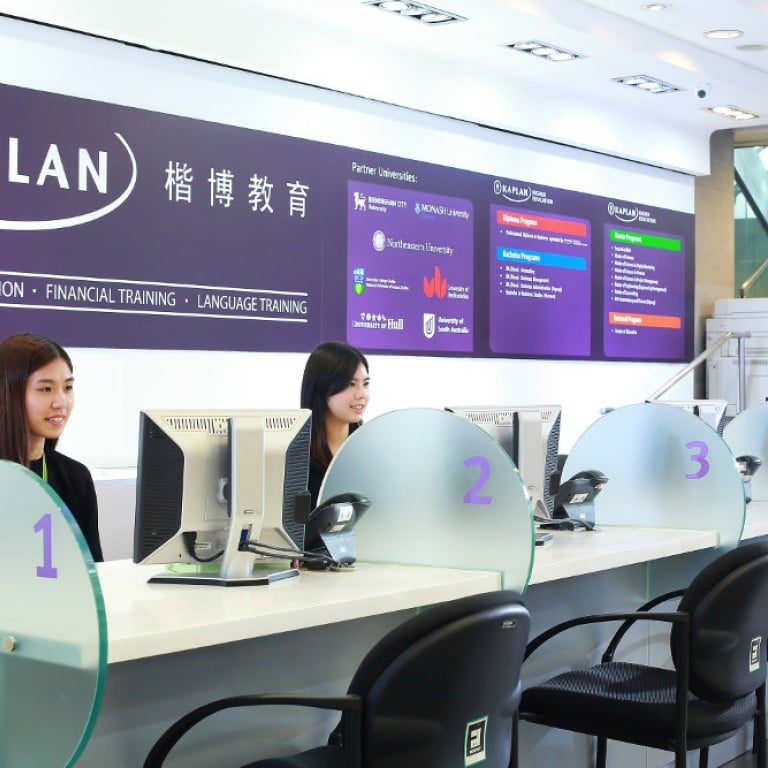 A CPA qualification opens the door to many different types of accounting careers
In Partnership With
Kaplan Financial (HK) Limited
[Sponsored Article]
The mention of accounting often conjures up the idea of tax and audit. But in reality, there's much more to it than that, and a certified public accountant (CPA) qualification can open the door to many different career avenues.
Singapore-based Kevin Rose, chief financial officer, Kaplan International Colleges, notes that a CPA designation develops skills that are sought after in a range of sectors. Rose says those with commercial aptitude and interpersonal skills will have almost unlimited career choices if they become a CPA.
CPAs are exposed to a wide range of businesses, and get the opportunity to understand many different aspects of their company. "Because CPAs have logical thought processes and commercial awareness, they are able to work in all areas of business and commerce. These include sales and marketing, operations management, and as chief information officers," Rose says.
"A key reason CPAs are in demand is because they add value to the decision-making processes with their analytical insights and their understanding of data," Rose says. On the job front, economic expansion and increased regulation is creating a demand for CPAs to manage risk and compliance, such as that required by the Sarbanes-Oxley Act (SOX).
Rose stresses that the journey to a CPA qualification has its challenges. For example, leaving university and joining a professional services firm means juggling a full-time job while studying for the CPA designation. This requires commitment, motivation, and careful time management. In spite of this, Rose says the potential career rewards of a CPA designation outweigh the effort and commitment that go into it. "The key is to stay focused on your goals and the reward comes," advises Rose.
Rose says that university graduates seeking a career as a qualified accountant should study for a CPA qualification as soon as they are eligible to join a programme. Starting early is a good idea, as work responsibilities are lighter at the start of a career. Fresh graduates are also more likely to retain the study mind-set acquired at university. For non-accountancy graduates, and individuals changing their career path, conversion programmes (CP) are available as a first step before taking a CPA programme. The purpose of the conversion programme is to bridge the technical knowledge gap between non-accountancy degree holders and accountancy degree holders.
Kaplan Financial has been running Conversion Programme for non-accounting graduate trainees of the "big four" organisations since 2000. It's accredited by the Hong Kong Institute of Certified Public Accountants (HKICPA). Kaplan Financial is also an approved learning partner of the Hong Kong Association of Chartered Certified Accountants (ACCA), and an official partner of CPA Australia.
"After they complete the conversion course, individuals from different work experience and educational backgrounds often excel when they take the CPA professional exams," says Rose, who studied modern history before joining the accounting sector. "Employers value individuals who have joined the profession via a conversion course, because it demonstrates commitment and self-motivation. Moreover, their transferable skills add diversity to the organisation," says Rose.
Carrie Ip, Director of Connexions Consulting Ltd, specialises in helping CPAs find positions, and assists employers in fulfilling their CPA needs. She says there is always a demand for qualified CPAs. This is especially true of individuals with "big four" experience. "Employers immediately know that an association with the 'big four' is a measure of capability. These CPAs will have gone through a structured learning experience, and will have soft skills and leadership qualities," notes Ip. "There is also a demand for in-house CPAs among Hong Kong's medium-sized enterprises. Smaller enterprises rely on the services of professional services firms, and private-practice CPA professionals," Ip says.  
Ip says it's important for young people to investigate the accounting profession before settling on it as a career choice. "Students should try to find internships and work placements,'' advises Ip. "That way, they will learn what they can offer the accounting profession, and will also get an understanding of the skills and commitment needed to succeed within an organisation."
Ip says the accounting profession offers a broad range of coaching and mentoring programmes for the younger generation of CPA candidates. The industry is also taking steps to provide a range of work-life balance incentives. These include flexible working hours, paid parental leave, and opportunities to become involved in corporate social responsibility initiatives. Hong Kong's professional services firms are often pioneers of employment and career practices. They set the standards for career development and launch work/life balance initiatives.
Work-life balance concepts rate highly with members of Hong Kong's younger working population, but Ip warns that for accounting professionals, the balance can tilt one way during the work cycle. A good example is during peak tax and audit season, when a large quantity of work needs to be completed to tight deadlines. "It's important to take a long-term career view, and consider your personal and professional goals,'' says Ip.

This content has been created under the direction of an advertiser. It contains no editorial input or review from the South China Morning Post (SCMP), nor does it reflect the position of, or the editorial standards used by, the SCMP. The advertiser has paid for and approved the content.