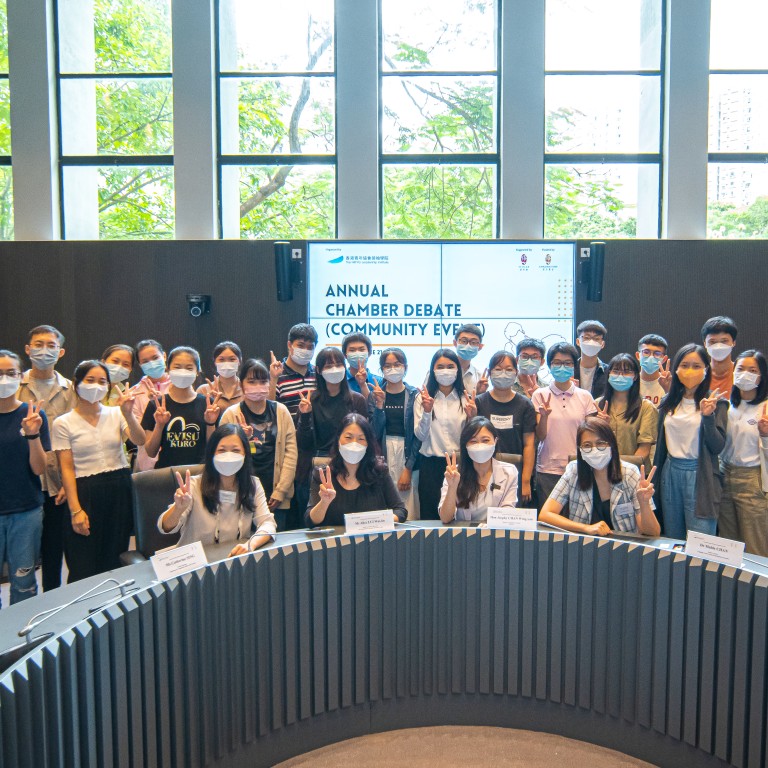 HKFYG Leadership Institute's Annual Chamber Debate elevates students' social awareness and hones their collaboration and communication skills
Last month, The HKFYG Leadership Institute held the Annual Chamber Debate (Community Event), which is supported by the Standing Committee on Language Education and Research (SCOLAR) and funded by the Language Fund. This competition, aimed at senior secondary school students, enables them to increase their social awareness through research and debate on global issues. The process of debate also strengthens their ability to consider issues from diverse perspectives, and improves their public speaking, critical thinking, attentive listening and persuasive argument skills.
Paid Post:
HKFYG Leadership Institute
[The content of this article has been produced by our advertising partner.]
During the competition, held in a converted former courtroom, there was a very palpable sense of youthful energy and enthusiasm, as the debate teams captivated the audience and judges with their impassioned persuasion and powerful arguments.
The participants underwent five sessions of intensive training spanning four weeks. During the time, they were able to improve their analytical and structured reasoning abilities as well as polishing their delivery.
Ms Alice Lui Wai-lin, the Deputy Executive Director of the HKFYG, was very impressed by all the teams. "Not only did they show off their skills to perfection, but they were also able to fully argue either for or against very topical global issues, including sustainability, employment and digital transformation." Addressing the young debaters directly, Ms Lui praised them for their efforts and encouraged them to see this experience as building up skills to pursue their dreams.
 The Guest of Honour, the Honourable Joephy Chan Wing-yan, Member, Legislative Council (LegCo), HKSAR, also praised the participants and shared her own experiences as a debater. "I  debate regularly in LegCo and have spoken at meetings of the United Nations Human Rights Council", she told her enthralled audience, "and I hope my political career can serve as an inspiration to you."  Ms Chan also reminded them that, "by understanding issues from different perspectives, you will improve your ability to reach consensus with others and also learn how to negotiate – needed skills for any future career."
The Annual Chamber Debate was the culmination of the Chamber Debate Club, an immersive debating training programme. The Club is organised by the HKFYG Leadership Institute, housed in the revitalised former Fanling Magistracy. The main purpose is to help young people communicate better in everyday life, and learn how the power of speech can make a positive impact.  During April and May, the participants received online theme-based professional guidance from world-class debaters. They were able to get a better understanding on how debates were relevant to their lives, as they also studied different argumentative methods, rhetorical devices/styles and the art of persuasion. The participants were then put into groups to learn to research and prepare their arguments for the theme-based debates on a range of global issues. The Club adopted the World Schools Style Debating format, which was applied to World Schools Debating Championship (WSDC).
Outstanding participants from the Club then competed in the Annual Chamber Debate (Community Event), which was live-streamed to the public audience. Ten teams were formed, with three members each. One week before the debate, the teams were assigned specific issue areas, which included Sustainability, Careers, Education, Digitalisation and Future Development.  They would then be instructed to argue either in favour of or against motions on topics within these areas in a three-on-three debate format.
A fulfilling learning experience
Members of the winning teams appreciated how thorough and complex the training sessions were.
Niki Au Yeung Yan-tung, from Shun Tak Fraternal Association Tam Pak Yu College, said that she picked up additional skills and techniques through the Chamber Debate Club because it focused on the World Schools Style Debating format. "My school's debating team had been trained in the traditional debate format. I didn't have any experience in the reply segment. As I was the reply speaker in my team, I had to prepare by conducting research on all aspects of our debate motion and anticipate any possible points that might be raised by the opposition. I learned about compiling and delivering the reply speech within a set time limit, with the help from my teammates. This really helped improve my listening and time management skills."
 Au Yeung's teammate, Wong Ethan LC, who was in the Sing Ying Secondary School's debate team, agreed that he had benefited from the training. "The instructor was engaging and taught us more skills and techniques than my school. I have learned to make my speeches more complete and convincing."
All round development
Other key skills were also nurtured. Grace Wu Fang-yu from Diocesan Girls' School believed the competition inspired her to think critically. "We utilised critical thinking, like when we listened to the statements from our opponents. The trainings helped us look deeper into what was being said and cast aside assumptions. While I tend to favour science subjects, I did find that improving my critical thinking will help me be more objective by examining different perspectives."
 Wu's teammate Lucy Wang Lu echoed her sentiment. "Critical thinking applies to all fields of study," said Wang, also from Diocesan Girls' School, who was named the best speaker in Round 4. "I will join more debate trainings and competitions in the future."
 Wu and Wang were also motivated to overcome challenges and solve problems together. When the team was assigned to argue in favour of the motion "This house regrets social media algorithms that uniquely personalise contents for each user", they thought that arguing against would be easier.  "Nevertheless, we brainstormed and bounced ideas on the harmful effects off each other," Wu said, "and we also consulted with our teachers. That was a big problem-solving moment for us and a great learning experience."
The consensus among the debaters was that collaboration was the most exciting part of the competition. Au Yeung said her team assigned each member different roles based on their individual strengths so that each could deliver their best performance. "For instance, Edison's ability is so strong that we made him the third speaker. I took on the reply speech for my fluidity and good pronunciation."
 Au Yeung referred to her teammate Edison Yeung Man-hon, the best speaker of Round 5.  "The competition enhanced our skills in collaboration. We did well in teamwork," said Yeung, a student of Sing Yin Secondary School. "We reached agreement by voting."
Technology helped enhance teamwork. Wang recalled how her team had overcome the pandemic-related restrictions and collaborated via social media platforms. "We discussed and split the workload via WhatsApp. We constantly communicated with each other throughout the process to avoid duplicating our work. We worked separately, did research, put down points and shared them online. We commented on each other's output and read the comments carefully to deliver a cohesive argument," Wang recalled.
In addition to collaboration, the competition inspired the participants to deepen their perspectives on world issues. Yeung said when preparing the rebuttals on the motion, "Technology has changed our lives for the better", he, as the third speaker, looked at both the pros and cons related to the topic. "I therefore acquired a wider understanding of the scope of technology and its impact," he added.
Yeung went on to say that the competition served as a platform connecting students who shared the passion for debate. "I made a new friend, like Niki, and I was able to chat with our opponents to get to know them better. After the rounds, we took selfies together. The entire process has been extremely fun."