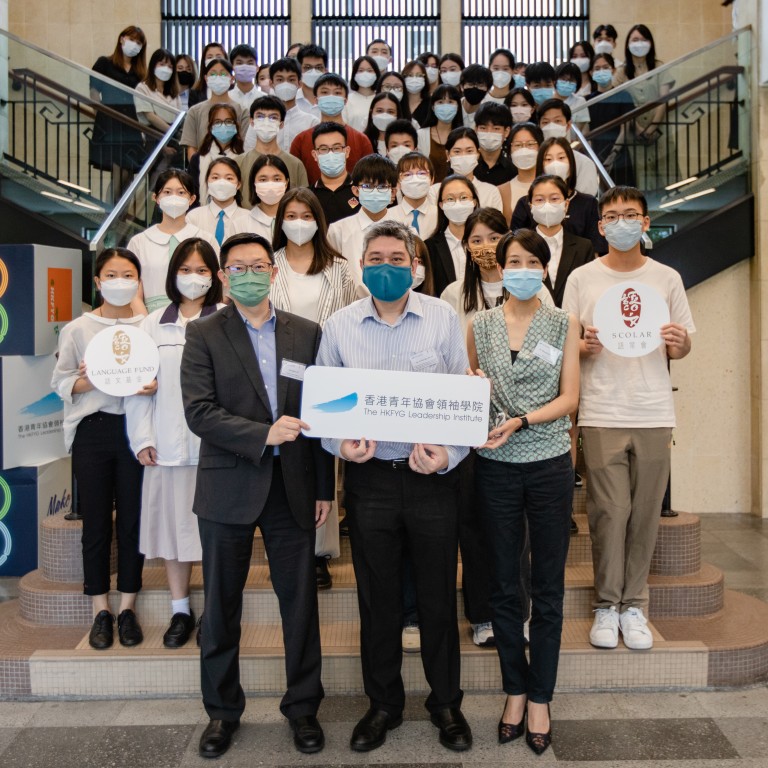 HKFYG Youth Boardroom builds effective communication and green skills in real social situation
The Youth Boardroom was an intensive training programme aimed at enhancing participants' skills in advanced communication and empathetic leadership
The participating senior secondary students were also motivated to conduct in-depth research on issues of sustainability and zero waste in Hong Kong
Paid Post:
HKFYG Leadership Institute
[The content of this article has been produced by our advertising partner.]
At the Roundtable Summit held on 22 August 2022, the participants played the roles of Board Members of various private and public sector companies, taking turns to make their case. The seriousness and enthusiasm with which they were taken was illustrated by the intense concentration of everyone.  Fully immersed in the dynamic of a four-hour Summit Simulation under the theme of Sustainability and Zero Waste, stakeholders of Hong Kong's environmental issues, including eco-activists and representatives from the catering and property management sectors as well as government officials, all of whom held diverse and sometimes polarised perspectives and interests. 
During the various sessions, especially during those that involved presentations and 'face-offs' between groups with opposing positions, the participants adeptly applied their freshly acquired skills in convergent facilitation, conflict management and bargaining, to build consensus and reach collaborative decisions. These were the essential skills for the participants' future development as leaders. 
Under the Gen Z Communication Studio, The Youth Boardroom was organised by The HKFYG Leadership Institute, supported by the Standing Committee on Language Education and Research (SCOLAR) and funded by the Language Fund.
The programme attracted 50 S4-6 students from 15 schools. They immersed themselves in eight training sessions held in August. These sessions covered negotiation skills training workshops as well as themed sharing by public and private sector's representatives, a field trip to a rooftop farm, the Roundtable Summit Simulation and the Final Presentation in a multimedia format.
Group 8, which had been assigned to represent the catering business at the Summit, was selected as the Best Performing Team.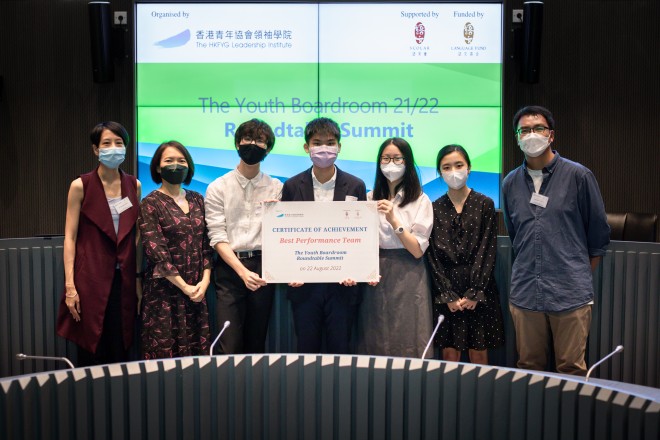 Director of The HKFYG Leadership Institute, Miranda Wong, congratulated the participants on their outstanding performances. "This programme helps young people enhance various advanced communication skills. More importantly, it helps them learn about respectful leadership, build mutual understanding and cultivate empathy."
Sharing by participants 
Two of the participants believed that the Youth Boardroom had helped them cultivate essential leadership competencies in a structured manner while providing them guidance to conduct in-depth issue-based research.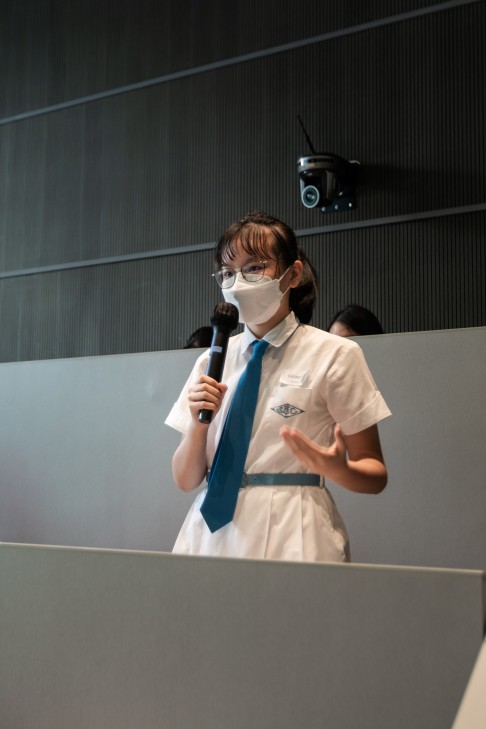 "By having to engage with people of opposing views and to listen to what they were saying, while also assessing our own interests and perspectives, the programme really helped," said Hilarie Lo. "It particularly helped shape ideas in having to strike a balance between competing interests." Lo was a member of Group 9 representing eco-activists and is a student at St Francis' Canossian College. 
Lo also learnt that empathy was an important quality of a good leader. "A good leader should be willing to listen to teammates' concerns and get everyone's ideas to make the best [collaborative] decisions," she concluded.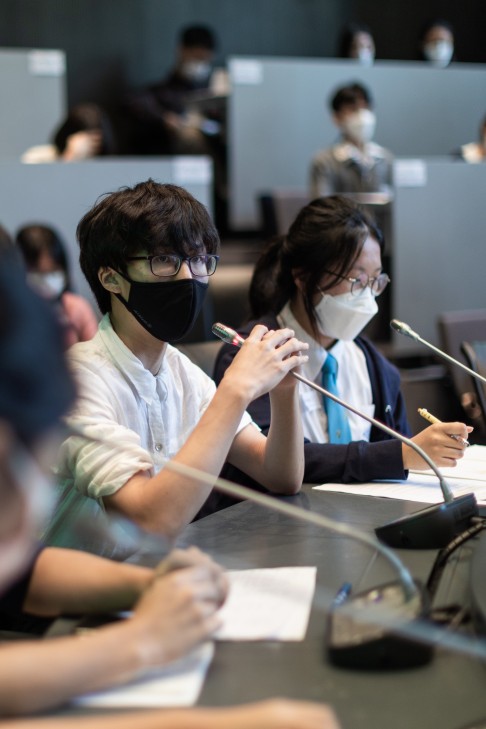 Another participant, Alpha O of Group 8, was an equally satisfied participant. "The workshops on mediation and negotiation skills were so inspirational in helping us to put ourselves into others' shoes. This is a way of thinking that I began during the programme and hopefully will be able to continue to do so," said the student of St Francis Xavier's College. As she explained, "We first learned to conduct issue-based research and then apply empathetic thinking."
Both Lo and O recognised that building trust was vital to convergent facilitation. "We need to begin with an open mind and show that we care," Lo noted, adding that honesty was also important.
O remarked that demonstrating a willingness to listen was the basis for effective conflict management.
The programme also focused on soft skills. "We learned about the theories of soft skills so that we could integrate them with our real-life experience and apply them in the future," O noted. "The soft skills included mediation and the understanding that mindset was not a zero-sum game. We also learned to analyse issues and do in-depth research first with critical thinking before making decisions. This attitude is important because [teenagers] are always impulsive in our decision-making." 
"We also had the opportunities to discuss and explore diverse social issues. For instance, through doing research and proposing solutions in the feasibility study, we sought to make compromises with different stakeholders [with competing interests]. It's like Liberal Studies, but the programme enabled us to apply our learning in a practical manner," O added.
Bargaining was another skill featured in the programme. Lo shared her thoughts, saying that she learned to first listen to the others' interests and give them her ideas based on them. "Meanwhile, you need to remind yourself not to give in to their requests completely. Sometimes we need to stand our ground firmly."
O believed that in bargaining, it was essential to take a step back, while being aware of the bottom-line.
All participants fully immersed themselves in their assigned stakeholders' perspectives and their in-depth research on sustainability and zero waste initiatives both locally and abroad. It deepened their understanding of these global challenges. "We shared our thoughts on the Municipal Solid Waste Charging Scheme. As a caterer, I may be opposed to it as we need to hire more people to meet the requirements," O said, "But later we learned to develop social empathy and recognise our responsibility towards long-term sustainability."
Lo was inspired by the team effort throughout her participation in the programme. "Our collaboration worked out well. We were all willing to share ideas and take the initiative in asking for the others' opinions. We recognised that it was a team effort in finding the solution together towards a common goal," she added. "I have picked up skill sets that I can apply in my future studies, like group projects." 
       
Appreciation for the programme was expressed by O. "The crucial skill set for me is to internalise information. I have grasped the theories of diverse skills at the workshops. Through practice and evaluation, I hope to internalise the skills."       
The field trip to a rooftop farming enterprise, which worked closely with local food waste recycling enterprises, was an eye-opener for O. "We got to learn about how food waste is turned into organic fertiliser," he noted, "Before this I was resistant to recycling [at home] because of lack of equipment and the inconvenience. In fact, many countries have implemented household food waste recycling. I do not see why Hong Kong can't adopt the same methods."  
  
Final Presentation Day
The participants shared details of their research process on the Presentation Day, which was the final showcase of The Youth Boardroom. Two professionals well-versed in local sustainability initiatives were invited to be the Guest Speakers.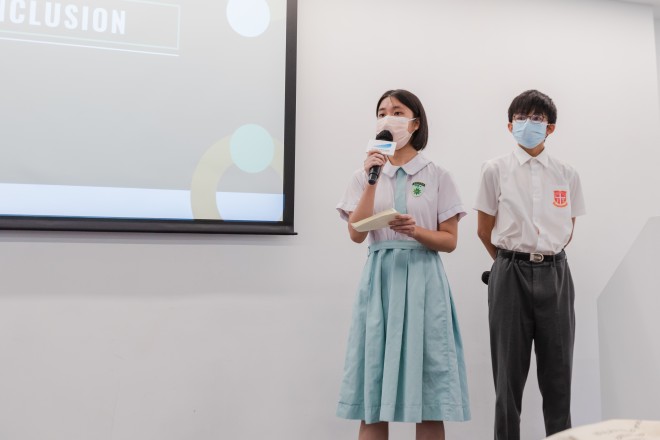 Fong Kin Wa, Assistant Director (Waste Reduction and Recycling), Waste Reduction and Recycling Division of the Environmental Protection Department of the Government of the HKSAR, congratulated the participants. "Your presentations were so confidently done and it was obvious that you enjoyed the workshops. I do hope that you see recycling as a permanent behavioural change, and look at the possible opportunities that can arise. Please, also keep an eye on the government's performance!" 
Simon Ng, Chief Executive Officer of the Business Environmental Council Limited, was equally impressed by the participants and urged them to act as influencers. "It's time to turn awareness into action. Influence your peers. Tell them why you are doing this and try to influence their behaviour as well. Start with your family, with your parents, with your grandparents, and help them understand why we need to recycle; why we need to do sorting, and what it means to your future generation and the entire world."