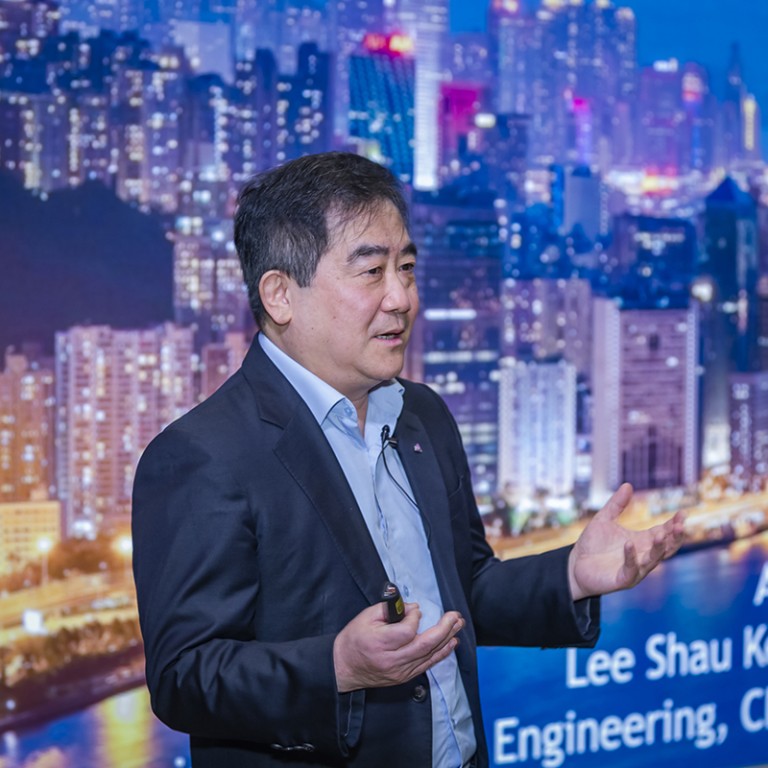 HKIAS Lecture Series on Chemistry showcases breakthroughs
[Sponsored Article]
Pioneering research at City University of Hong Kong (CityU) is pushing forward the frontiers of science with discoveries that will have a lasting impact on industry and the environment.
Asia is recovering from the global pandemic quicker than any other region, and knowledge exchange at the Hong Kong Institute for Advanced Study (HKIAS) at CityU has not been hampered. Embracing the new normal, the institute has taken advantage of the internet to connect scholars and stakeholders worldwide.
In particular, the HKIAS organised three talks in its Distinguished Lecture Series on Chemistry with support in part from the Kwang Hua Educational Foundation. With topics that attracted a total online audience of close to 1,000, the broad aim was to inspire students, stimulate innovative thinking, and encourage interest in new areas of research.
The series focused on groundbreaking research and remarkable ideas in chemistry, materials sciences and beyond to unlock new and fascinating possibilities for our everyday lives. 
Powering the world with printable solar cells
Energy impacts many things in our daily life and striking a balance between energy demand and environmental sustainability has long been a subject of debate. Addressing the challenge, Professor Alex Jen, Lee Shau-Kee Chair Professor of Materials Science, and Chair Professor of Chemistry and Materials Science at CityU, delivered a lecture titled "Printable Solar Cells for Transformative Clean Energy and Sustainable Society" on March 3. 
"Solar power is a potential solution as it can generate the largest amount of energy," said Professor Jen. "The question is do we have enough devices to store or generate the power." 
He introduced the concept of printable solar cells, an innovative energy-saving application, highlighting organic solar cells (OSC) and perovskite solar cells (PVSCs) as two significant materials with immense potential among the different printable solar cell technologies. He also explained the barriers in application with possible solutions.
"The application for printable solar cells is broad, such as wearable gadgets and as a portable power source," he said. "I hope the manufacturing of printable solar-like organic cells will be like printing a newspaper and easily scaled up on production."
Development of Phase Engineering of Nanomaterials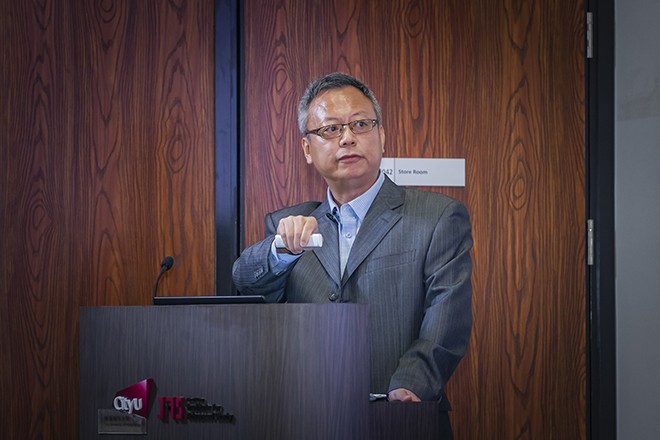 Well-known for his work in nanomaterials, Professor Hua Zhang, Herman Hu Chair Professor of Nanomaterials at CityU, delivered a lecture titled "Phase Engineering of Nanomaterials (PEN)" on March 31. 
In his lecture, Professor Zhang first reviewed recent research on PEN published on Nature Reviews Chemistry by his group, which particularly focuses on the rational design and synthesis of novel nanomaterials with unconventional phases and various promising applications.
In response to the question of how to synthesise nanomaterials, he stressed that normally the control of composition, morphology, size, dimension and facet is important. His group focuses on the phase control of nanomaterials, especially the unconventional crystal phases and amorphous structures.
He highlighted three key studies by his group, namely Ultrathic noble metal nanomaterials, Transition metal dichalcogenides (TMDs), and Epitaxial growth of heterostructures, which can enhance the performance of the application.
"Although PEN is still under development, it's an important topic," Professor Zhang said. "Its future applications are diverse, such as in catalysis, surface-enhanced Raman scattering, waveguide, and clean energy."
Wide applications of Charge-Transfer Complexes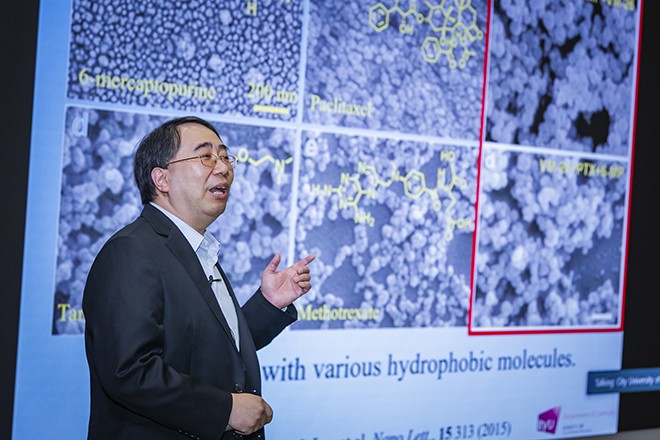 Concluding the Distinguished Lecture Series on Chemistry was Professor Chun-Sing Lee, Head of Chemistry Department and Chair Professor of Materials Chemistry at CityU, who delivered a lecture titled "Charge-Transfer Complexes and their Applications" on April 8.
At the start of the lecture, Professor Lee tried to define the Charge-Transfer Complexes (CTCs). "People describe CTCs in different ways, and there is still no precise definition agreed by all," he explained. Adopting a simple definition, he called CTCs "a substantial charge transfer between donor and acceptor to give different properties from parents." 
He introduced the characteristic signatures of CTCs, such as red-shifted, broadened emission and absorption, highlighting that they can influence both solar cells and LED devices. Additionally, the wide applications of CTCs were also explained, including optoelectronic devices, biomedicine, energy and environment, along with various examples. 
"The formation of CTCs is a simple way of getting new and unconventional properties from organic materials," he said, stressing that they have various novel applications beyond optoelectronics. 
International recognition
According to metrics compiled by Stanford University, over 140 full-time faculty members at CityU are listed among the top 2 per cent of the world's most highly cited scientists, of whom eight are HKIAS members, reflecting its excellent academic stature.
Among them are Professor Sir Colin Blakemore, Professor Philippe G. Ciarlet, Professor Way Kuo, Professor Chain-Tsuan Liu, Professor Jian Lu, and Professor David J. Srolovitz, who are the Senior Fellows of HKIAS*; Professor Tei-Wei Kuo, former visiting fellow of HKIAS; and Professor Jacob C. Huang, Executive Director of HKIAS. Besides, three speakers for the HKIAS Distinguished Lecture Series on Chemistry held this spring are also listed.
* By alphabetical order of surname