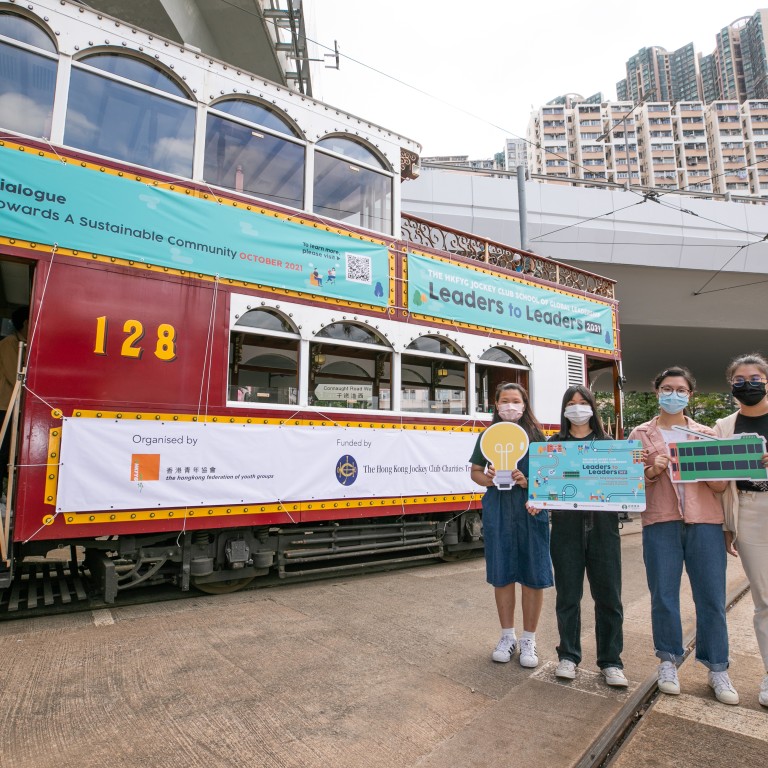 The HKFYG Jockey Club School of Global Leadership's Ding Ding Dialogue: A fruitful and rewarding ride with young leaders
Paid Post:
The Hong Kong Federation of Youth Groups
[Sponsored Article]
On a sunny weekend in October, secondary school students and working youth were invited to ride on the world's largest double-decker trams, an icon of Hong Kong, between Whitty Street Deport to Causeway Bay. The journey was part of the HKFYG Jockey Club School of Global Leadership's unique programme called, "Leaders to Leaders: Ding Ding Dialogue – Travelling towards a sustainable community" and was organised by The Hong Kong Federation of Youth Groups (HKFYG) and funded by The Hong Kong Jockey Club Charities Trust.
The trams, with a history of over 100 years, are more often called "Ding Ding" locally, have been witness to Hong Kong's history and are a present connection with the future as well.  Thus, symbolically, they offer no better place for discussions on sustainability between young and more established leaders. 
Extraordinary dialogues on leadership 
The Ding Ding Dialogue comprised six rides, covering four themes: Architecture and History; Film; Social Innovation and Urban Wellness.  The ten speakers were all young global leaders in their respective fields.  
The first ride kicked off with Hayley Chan, a Hong Kong windsurfer who achieved an impressive eighth-place finish in the overall women's RS:X race at the Tokyo Olympics, and Ernest Wong, a clinical psychologist at the HKFYG, who shared their stories and approach to well-being in urban life.
This was followed by sharings and discussions from Nixon Cheung (Head of Commercial and Brand at Hong Kong Tramways); Dr. Jennifer Tong (a Médecins Sans Frontières Fieldworker who received the Hong Kong Humanity Award in 2020); Kenneth She (Chief Operating Officer at Preface); Ir Samantha Kong (an environmental engineer and an awardee of the Hong Kong Young Woman Engineer of the Year); Charles Lai (an architect and architectural historian), Kenrich Wong (Director and Co-founder of OOA and AGS), Adam Wong (renowned local Film Director) and Gary Wong (author of  "Film Pilgrimage") on a wide range of topics, from inclusive community, international humanitarian services, innovative education, environmental development, architectural history and conservation, to the art of film. 
The objective of the Programme was to bring leaders of different generations together, so that their ride could be fruitful and rewarding for the young participants, gaining a better understanding of different topics, while also being ignited to take action and create positive social impacts locally and globally, and nurturing them to be future leaders. 
"It is such a cozy session with the speakers during which we can directly interact with them, listen closely to their stories, ask them questions and learn from their experience," said Jasmine Lam, a Form 6 student. 
"As this is our last year in secondary school, we will have to think about our university plans, subjects to choose and even career options. Previously my focus was more on finding a stable job and earning my own living, but Samantha made me think about how I can contribute to  society as well," shared Chloe Yu, who joined the ride together with Jasmine. 
Rachel Hau has now decided to broaden her horizons after listening to Kenneth's sharing. "I now recognize that it is important to equip myself with a wider range of knowledge and skillsets."
"Attitude matters, and I know that I shouldn't limit myself and be open to possibilities – these are my biggest takeaways from the sessions," adds Kaylee Ng, another student participant at the event.
Renowned community leaders 
Speakers too enjoyed the ride as much as the participants did.  
"I think it is a very meaning programme, inspiring all of us to think about how we can impact the next generation and how they can pass these knowledge and experience to future generations," said Samantha, who started her career in the United Nations working on Sustainable Development Goals and who now is a sustainability engineer. 
She continued, "What impressed me most was the proactiveness of the participants and their good knowledge about what is happening around the world, especially de-carbonisation. I have been in the field for seven years, and I am happy to share my experiences. Hopefully it can empower them to be sustainability professionals too. As I always say, engineers are problem solvers. Together, we can contribute to a better planet for all of us to live on."  
Kenneth expressed his amazement at the dreams and ambitions of the participants, and they desire to make an impact. "I heard so many great ideas from the participants. I hope my work experience and personal experience can inspire them and make them more capable in dealing with challenges; while helping them excel in the future."
 Leadership programmes
"Leaders to Leaders" is one of the initiatives under The HKFYG Jockey Club School of Global Leadership. The School aims to nurture leaders with visions and passion in making sustainable and cross-boundary solutions for global issues through a wide diversity of activities, including Leaders Foundation Programme, Summer School for Global Leadership, Leaders to Leaders, Global Speakers Online Programme, Global Seminar to Global Apprenticeship.
The HKFYG is the city's largest youth service organisation. It is committed to providing opportunities and facilities for the social, educational, cultural, emotional and physical development of young people in Hong Kong.