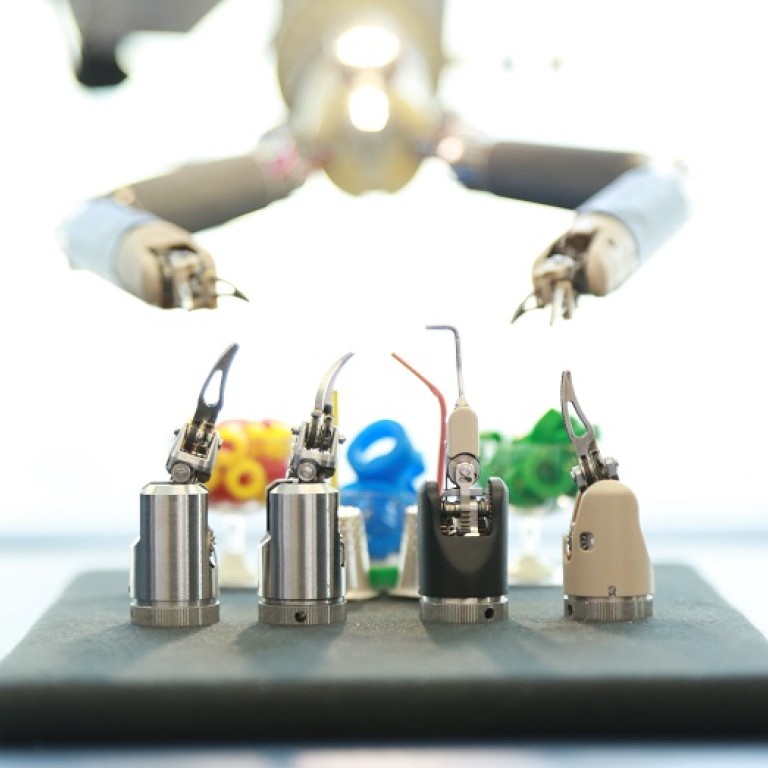 Robotic surgery transformed
In Partnership With
The Hong Kong Polytechnic University
[Sponsored Article] Drawing on expertise developed and insights gained from designing precision tools for space exploration, a PolyU team has engineered the revolutionary internally motorised minimally invasive robotic system for single-incision or incision-less surgery.
The confined spaces of the body have long confounded surgeons, forcing them to make numerous incisions to perform complex operations, subjecting the body to trauma. Conventional robotic surgery has started to overcome that imposition but still requires up to six incisions and offers limited tactile feedback to surgeons. Nothing could seem further from providing a way of overcoming these limitations than the limitless reaches of outer space. Yet a team led by Prof. Yung Kai-Leung, Associate Head of the Department of Industrial and Systems Engineering, harnessing its experience in making precision space implements, with innovation inspired by science fiction toys, has produced a robotic surgical system that requires just a single incision or no incision at all.
Seen in the context of surgical techniques developing over time, this is a remarkable achievement. Robotic surgical systems have only been in use since the 2000s, and the push for minimally invasive procedures predates that by just a decade. Still, robot-assisted surgery is becoming more common, with the number of cases in Hong Kong public and private hospitals doubling in the last six years. There were more than 600,000 cases in the world last year, growing at an annual rate of over 10%.
With this in mind, a team of surgeons from the University of Hong Kong (HKU) approached the PolyU engineers wanting to integrate cutting-edge technologies into a surgical platform that would make robotic surgery safer and less invasive, with the ultimate aim of providing significantly better patient care. The ensuing collaborative project, funded by NISI (HK) Limited – a medical device company specialising in non-invasive surgical research – with support from the Innovation and Technology Commission of the HKSAR government, has blazed a new trail in surgical platform design. The resultant Novel Surgical Robotic System (NSRS) with tactile feedback capable of single incision or natural orifice surgery allows surgeons to operate with high precision while being aware of the force applied to their patients. This is a significant breakthrough compared to the systems in current use, with doctors in robotic surgery training often feeling hindered by a lack of ability to feel the tissue they are working on.
From outer to inner space
While the architectural design and functionalities of the NSRS are based on the professional insights and experience of seasoned surgeons, the implementation of the design relied heavily on the PolyU team's experience producing tool systems for use in space exploration. Among other achievements, Prof. Yung's team developed a Rock Corer for the European Space Agency's Mars Express mission, the Soil Preparation System for the Sino-Russian Phobos-Grunt mission and advanced robotic systems for China's Chang'e 3 lunar exploration mission and the upcoming Chang'e 5 mission. That experience made team members proficient in miniaturising complex machinery with high strength and power-to-weight ratios that is capable of operating reliably in extreme environments.
Prof. Timothy W. Tong, PolyU President, said, "Our multi-disciplinary approach of innovatively combining materials' properties, design and mechatronics has led to the production of reduced-size, light-weight and high-precision instruments. The next challenge is the application of these space technologies for civilian purposes."
The NSRS is a highly portable platform that can be mounted on any standard surgical table. It features a 3D camera, and can be fitted with three or more surgical robotic arms that take different tools. Each robotic arm is driven by internal micro-motors and capable of up to 7 degrees of freedom, while the whole robotic system is capable of up to 10 degrees of freedom. Drawing heavily on the PolyU team's familiarity with space technology, the NSRS features motors that are both small enough and able to generate sufficient force to perform various surgical operations inside the human body.
More than meets the eye
Compared to the currently dominant system on the market, which apart from needing to make multiple incisions cannot perform incision-less surgery, lacks tactile feedback and is bulky, the NSRS opens the possibility of surgery performed through natural orifices. In asking itself how that could be achieved, the PolyU team turned to the concept of articulated toys, such as the Transformer vehicles that can be dissembled and reassembled into robots. They applied this to the surgical robotic arms, fitting them with small-footprint, articulated parts that could be reassembled inside the human body, expanding and transforming as they are adapted to the needs of different surgical procedures.
Describing the team's breakthrough, Prof. Yung remarked, "We are delighted to note that this PolyU engineering innovation will help turn a new page in minimally invasive surgery, thus enhancing the well-being of patients." Yet the team is also well aware that the development process is not over yet, with very important feedback being received from surgeons and used to further optimise the system. Animal trials have validated the system's functionality and benefit in gall bladder removal in a live pig, with the latest operation taking less than an hour.
Ultimately, the NSRS will be used in a range of abdominal and pelvic surgical operations. The surgical team will now move on to more complicated procedures in animal trials and on human cadavers, taking both single-incision and natural-orifice approaches. As the PolyU team noted in explaining the importance of their work, "the future of all surgeries will be highly technologically driven with robotics as an integral part."

This content has been created under the direction of an advertiser. It contains no editorial input or review from the South China Morning Post (SCMP), nor does it reflect the position of, or the editorial standards used by, the SCMP. The advertiser has paid for and approved the content.