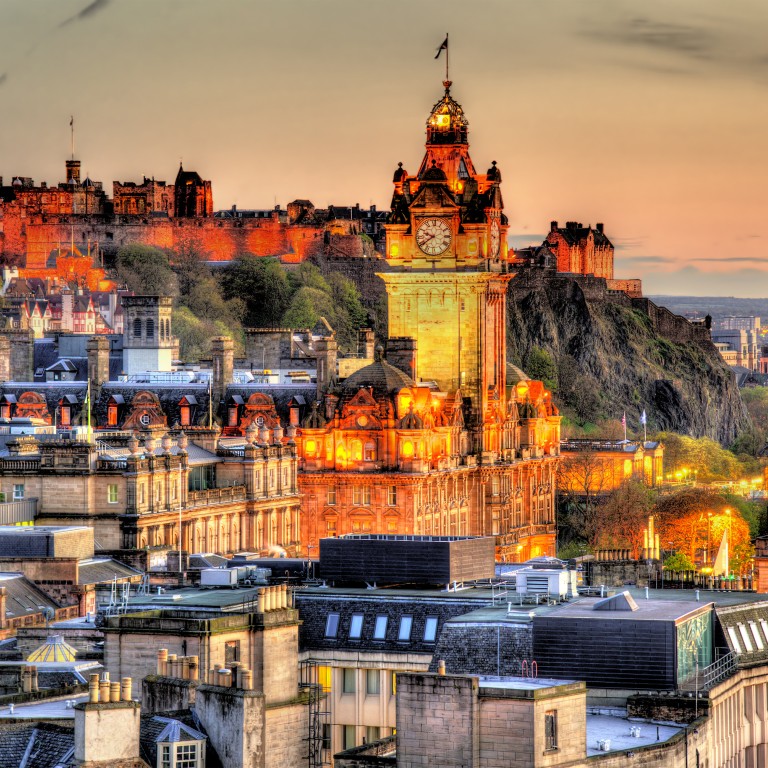 Edinburgh: UK's rising tech hub offers the best investment prospects outside London
New developments are serving the high demand for centrally located property in Scotland's booming capital
[Sponsored Article]
Main regional city centers continue to show the strongest performance and investment prospects in the United Kingdom housing markets. For overseas property investors looking for a competitive alternative to London, Scotland's capital Edinburgh offers healthy price growth and the second-highest economic growth in the UK.
A world-class destination for business and education, Edinburgh also hosts the world's biggest arts festival, drawing three million people from across the globe every summer. Another major draw for visitors and residents alike is its rich heritage, proudly on display everywhere you turn in the city center from the ancient castle to the elegant Georgian architecture of the New Town. However, this heritage has proven to be a double-edged sword for investors, with new build activity traditionally being strictly limited.
This supply shortage is now being eased slightly thanks to significant regeneration projects opening up prime city center addresses, most notably the £1 billion Edinburgh St James retail, leisure and residential development. House prices in Edinburgh grew by six percent this year alone, according to HM Land Registry – far exceeding London – and show no signs of slowing down. Jones Lang LaSalle (JLL) forecasts Edinburgh property price and rental growth to continue to be among the highest in the UK over the next five years.
Thriving tech scene
A hub of financial services since the 19th century, today Edinburgh's diverse economy also specializes in tourism, scientific research, higher education and a growing tech scene that accounts for a third of office take-up in the city. With local success stories such as Skyscanner having been snapped up by international giants, Edinburgh is buzzing with startups eager to attract the best and brightest developers, data scientists and AI specialists by offering competitive facilities.
The city's four universities supply a steady stream of home-grown talent to the local economy, with the QS world top 20 University of Edinburgh being a leader in computer science and informatics and Heriot-Watt University having a dedicated Discovery and Innovation Centre. Local initiatives such as tech incubator CodeBase and CivTech also foster a supportive environment to help startups overcome challenges and make Edinburgh a competitive contender to other major cities such as London and Manchester.
JLL predicts above-average economic growth of 2.3 percent per year for Edinburgh to 2022 and employment growth three times the national average. Proximity to Edinburgh Airport – just 35 minutes from the city center, connecting to 157 destinations worldwide – makes Scotland's capital convenient for international business and contributes to the city attracting the UK's highest level of foreign investment outside London.
Capital of culture
Named the most walkable city in the UK for its compact city center and more than 100 parks, Edinburgh is easy to get around on foot or by using its excellent transport network of buses, trams and taxis. The city's UNESCO World Heritage sites have been a source of inspiration for writers down the ages, from Robert Burns to J.K. Rowling. For many visitors, the city is synonymous with the Edinburgh International Festival, a month-long celebration of the arts that doubles the city's population and sees demand for accommodation skyrocket throughout August.
For those living here year-round, Edinburgh offers convenient high street and mall shopping, four Michelin-starred restaurants and vibrant nightlife. The city's retail, dining and leisure options are about to be enhanced further with the opening of the Edinburgh St James complex in 2020, featuring 85 designer stores and 30 eateries over four floors in the heart of the New Town. One of Europe's largest regeneration projects at 1.7 million square feet, the development will also include a flagship John Lewis store, boutique Everyman Cinema, W Hotel and outdoor event spaces.
The regeneration of the New Town is creating rare opportunities to invest in property in Edinburgh city center, offering prime access to business and lifestyle amenities, Waverley train station and Edinburgh Airport connections. The St James redevelopment itself features a residential component of luxury apartments targeting tech specialists and overseas investors, with demand and prices for central Edinburgh property set to accelerate further once the regeneration completes.
For more information about residential properties in Edinburgh,
click here
or contact JLL International Properties at +852 3759 0909 or
[email protected]
.

This content has been created under the direction of an advertiser. It contains no editorial input or review from the South China Morning Post (SCMP), nor does it reflect the position of, or the editorial standards used by, the SCMP. The advertiser has paid for and approved the content.