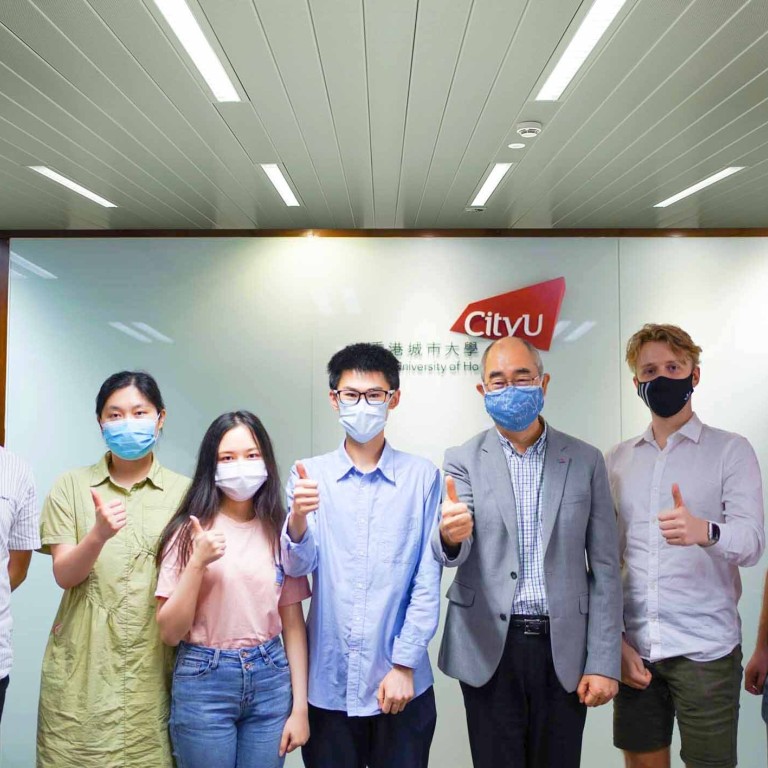 CityU students' blockchain-powered solution for used car buyer protection wins bronze in the Fintech Olympiad 2022
Paid Post:
City University of Hong Kong
[Sponsored Article]
Digitalisation has spurred growth and tackled many financial problems globally, and Fintech powers a broad range of practical applications, from all types of commercial activities and advanced banking transactions to many challenges encountered in our daily life. In response to this fast-paced development, City University of Hong Kong (CityU) organised the "Fintech Olympiad 2022" (FTOL) with HSBC's support to cultivate the next generation of Fintech-savvy talents for the Greater Bay Area (GBA).
To avoid purchasing 'lemons',  a colloquial term for cars found to be defective after transactions, three CityU students formed a team, namely "LemonT", and developed a tamper-proof method to record cars' odometers and repairs that works with an App, a data logging dongle and an encrypted data system powered by blockchain. With this idea, the team was awarded the Bronze Medal at the FTOL 2022.
The three awarded CityU students, all hail from Germany and Australia with computer science and materials science backgrounds, impressed the judges with their innovative yet practical solution that aims to safeguard consumer interest and help honest used-car dealers enhance their reputation.
"The team named their project  "LemonT," a creative twist to "lemon tea", an iconic local beverage, reflecting the project roots in its birth city," says Professor Raymond Chan, Vice-President (Student Affairs) of CityU, who praised this year's projects being practical and impactful Fintech and youth powered solutions for everyday problems.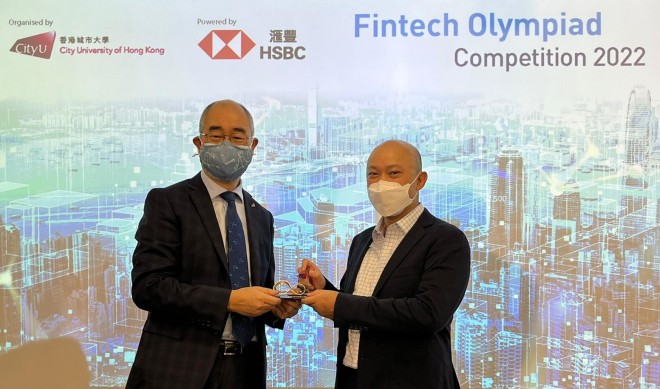 Launched in 2020, the competition was originally called "Blockchain Olympiad". Due to its popularity with students and the burgeoning interests in the GBA, CityU has expanded the scope to covering Fintech and universities in the GBA with HSBC's support this year.  "We aim to enlarge the future pool of talent well-versed in Fintech who can work across the border," Professor Chan noted.
Financial service is one of Hong Kong's pillar industries. Under the Hong Kong Monetary Authority's "Fintech 2025 Strategy", all banks in the city will fully adopt Fintech for enhanced security and efficiency by 2025. "However, the HKMA has identified the main challenge as a dearth of talent with specialised Fintech knowledge and skills," Professor Chan adds. "With our commitment to providing talent with applicable knowledge for social and economic advancement, CityU organises FTOL to arouse the interest among students from all disciplines."
Following this latest trend of innovation and digital transformation, CityU successfully held the programme with HSBC's support by offering trainings to students and sharing experience on the application of Fintech. More than 600 tertiary students from GBA signed up for the training on Fintech fundamentals and competencies, featuring online classes and tutorials with demonstrations by Fintech experts. To equip a Fintech-savvy generation, CityU also organised a Micro-consulting day with the support of HSBC by arranging their financial professionals to mentor and network with all participating students.   
Eventually, 121 of the students (95 from Hong Kong, 15 from Macau, and 11 from the mainland) formed 32 teams to participate in FTOL. Around 45% of the students major in Fintech and finance, 25% study computer, data science AI or engineering, and the remaining 30% are from other disciplines. "Students from different disciplines and specialities formed teams to complement one another," Professor Chan noted.
On May 28 competition day, student teams proposed Fintech solutions with a social focus before the panel of judges that consisted of academics and experts from the private sector. The Gold Medal winner was the "BitExpress" team formed by students from the University of Hong Kong and the Silver Medal went to the "Green Chain" team by students from Hong Kong Baptist University.
Fintech Olympians reaped many benefits from the programme. For students who have not studied Fintech before, FTOL allows them to develop a more profound interest in the innovative technology field, Professor Chan points out. "For those studying Fintech, FTOL is like their first step into the sector. It helps to transform their ideas into viable solutions because they receive professional guidance. FTOL participants enriched their CVs with certification and built networks with other young professionals in the field, such as Hub for the Future."
LemonT
Used cars are not only more affordable options for many, but they are also sustainable. However, defective used cars, known as 'lemons', have deterred many prospective car buyers. According to the "LemonT", the global used car market was estimated to be US$1.24 trillion in 2021. However, buying a used car is like gambling sometimes: the condition of a used car is often uncertain and not as advertised. Frauds are common in which buyers overpay for used cars because they are not aware of the tampered parts and odometers.
"LemonT" can be a possible solution. It consists of an in-house developed tamper-proof dongle that contains the odometer reading and records of parts and repairs. It connects to a mobile application powered by blockchain for encrypted and hashed data with optional access for third parties that facilitates ownership transfer and ensures data accuracy, transparency and security.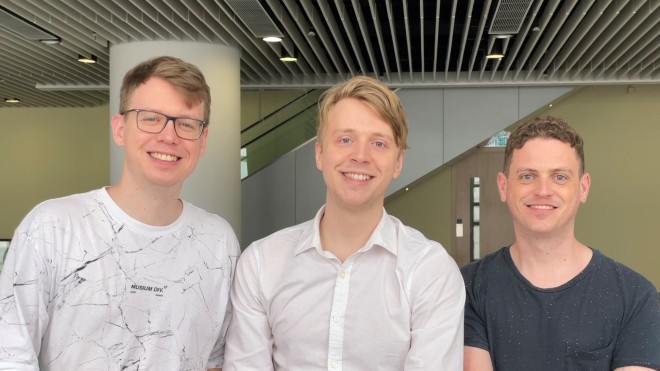 From the consumer's point of view, LemonT aims to restore their trust in the used car market and protect their interest, says Daniel Eckhoff, a CityU computer science PhD candidate and one of the founders of LemonT. "We were shocked about the safety of used cars. For instance, luxury carmaker Mercedes-Benz stated that over 1.7 million counterfeit parts were identified in 2020 alone," adds Daniel. His research on augmented reality and the metaverse focuses on how the human brain responds and how these new technologies can be used in medical therapy.
His teammate Aaron Doering says from the car dealers' perspective, LemonT is a tool that helps build integrity, increase the value of their stock and enhance their reputation. Aaron is a CityU PhD student of materials science and engineering, working on the synthesis of optical nanomaterials, which can be used in displays, biomedical and other scientific applications.
Judges praised LemonT's innovative approach to safeguarding consumer interests. "An innovative business idea should be able to bridge business gap and improve quality of life. LemonT has explored a huge second-hand car market to reinforce information transparency through enhanced technology for consumers to make a sound judgement before their purchase. This promotes used cars purchase which helps reduce good condition used cars get scrapped and reduce our carbon footprint. Their idea has brought innovation and sustainability together hand in hand." shared by a judge of the competition, Mr. Jaff Lau, Managing Director, Head of Strategy and Innovation, Business Banking, Commercial Banking, Hong Kong, HSBC.
The objective for LemonT entering FTOL 2022 was to further the technical skills and collaborate with friends from various disciplines who share an interest in cutting-edge Fintech development, says Daniel. "Through FTOL, we learned to put ideas into execution and interacted with industry players and received their guidance. We were exposed to many innovative blockchain ideas through Fintech experts."
Another teammate Jayson Haebich agrees. "We learned a lot from the classes about Fintech and the types of processes used. Through developing and executing our solution, we explored more in-depth how a Fintech project worked." Jayson is a senior computer science researcher of creative media and specialises in art and media scientific applications and augmented materiality.
Aside from the technical knowledge, FTOL exposed the team to business development strategies and the consideration for a sustainable commercial enterprise, says Aaron. "By transforming a broad idea into a real viable business solution, we learned to think about the specifics, including the target customers, marketing, financing, market competition, talent recruitment and the likely impact of the product. FTOL also helped raise our awareness about governance, compliance and data privacy."
Jayson believes the team will develop LemonT further and build a fully functioning prototype. Daniel echoes Jayson's idea. "First, we will aim to standardise the various components in the dongle, such as the GPS, data reading and mileage calculation. Then we will select the suitable blockchain technology for the App so that its intended functions will be optimised. We will consult with Fintech experts and plan to establish a start-up and apply for funds from CityU's HK Tech 300 programme."
More about the Fintech Olympiad 2022:
https://www.cityu.edu.hk/sds/fintech-olympiad-2022/