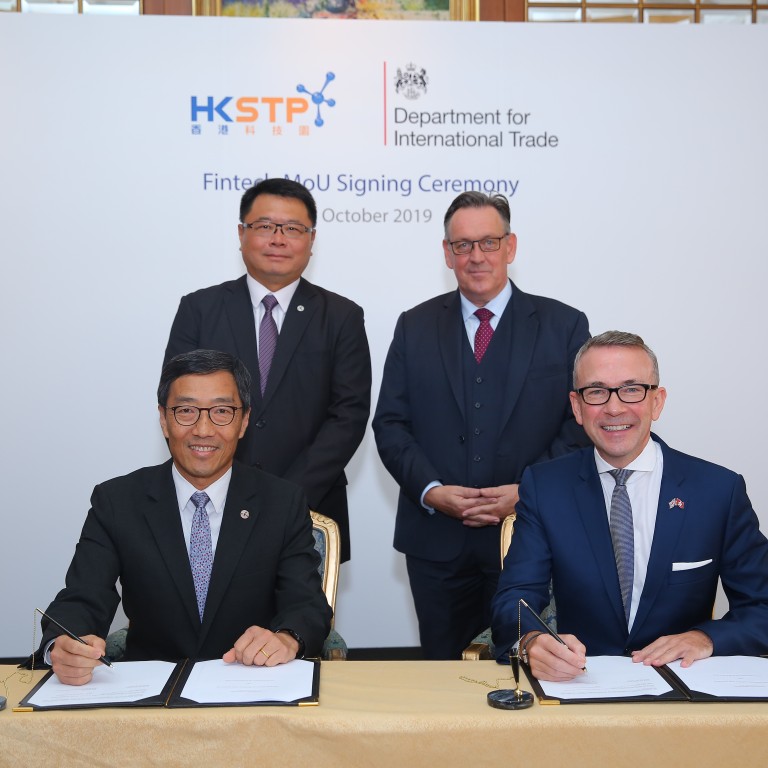 HK, UK collaborate on fintech start-up exchange
Built upon the HK-UK Fintech Bridge signed in 2017, HKSTP and the UK's DIT sign pact to exchange at least 10 fintech start-ups over the next two years 
[Sponsored Article]
In efforts to help homegrown start-ups gain access to overseas markets and global entrepreneurs explore opportunities in Hong Kong and the region, Hong Kong Science and Technology Parks Corporation (HKSTP) has signed a bilateral agreement with the UK's Department for International Trade (DIT) to promote and support cross-border exchange of innovative fintech start-ups. 
Signed on October 11, the Memorandum of Understanding (MoU) establishes a co-operation framework between Hong Kong and the UK to bring together fintech start-ups from both places and support their ventures into Hong Kong and/or the Guangdong-Hong Kong-Macao Greater Bay Area as well as the UK and broader EU markets. 
As well as a long history with Hong Kong, there are a lot of trade relationships between Hong Kong and the UK. Apart from trade, it is estimated that about 90 per cent of investment from the UK into mainland China is channelled through Hong Kong, and vice versa. The UK has long been an international financial centre and with unprecedented levels of capital investment, the country's innovative fintech sector is thriving, said Paul McComb, Director General, Trade & Investment for Hong Kong and Macau at the DIT. 
"Our job is to help create an environment for UK entrepreneurs to flourish globally. In Hong Kong there is a huge amount of talent, interest and appetite. The signing of this MoU is our commitment to setting measurable objectives and delivering solid results," he said.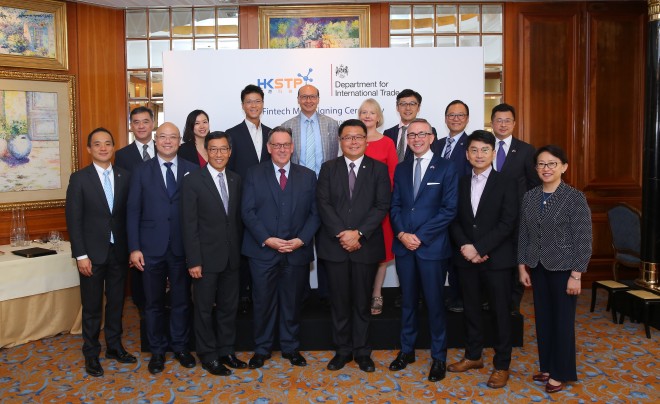 Not only does Hong Kong have plenty of room for collaboration between its world-class financial sector and global fintech companies, it remains as a springboard into the Chinese mainland and Asian markets. While the business-to-consumer (B2C) and peer-to-peer (P2P) payment marketplaces are crowded and competitive in the region, there are significant opportunities in the business-to-business (B2B) space, McComb added. 
"On a par with New York and London, Hong Kong appeals to global fintech start-ups as an international financial centre. The UK and Hong Kong SAR governments are both proactive in fostering and supporting fintech innovation. There's a lot of room to collaborate between us. Through this co-operation we aim to connect homegrown start-ups with financial institutions and investors in the UK and help them hit the ground running," said Albert Wong, Chief Executive Officer of HKSTP. 
The MoU follows the principles and mechanisms of collaboration in fintech set out in the HK-UK Fintech Bridge, an agreement signed by the Hong Kong SAR government and the UK government in 2017, he said. 
This bilateral agreement aims to strengthen engagement on fintech policy and regulation; facilitate trade flows and access to capital opportunities; and address barriers to local market growth. This includes the exchange of knowledge, talent, innovation, business and investment between Hong Kong and the UK. 
For the next two years, HKSTP and the DIT will both arrange not less than 10 fintech start-ups and enterprises to visit or exhibit in Hong Kong and the UK, respectively, each year, explained Peter Mok, Head of Incubation and Acceleration Programmes at HKSTP.
The two parties will provide its companies with education and preparatory training before a visit. The counterpart will offer the visiting companies tailored programmes of support, including education roundtables, business networking, pitching and investment matching opportunities, in order to increase their readiness for landing and exposure to  business opportunities and potential investors.
KeyChain Pay, an incubatee of HKSTP, has recently landed in the UK through the arrangement. The company has built a secure, integrated rental collection, payment and tenancy management platform for landlords and tenants. The platform utilises AI to help tenants use rental payment history in credit scoring. 
"We are glad to be the first company from Hong Kong Science Park to have landed in the UK. The programme has been very helpful in business registration and licence applications so we avoided a lot of pitfalls because of that. We target to obtain the Financial Conduct Authority licence shortly," said Lawrence Lau, Founder and Chief Executive Officer of KeyChain Pay. 
UK fintech businesses expanding into Hong Kong will also be entitled to the same set of benefits, Wong added. "Through our GAA (Global Acceleration Academy) programme, we will arrange for them to meet potential investors, partners and customers within a short time frame and help them build a firm foundation for their business, along with ongoing support throughout their journey." 
Concurrently, the DIT will become an industry partner of HKSTP's GAA, one of the longstanding and successful business acceleration programmes in Hong Kong, paving the way for UK fintech businesses to expand into Hong Kong and the region. The first delegation of around ten UK fintech companies will visit the city for the GAA programme as well as Hong Kong FinTech Week in early November.
In addition, HKSTP will partner with the DIT on its annual DIT FinTech Awards, giving Hong Kong and mainland entrepreneurs opportunities to explore the UK's fintech ecosystem and further opportunities in the UK.