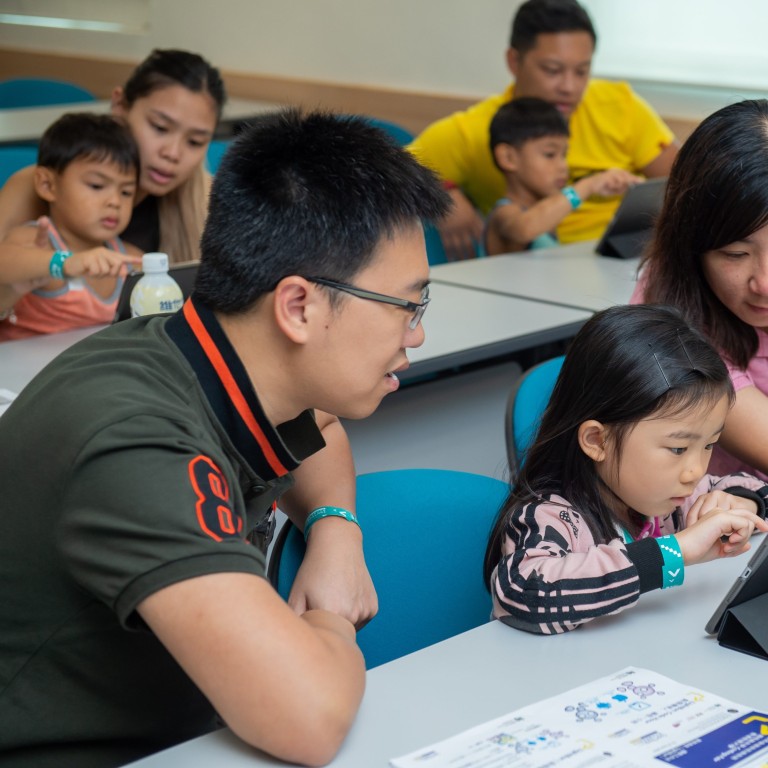 How parents can help their children get ready for a digital future
Parents need to deepen their understanding of technology to support their children's learning
The [email protected] programme, created and funded by The Hong Kong Jockey Club Charities Trust, offers parent education workshops on computational thinking
[Sponsored article]
Many parents today are "digital immigrants", which means they were born before the widespread use of digital technology and had to adjust to it later in life. As these parents valiantly try to adapt to a technologically advanced world, some may feel like intruders in it – a stark contrast with their children, who are "digital natives" as they were born into the information age.
"I grew up in a world without tech and had never imagined that one day it would play such an important role in our lives," says Huang Li, a mother of a Primary Four student studying at Fung Kai No 1 Primary School.
Today's digitally driven world requires an understanding of technology, including computational thinking, which is regarded as one of the most important skills of the 21st century.
Yet, as digital immigrants, some parents do not regard themselves as naturally proficient with technology. Therefore, they may lack confidence in their abilities to support their children's learning when it comes to developing technology-related skills, particularly computational thinking.
That is why [email protected], an education programme created and funded by The Hong Kong Jockey Club Charities Trust, offers educational workshops that help parents learn computational thinking – this key skill can be acquired by both digital immigrants and digital natives alike.
Understanding technology's relevance
Computational thinking requires learners to think like computer scientists, who demonstrate abilities such as logical thinking, problem-solving and abstraction, and who can also disaggregate complex problems into smaller, solvable parts. Computational thinking can help users improve their problem-solving skills, which can be applied to everyday life.
Parents are becoming aware that technology and computational thinking skills have increasing importance in daily life. According to a parent perception survey commissioned by [email protected] and carried out by global market research firm Ipsos in 2021, 99 per cent of the 1,012 parent respondents agreed that technology is important to their children's learning. In addition, technology ranked third in "perceived level of importance for children's development", placing it even higher than traditional subjects such as Chinese and General Studies.
The survey also suggested that there was an increasing awareness of computational thinking and coding concepts, which increased by 15 per cent and 24 per cent respectively, compared to the results of a similar survey conducted in 2017. Over 80 per cent of parents agreed that learning computational thinking could enhance children's problem-solving skills and creativity.
However, the survey results showed that only 12 per cent of parents who supported their children in receiving computational thinking education considered themselves useful when it comes to helping with their children's learning, and only 18 per cent of parents had considered improving their knowledge and skills in computational thinking or coding.
"I have learned to use technology, but I just can't understand it as naturally as my children or other youngsters, as I was not born and raised in the information age," Huang says.
"At the same time, it's easy to have a breakdown in communication if I don't know enough about this area. Sometimes, I think my son is playing games when he's actually coding and working on his computational thinking skills. The process of communication we have to go through takes time, and it is energy-consuming."
Huang adds that she wants to know more about computational thinking, but could use some guidance to learn about it efficiently.
Learning together
Learning computational thinking may be difficult for parents who are not tech-savvy, but such skills are considered necessary to stay competitive in the workplace of the future, where their children will eventually go.
[email protected] develops computational thinking skills through coding education. A typical lesson features four learning and practising steps – to play, to think, to code and to reflect – and is primarily designed to contribute to the development of computational thinking skills by empowering students to become thinkers and creators of technology.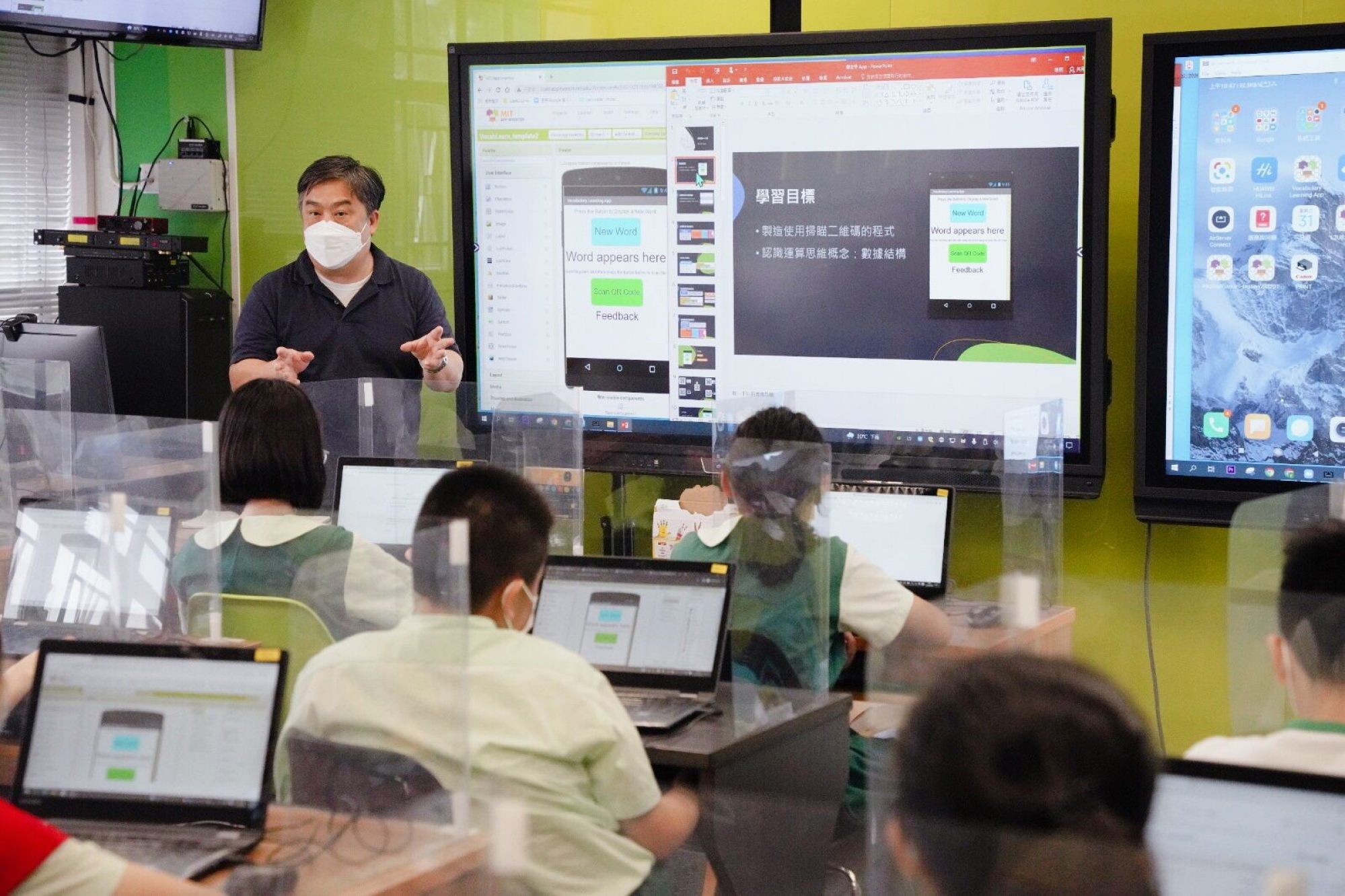 Mung Wai-lun, a [email protected] Fellow and a teacher at Fung Kai No 1 Primary School, describes the four steps as one of the main aspects that makes [email protected] stand out from other educational initiatives.
"Its curriculum and pedagogy are designed to contribute to the development of computational thinkers by empowering them to become creators of technology," Mung says. "A CoolThinker is not only able to master computer language, but also develop a fundamental and efficient problem-solving mindset that is applicable to all fields and domains."
One of the programme's goals is to inspire digital creativity through soliciting community and parental support. This is achieved through workshops organised by one of [email protected]'s co-creators, City University of Hong Kong. Through these parent education workshops, parents develop a deeper understanding of the concepts of computational thinking, learn to develop their computational thinking skills by using various coding platforms including Scratch, Minecraft and Micro:bit, and acquire knowledge about ethical issues surrounding technology use.
"Knowing more about computational thinking will enable parents to understand their children's perception of the world, which is increasingly influenced by digital technology and platforms," says Professor Matthew Lee, a member of the [email protected] Steering Committee and Vice-President (Development and External Relations) at City University of Hong Kong. "Through the parent education interactive workshops, parents are able to acquire computational thinking skills underpinning digital technology, know more about its benefits and establish effective communication with their children."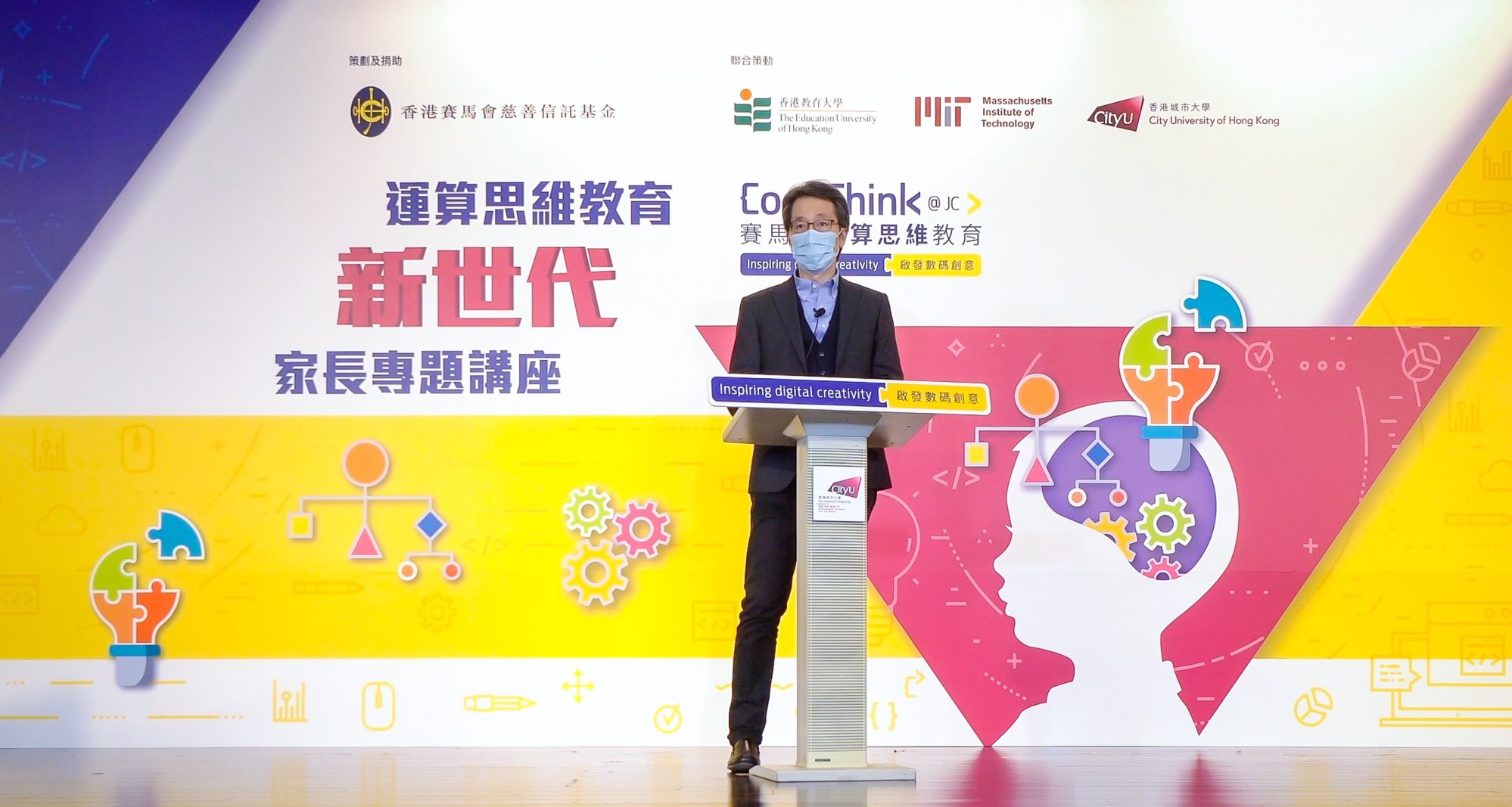 Since 2016, more than 10,000 individuals have attended various versions of these [email protected] parent education workshops provided by City University of Hong Kong, and demand has been growing.
"Another benefit of these workshops is that it allows parents to help their children integrate computational thinking into their daily lives, after developing a certain level of understanding," Lee says.
"For example, if a parent is trying to tell their child to clean up a messy room, computational thinking concepts such as sequences and conditionals can be used in the approach to make the process more efficient."
Participants say that computational thinking concepts have given them a hand in their daily parenting practices.
Some of them highlight that they have learned how to use computational thinking concepts such as sequences to help their children learn the importance of prioritising, which has helped in further developing time-management skills.
"[email protected] acknowledges the essentiality of guidance during the process of learning new skills, especially for a skill that will prove to be relevant in the future workplace," says Daniel Lai, Programme Director of [email protected] "It is, therefore, an important mission for our project to support parents in learning computational thinking together with their children."
With such assistance from their parents, and equipped with a computational thinking mindset, children will be more than ready to tackle the challenges of tomorrow.
Seeking to inspire digital creativity among students and nurture their proactive use of technologies for social good from a young age, [email protected] is a computational thinking education initiative created and funded by The Hong Kong Jockey Club Charities Trust, and co-created by The Education University of Hong Kong, the Massachusetts Institute of Technology and City University of Hong Kong.
Since its launch in 2016, the [email protected] project has developed a three-year curriculum for upper primary school pupils with 14 class hours per school year. It has supported 131 primary schools and 810 teachers in Hong Kong, and targets to enable almost 100,000 upper primary school students to benefit from computational thinking learning.

This content has been created under the direction of an advertiser. It contains no editorial input or review from the South China Morning Post (SCMP), nor does it reflect the position of, or the editorial standards used by, the SCMP. The advertiser has paid for and approved the content.