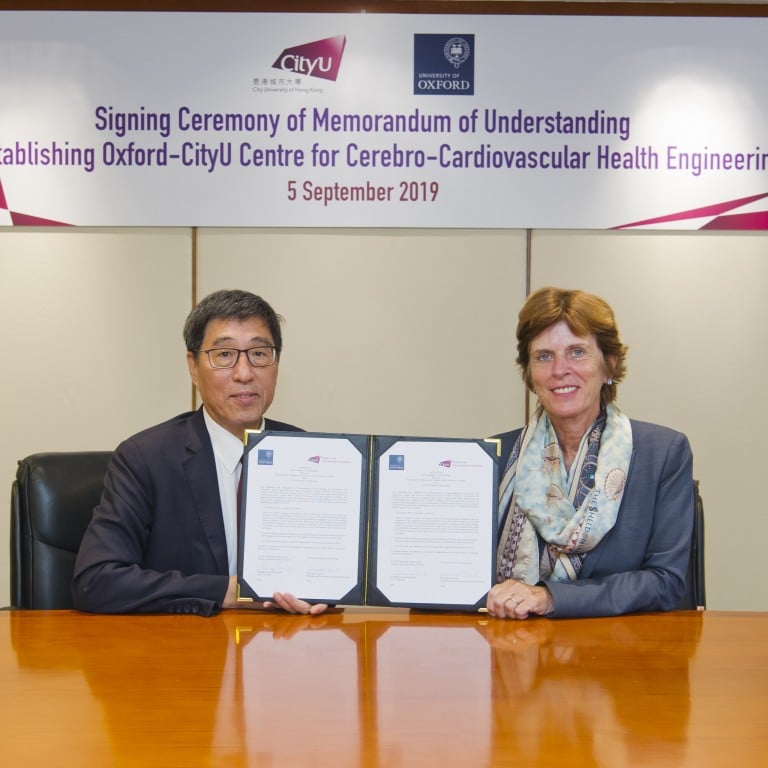 MOU between City University of Hong Kong and the University of Oxford promotes health engineering
Paid Post:
City University of Hong Kong
[Sponsored Article]
Cardiovascular disease (CVD) is one of the leading causes of death worldwide, claiming almost twice as many lives per year as cancer in 2018 according to the World Health Organisation. Healthcare technologies that can address this problem, and help fight cardiovascular disease are urgently needed globally.
Leading scientists in biomedical engineering and data science are being brought together to develop a large-scale initiative to tackle CVD. A memorandum of understanding (MOU) was signed on 5 September between City University of Hong Kong (CityU) and the University of Oxford, aimed at strengthening collaboration in health engineering. 
Under the MOU, CityU and Oxford will develop detailed plans and proposals for the establishment of the Oxford-CityU research centre in collaboration with the Karolinska Institutet. The Centre for Cerebro-cardiovascular Health Engineering (OCCHE) will build on world-leading expertise in developing innovative technologies for solving real-world healthcare problems and address the current pressing need for CVD prevention.
The proposed OCCHE aims to develop new technologies focused on improving our understanding and tackling of cardiovascular disease – these technologies include wearable healthcare devices; flexible and stretchable sensors, medical and molecular imaging; and artificial intelligence (AI)-based approaches. 
The MOU was signed by Professor Way Kuo, CityU President, and Professor Louise Richardson, Vice-Chancellor at Oxford, on behalf of both institutions.
Other guests attending the signing ceremony included Professor Zhang Yuanting, Chair Professor of Biomedical Engineering, Professor Sir Colin Blakemore, Senior Fellow of the Hong Kong Institute for Advanced Study and the Yeung Kin Man Chair Professor of Neuroscience, Dr David Cheng Xing, Director of Global Engagement Office, all from CityU; Professor Alison Noble, Technikos Professor of Biomedical Engineering, Fellow of the Royal Society and Fellow of the UK Royal Academy of Engineering, Professor David Clifton, Professor of Clinical Machine Learning, and Mr Jeremy Woodall, Director of Development, all from Oxford.