Nutanix Enterprise Cloud solutions seamlessly integrate hybrid and multi-cloud environments
[Sponsored Article]
As Hong Kong companies across all industry sectors look to optimise the placement of workflows, applications and data to ensure both performance and availability to react more quickly and effectively to the increasingly dynamic marketplace, Nutanix Enterprise Cloud solution bring public and private cloud systems together onto a  single consolidated platform. As a software only provider, Nutanix Enterprise Cloud solution holds the firm belief that technology works better when it works seamlessly together. Put simply, an enterprise cloud solution that offers easy deployment of applications and resources, ease of use, maintenance and security.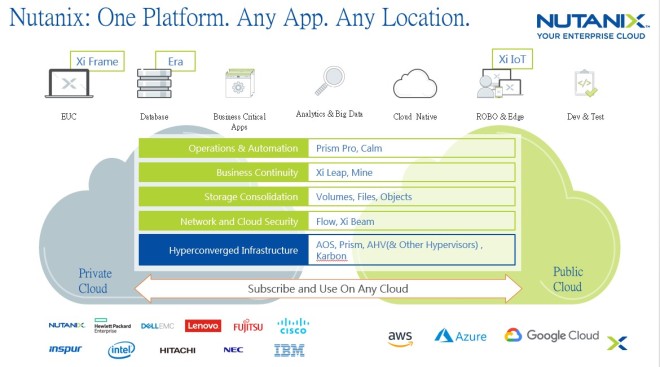 Agility and Consolidation
Built on the industry's most popular hyperconverged infrastructure (HCI) technology, Nutanix Enterprise Cloud solutions integrates compute, virtualisation, storage, networking, and security on a single consolidated platform. A key feature of the Nutanix solution is the agility and convenience that allows users to manage both the private and the public sides of cloud functions through the same console.  For example, without the need to learn new technology skills or re-architect applications, Nutanix Xi Clusters allow businesses to manage applications and infrastructure, while reducing the operational complexity of migrating applications between the two cloud systems. For instance, by using Xi Clusters, current customers of AWS (Amazon Web Services) can leverage their existing environments and launch Nutanix Enterprise Cloud within their current environment without the need to create a new AWS account, VPCs (Virtual Private Cloud) or WAN networking. When migrating applications to the cloud, a common challenge faced by many companies is that not all components of the app can be made cloud-ready at the same time. As a leading software only designer and developer, one of Nutanix's prime differentiators is flexibility in its architecture to support all models. "In less than half an hour, you can have a hybrid cloud system up and running," noted Nutanix founder and CEO Dheeraj Pandey who was speaking at the recent Nutanix.NEXT convention.
An additional key standout advantage the Nutanix single platform offers is the ability to reduce the downside risks of running and managing disparate platforms for different applications, which can result in the formation of silos,  diminished performance and unnecessary complexity—all of which can lead to reduced productivity outcomes. These challenges are further complicated when applications, data and work sharing files are spread across multiple storage platforms, data centers, and remote office locations. A recent independent study by IDC (International Data Corporation) revealed that, while deploying Nutanix cloud solutions enable significant infrastructure and other savings over traditional 3-tier infrastructure — centralised storage, storage network and compute — the biggest plus was in the area of improved business productivity. The single platform solution can also remove the pain-points of legacy IT for enterprise resource planning (ERPs), customer relationship management systems (CRMs). Furthermore, resources in the cloud can be easily stored, retrieved, recovered and processed in a straightforward way with just a few clicks. Conveniently, users can gain access to their files, data and workflow on-the-go, 24/7, via any devices of their choice, anywhere in the world as long as there is access to the internet.
Acknowledging that different companies have different cloud and IT needs, Nutanix Enterprise Cloud solutions enable businesses to efficiently — and quickly — scale up their Cloud applications according to their business demands. Adding a further layer of convenience, upgrades and updates are performed automatically, off-sight by Nutanix.  In Hong Kong, where the IT  function in many organisations is under strength and working to full capacity,  upgrades and updates performed automatically by Nutanix, can save time and team effort in maintaining systems, and in the process, reduce the IT team workload. 
Cybersecurity
With cybersecurity issues foremost in the minds of C-suite executives, securing networks and data is an ever-important challenge. Nutanix works to incorporate security across the development life cycle, from design and development to testing, using stringent criteria that meets the most demanding government and commercial security standards. Importantly, Nutanix has developed its own Security Technical Implementation Guide (STIG), which is used along with automation and self-healing security models to help maintain security. In the cloud era, security needs to become an integral and invisible attribute of enterprise infrastructure, to meet a world of continually shifting cyber threats, Nutanix systems  are designed with deeply integrated, adaptive security protections. As a company that takes pride in its security-first mindset, Nutanix's Flow system provides one-click visibility and security—which works seamlessly on any network. With a focus on application delivery, the Flow system provides application-centric firewall policies by bringing network and policy management to virtual environments. Also helping customers to achieve better security through enhanced data protection, Nutanix's provide both easy-to-implement hardware and software storage level encryption even providing choice to support both built-in key management server and external key management server. After all, why would any organisation want to take the risk of being headline news because sensitive data leaked from their system?