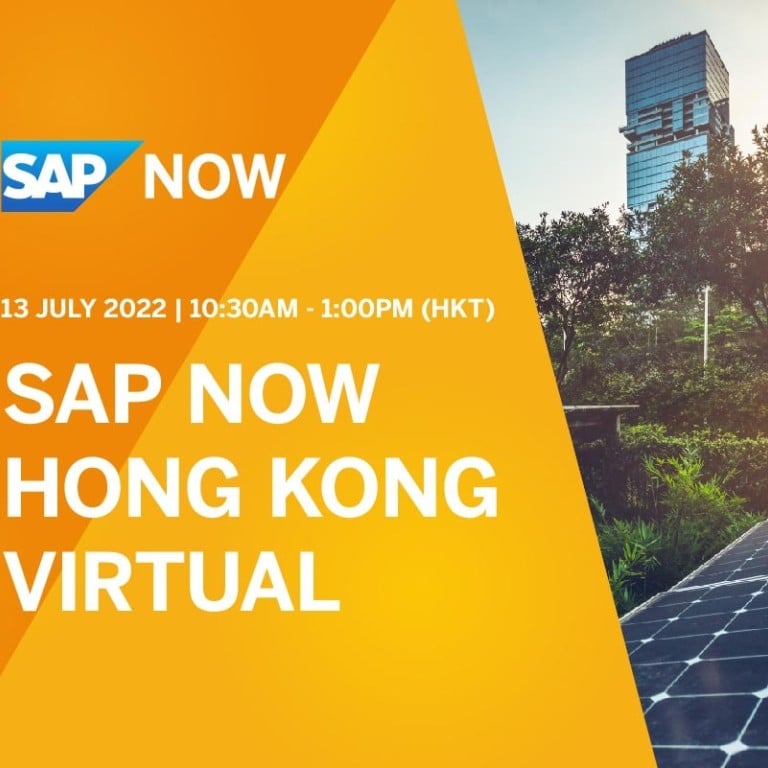 Building intelligent, sustainable enterprises in Hong Kong
[Sponsored Article]
After more than two years of pandemic disruption, new challenges continue to shake the business world. Trade and geopolitical tensions, changing work patterns, new sustainability imperatives and the slow pace of economic recovery have forced companies to find new paths to profitability and growth.
With online platforms offering a lifeline for commerce, secure finance operations and remote work have become crucial. Companies in Hong Kong initially moved rapidly to adopt or fast-track digitalisation projects—even if some of these were small and piecemeal, responding only to immediate needs.
 As time has gone on, however, and the scale of the challenges and opportunities has become more apparent, many companies are now rethinking their entire business operations. 
"In an increasingly volatile world, enterprises that take a data-enabled holistic view of their financial, social, and environmental performance are more likely to be able to adapt and be resilient. Leveraging cloud technologies, companies can transform into intelligent, networked, sustainable enterprises and make data-based decisions that help them respond rapidly and stay relevant," says Rajni Sharma, Managing Director, SAP Hong Kong. 
She explains that intelligent enterprises are powered by data with embedded artificial intelligence (AI) and experience management (XM). This provides a more holistic view of the business and the landscape in which it operates, removing friction across business processes, improving interactions with employees, customers, partners and other stakeholders and fuelling growth with innovation.
"This kind of transformation is not only a change in process, but also a chance to rethink growth opportunities and help everyone—from staff to suppliers to customers—work together better to propel the business forward," Sharma says.
Seeing the whole picture
SAP supports companies on this journey with RISE with SAP. A service from SAP, it enables businesses to accelerate cloud adoption in order to gain a complete view of their operations and finances and plan ahead with: 
SAP S/4HANA Cloud – a complete and modular AI-powered enterprise resourcing planning (ERP) solution that enables companies to integrate and manage mission-critical operations and introduce new business models while using all their resources as efficiently as possible;
SAP Signavio – a process management and data mining solution that helps companies discover and eliminate inefficiencies by streamlining, automating and harmonising business processes; and 
SAP Business Technology Platform – a unified digital transformation platform that removes data silos, integrates and extends data models and generates a real-time 360-degree view of the intelligent enterprise. 
Embracing sustainability
In 2022, sustainability is no longer optional, but a key to long-term business success. As Hong Kong companies increasingly focus on developing sustainable operations to support business growth, meet the expectations of customers and business partners, and fulfil their regulatory requirements, it is clear that sustainability must be a part of any business transformation.  
This has been made more pressing in Hong Kong with the requirement that all listed companies are required publish an environmental, social and governance (ESG) report that measures their progress against key performance indicators.  
"With companies looking beyond a narrow definition of sustainability as just environmental protection, many are now seeking tools to help them measure their exposure to the broader range of ESG risks. It's about enabling them to check the efficiency of their operating environments with automated, data-centric processes and to shift gears rapidly," Sharma says. 
Companies can start by building data transparency with solutions like SAP Sustainability Control Tower. It captures how resources, like raw materials, water and energy, are being used and is at the heart of the SAP Cloud for Sustainable Enterprises solutions portfolio. A holistic way to manage sustainability performance, the SAP Cloud for Sustainable Enterprises helps companies track and reduce emissions, minimise waste, improve social equality, and report on and steer their ESG performance.
"SAP believes that the focus of any transformation should be on meeting and anticipating customer needs and empowering employees, suppliers and partners to collaborate more effectively and transparently. This is how you build an intelligent business that is sustainable and successful," Sharma concludes. 
SAP experts, customers and partners will explore the right approaches for companies to build a forward-looking operation as intelligent sustainable enterprises at SAP NOW Hong Kong on July 13. Register at 
https://bit.ly/3ntyhZP