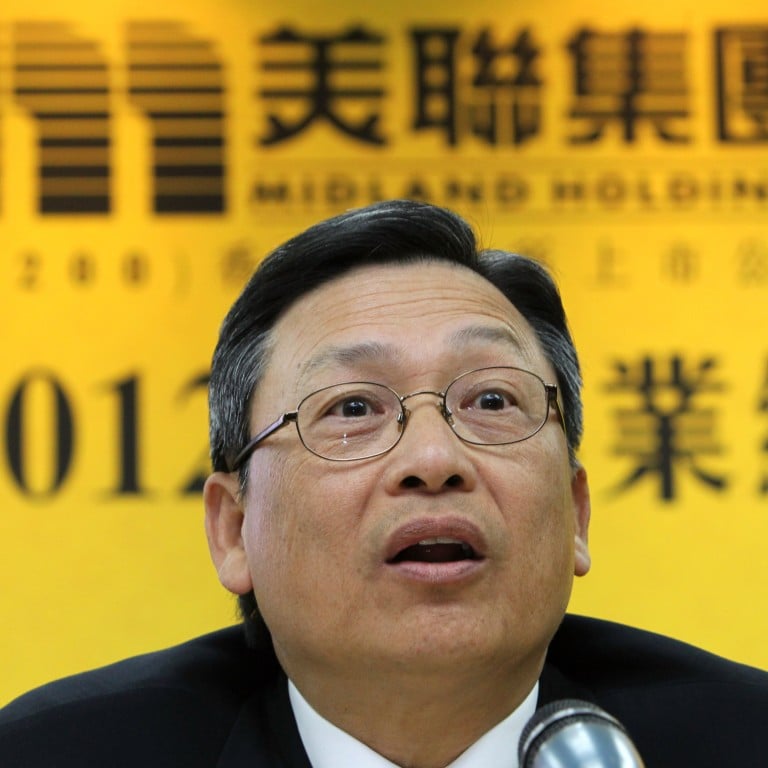 Opinion
Bricks and Mortar
by Sandy Li
Bricks and Mortar
by Sandy Li
Wong family finds way to safeguard property investments
Midland boss' deals with listed realtor have been a good earner, but questions are being asked
If you are a shareholder of beleaguered Midland your heart may skip a beat after looking at the firm's connected transactions with chairman Freddie Wong Kin-yip.
Wong and his daughter, Angela Wong Ching-yi, reaped a total of HK$16.5 million annual rental income by leasing 16 properties they owned to the listed company, according to the annual report for 2013.
Of the total, 15 are owned by Wong and one shop is held by his daughter. One of these properties gets a licence fee for advertisements placed on the wall of a shop premises in Mongkok to promote the realtor. Despite the company posting a record loss of HK$204 million last year, the firm's rental expenses jumped 30 per cent to HK$615.2 million.
Wong's property investments remained unscathed by the depressed property market. He raised rents for six properties; seven remained unchanged and rents were cut on three leases.
Wong increased the rental for an office unit in New Mandarin Plaza, Tsim Sha Tsui, by 12 per cent to HK$162,000 per month when the lease came up for renewal in April.
The second largest shareholder, Apex Benchmark, raised questions over Wong's large number of connected transactions. Apex, a Hong Kong-based real estate fund, believes a cap should be put on future connected transactions.
Apex also thinks the Wong family's salaries are too high.
Freddie Wong cut his total salary to HK$11.23 million from HK$HK$32.97 million in 2012. Angela Wong also reduced her salary, to HK$1.81 million, from HK$6.19 million in 2012. Wong's wife Metty Tang Mai-lai received HK$4.64 million last year, down from HK$5.99 million in 2012. Tang is an executive director of Midland and the chairman and managing director of listed subsidiary Midland IC&I.
Apex suggested the company's director salary should be performance-linked. It said the total basic pay of each director should not exceed 1.5 per cent of the average pre-tax profit or loss of the past three years. Based on the past three years, this figure is HK$194.27 million, meaning no director would receive more than HK$3 million. Apex will propose the changes at the company's annual meeting on June 26.
Since Wong reiterated that Midland has good corporate governance, he and his family should support Apex's suggestions.
This article appeared in the South China Morning Post print edition as: Wong family finds way to safeguard property investments