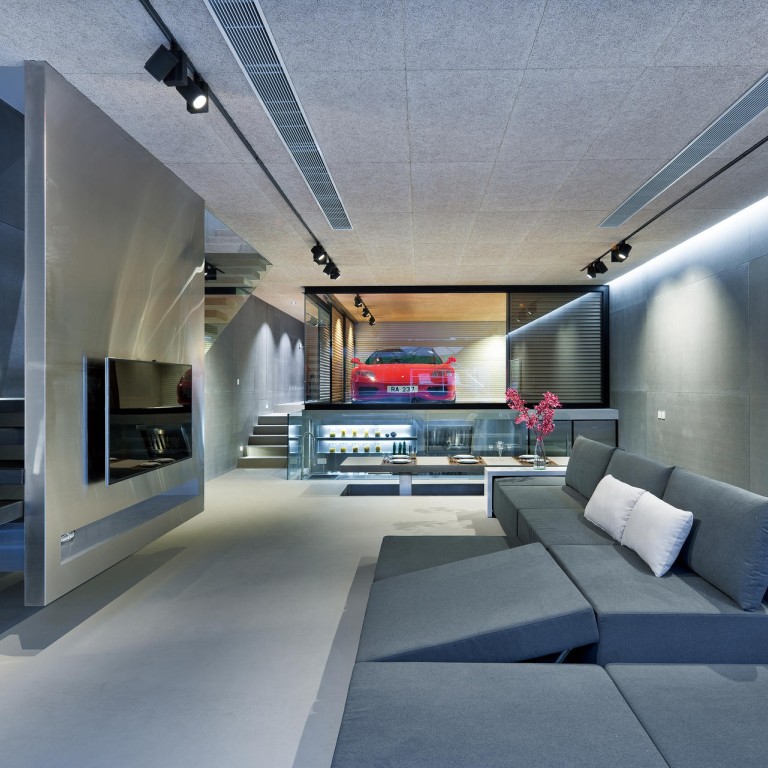 Interior designers go wild as clients seek eccentricity
Infusion of bizarre and outlandish marks new residential design trend where statement pieces with artistic value are sought after
The owner of a home in Sai Kung had a specific request of his interior designer; to create a living space that was "fascinating". So Michael Liu, founder and chief designer of award-winning Hong Kong-based design firm Millimeter, had an intriguing idea: he took one of his client's racy Ferraris, housed it in glass, and made it a design feature of the living room.
"He is a super car fan," said Liu of his client, who has a Ferrari 458 and F430, and has since acquired a Porsche 911 Turbo. "To do what he wanted was easy. I like to surprise my clients. My goal was to make a practical and fascinating home that he would never forget, so I put on show his favourite toy."
For those accustomed to more conventional design notions, Liu's idea to stick a car in the middle of a living space might seem just a little outrageous. But his approach to the project, which was completed last year, points to a wider trend in the field of residential design, where the expected and conventional is out, replaced by an infusion of the bizarre and outlandish, even in the most urbane of spaces. All that is required is a sense of humour.
"There were some very eccentric things at [Paris design fair] Maison & Objet," said Christine Martin, co-founder of online design resource Decorilla. Standout pieces included a high-backed chair with a flurry of stiff bird feathers down the back, and teacup-wine glass 'hybrids': pretty gold-rimmed teacups atop stemmed glassware.
"People are looking for a statement piece, something individual that stands out," said Martin. "There is more of a trend towards pieces of artistic value, rather than something you'd find in a department store or online shop."
And it is a trend gaining momentum worldwide.
Los Angeles-based interior designer Nicole Sassaman was brought in to design a Las Vegas penthouse, and also found that her brief was a pleasantly surprising one: go for whimsy, said her client. Find some eccentric pieces, and fold them in to a luxurious and sophisticated space. Sassaman, who specialises in high-end properties in Beverly Hills, Malibu, Century City and the Hollywood Hills, as well as a handful of projects in New York, was only too happy to oblige. She customised one-off pieces that include a table whose legs are literally that - shiny limbs created from thousands of coins. And the no-fail conversation starter in the space: a chandelier fashioned from artfully laser-cut smashed Versace tableware - a quarter of a cup here, half a plate there - strung together above the dining room so it looks, said Sassaman, like "shattered china in the air".
Like wearing bold fashion, those who opt to incorporate a little bizarreness into their space should have the personality to pull it off: a pair of armchairs by Italian band Nella Vetrina, which look like two huge rubber tires, are fitting for those who like their cars; unapologetic dreamers will appreciate designer Richard Clarkson's The Cloud, a ceiling pendant lamp that looks like a big fluffy nimbus, and is also a speaker system that streams music via any Bluetooth device. And New York designer Thomas Fuchs has, in his T&A line, a hand-carved pure marble champagne bucket, with what is clearly designed to look like single pert female breasts as handles, adorned with silver tassels.
Of course, sometimes lines blur. Liu recalls a project he did for a client in Discovery Bay. "I asked him what his dream house looked like in his mind," said Liu. "[A] big tub was top of his priorities."
So Liu and his team created a concrete bathtub that intersects the small living/dining/kitchen areas, affording zero privacy, but at least it offers something to spark a great design dialogue. And, of course, it could always double as a spare bed.
This article appeared in the South China Morning Post print edition as: Interior designers go wild as clients seek eccentricity