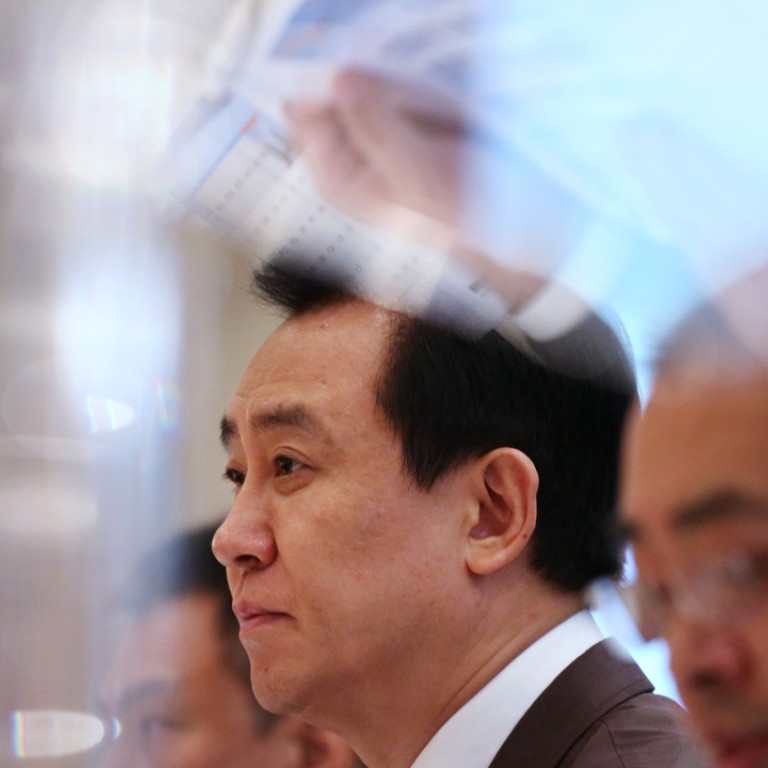 Update

|
Evergrande taps bond market for US$700m capital raising after asset purchase binge
Bond sale follows Moody's downgrade of the property developer's credit rating earlier this week, citing elevated debt leverage
Debt-laden Chinese developer Evergrande Real Estate announced US bonds offering on Wednesday totalling US$700 million, in the wake of its massive asset purchases from Hong Kong tycoon Cheng Yu-tung.
The Guangdong-based developer said it issued US$400 million worth of notes at 7.8 per cent due in 2019. It also said it had a purchase agreement with three investment banks for US$300 million worth of notes at 8 per cent due 2019.
Evergrande intends to use the proceeds to refinance its 9.25 per cent 3.7 billion yuan bond due January 19 and other existing indebtedness of the group, the company said in a filing to the Hong Kong stock exchange.
Despite its ranking as the second-largest home building by sales in China, Evergrande's aggressive expansion has pushed its financing costs above other smaller developers. Late last year, mid-sized developer Powerlong Real Estate priced its US$200 million, three-year senior notes at 7.625 per cent, another developer, Future Land Development, issued its US$250 million two-year senior notes at 6.25 per cent.
Rating house Moody's has downgraded Evergrande's corporate family rating to B2 from B1 and its senior unsecured debt rating to B3 from B2 on Monday, with a "negative" outlook for the ratings, given its elevated debt leverage. Evergrande recently acquired five projects from Cheng's New World Development Group and Chow Tai Fook Enterprises for 20.4 billion yuan.
"The downgrade reflects Evergrande's increased level of financial risk, which is in turn because of its highly acquisitive appetite and debt-funded strategy for acquisitions," says Franco Leung, a Moody's vice-president and senior analyst.
Moody's estimates Evergrande's total cost for all of the acquisitions since the second half of 2015, including its purchase of an office building in Hong Kong, at 59.5 billion yuan, with payments spread over the next two to six years.
This year the company will need to pay back 30 billion yuan in loans, not including interest payments.
Last year Evergrande issued 20 billion yuan worth of domestic bonds and US$1 billion worth of offshore bonds.
Carol Wu, head of research of DBS Vickers (Hong Kong), said Evergrande would not face an immediate liquidity risk given its cash on hand of 158 billion yuan by the end of 2015.
"In long term, Evergrande will face heavy debt pressure and will have to maintain sales growth from an already large basis," Wu said.
Analysts estimate Evergrande's actual debt level is more than 200 per cent when perpetual bonds are counted as debt.
Evergrande's Hong Kong shares fell 3 per cent on Tuesday to HK$5.58, its lowest level in 10 trading days.