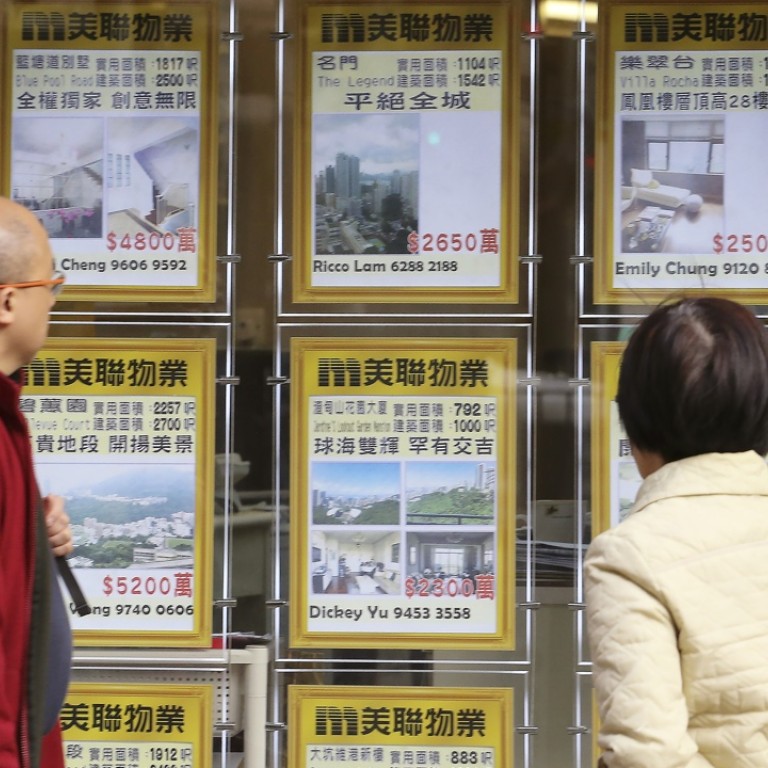 New

|
Hibor rate edges higher, boosting average monthly mortgage payments by HK$100
Not much impact for now, but a lift-off in Hibor rates could pressure monthly budgets, experts say
Home owners who finance their purchases with loans based on Hong Kong interbank offered rate (Hibor) are set to dig deeper to make monthly payments as the borrowing rate climbed to a three-year high Tuesday.
But analysts said the recent rise will not add too heavy to the financial burden carried by borrowers.
Interest rates on Hibor-based mortgage plans are usually one-month Hibor plus 1.7 percentage points.
Interbank borrowing rates with one-month tenor jumped by as much as 8 basis point to 0.27 per cent Tuesday, the highest since January, 2013. That translates into an effective rate on a home loan of 1.97 per cent, up from 1.91 per cent previously.
"We have received inquiries from clients concerned about how they will be affected by the sharp increase in Hibor," said Ivy Wong Mei-fung, the managing director of Centaline Mortgage Broker.
Based on Tuesday's one-month interbank borrowing rate, she said owners would need to pay an extra HK$30 per month for every HK$1 million home loan.
With average mortgage loan size of HK$3.3 million on 25 year terms, she said the interest rate rise would add less than HK$100 per month.
She said owners still prefer Hibor products, now priced at 1.97 per cent, because they were cheaper than those that referenced the best lending rate, or "prime rate" products, of 2.15 per cent.
"There are about 80 per cent of mortgage applicants opting for loans priced with reference to Hibor," she said. The remaining are based on the best lending rate.
Since Hibor is a floating rate and it exposes borrowers to the risk of rising borrowing costs, lenders offer a "cap" on borrowing costs equivalent to the discounted prime lending rate from 2012.
At present, these caps, according to mReferral Mortgage Brokerage Services, are set at about 3.1 percentage points below the 5.25 per cent prime rate, which would bring the repayment on a Hibor-based loan more or less back into line with conventional mortgage loans priced at a discount to prime.
Sharmaine Lau Yuen-yuen, the chief economic analyst at mReferral Mortgage Brokerage Services expects short term interbank borrowing rates would continue to rise but at a steady pace.
"With an abundance of deposits, Hong Kong is not in a hurry to follow the US interest rate hike," she said.