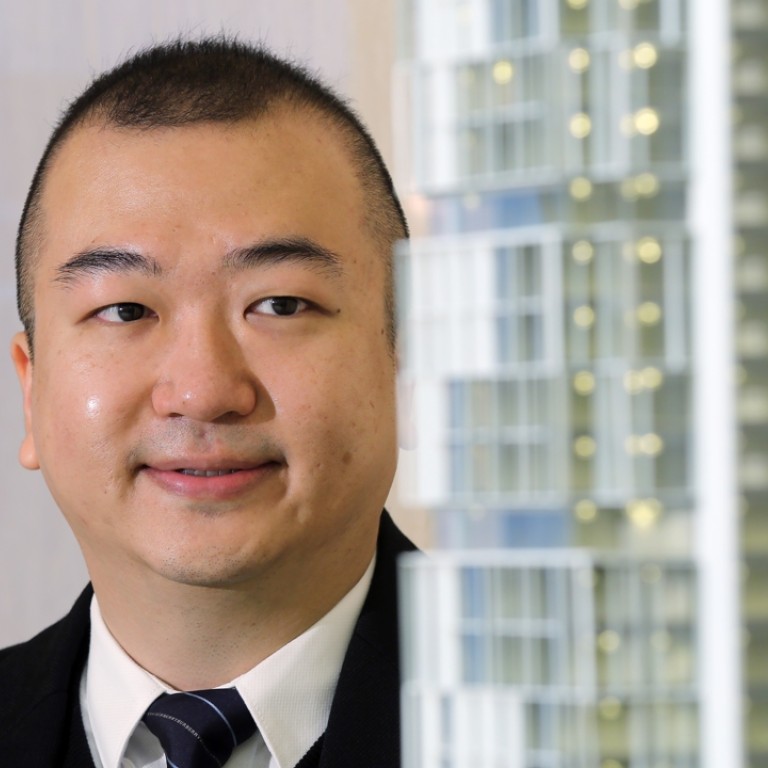 Aoyuan vice-president is cautiously optimistic about the housing market this year
Jacky Chan is from Hong Kong but speaks fluent Putonghua and English. Educated in England, the United States and Australia, Chan has extensive experience in financial services, investor relations and real estate. Before joining China Aoyuan Property Group in 2013, he was deputy head of Agile Property's capital markets department.
At Aoyuan, Chan says he found a place where he could fully use his knowledge and experience. As group vice-president and head of corporate finance and investor relations, Chan oversees various aspects of the business, from development to sales to financing, and he recently became the first head of Aoyuan's Australian office.
What is your expansion strategy this year?
We are cautiously optimistic about the housing market in 2016. Last year we achieved sales of 15.2 billion yuan, up 24 per cent from 2014. This year we hope to have at least 15 per cent growth. We want to join "20 billion yuan [sales] club" as soon as possible. It may take us one to two years.
For land purchase, we always concentrate on first-tier and second-tier cities, particularly in our base of Guangzhou and Guangdong province. Last year Guangdong province, including Guangzhou, made up 44 per cent of our sales. Other areas in China were 49 per cent and Australia contributed 7 per cent. We plan to buy more lands in Guangdong's Zhuhai and Foshan, where there's a strong economy this year. Outside Guangdong, we would focus on China's east and central regions. For the overseas market, we want to focus on Australia first, but our core business is still in China.
How would yuan depreciation and the boosted domestic bond market change your financing plan this year?
As cutting costs is one of our goals this year, we would give priority to domestic financing at this point and use cheaper domestic funding to redeem offshore junk bonds. Last year we issued a 2.4 billion onshore bond at an annual rate as low as 5.8 per cent. By the end of 2015, foreign currency debt accounted for only some 30 per cent of our total debts, compared to 50 per cent at the end of June. The average financing cost was reduced to 9 per cent last year, from 11.3 per cent two years ago. This year we will keep up the effort to conduct refinancing so that we can cut financing costs.
Meanwhile, we want diverse financing channels. We have retained our offshore financing capability despite some developers' defaults sparking worries among overseas investors. For example, Nanyang Commercial Bank lent us a 7 per cent US$100 million loan last August.
Would yuan devaluation put pressure on your Australian projects?
Our investment in Australia was not large, with two projects spending around 300 million yuan. The sales revenue received in Australia will be reinvested there, so we don't need to do currency hedging at this point. And the Australian dollar is also discounting.
Many developers are seeking diversification into new businesses such as entertainment and retail. Does Aoyuan have such a plan?
Yes, we would like to develop tourism projects. Actually we invested in a event company called Shanshui Scenery Culture in 2011, holding 10 per cent. The company is the founder of large-scale scenic performances in China and it's musical show Impression Liu Sanjie, performed on the Li River, is famous nationwide. We have started collaboration with Shanshui last year and plan to deliver our first cultural tourism complex in Shaoguan, northern Guangdong, which possesses rich history, cultural and natural resources, including Nanhua Temple and Mount Danxia, a world natural heritage site.
With a floor area of 700,000 square metres, besides residential and commercial developments, the project will set up a scenic performance stage and an experiential zone with themes of Buddhism and Zen. We will also build up a Zen meditation centre to catch a growing group of young people who want to temporarily escape from city life. If the project succeeds, we want to copy this business model to many places in China. We can design the show based on the local culture and history.
What do you think is the main reason for Fitch to have upgraded your outlook to "positive" from "stable" recently?
It is not an easy thing for us to have such rating revision given the whole market from stock to debts is undergoing a tough time. Despite our efforts to keep frequent communication with the agency, I think the most important reason is we've been well disciplined when conducting land acquisition in the past four years, strictly maintaining a 5 billion yuan expenditure every year. Also, we have proved our strong sales execution capability even in lower-tier cities. That helped our sales last year almost triple the sales in 2012.