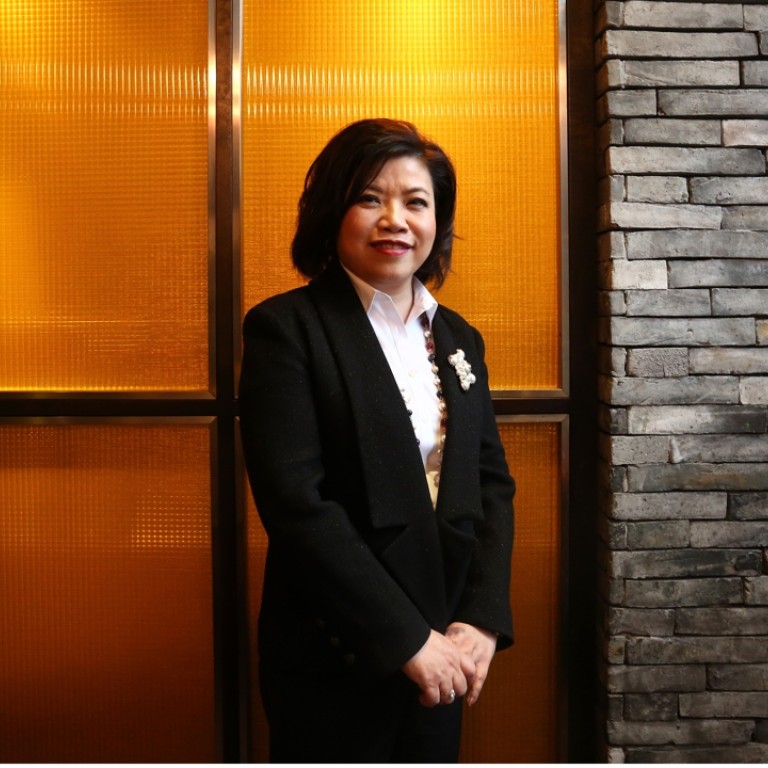 SHKP upbeat about retail market in Hong Kong and mainland China
Maureen Fung says malls along MTR lines have seen healthy sales growth
In the past eight years, Maureen Fung Sau-yim, a director at Sun Hung Kai Development (China), a wholly owned subsidiary of Sun Hung Kai Properties (SHKP), has seen a dramatic change in her career path and in the retail industry at home and in mainland China.
In that time she has been the key person behind the pre-leasing and opening of three large shopping malls, one in Hong Kong and two in Shanghai, with a combined area of 3.1 million sq ft – quite likely a record for an individual in the retail industry in terms of square feet of new malls opened in such a short period of time.
The three malls are the 630,000 sq ft APM mall in Kwun Tong, the 1.2 million sq ft luxury Shanghai IFC mall project in Lujiazui, Pudong, and the 1.3 million sq ft iAPM on Shanghai's busiest shopping strip, at 999 Huai Hai Zhong Road.
Her next challenges are a new project in Xujiahui, Shanghai, a new Nanjing IFC mall and the renovation of Shanghai's Central Plaza.
The Xujiahui Centre project will comprise 7.6 million sq ft of high-end shopping mall, grade-A office and a luxury hotel. Phase one will comprise 180,000 sq ft of office space, which will be handed over in the first half of next year, with the 330,000 sq ft shopping mall scheduled to open in 2018.
In September 2013, SHKP won the large site for 21.77 billion yuan (then equivalent to HK$27.8 billion).
Fung, who has 1,000 tenants in her management portfolio, has witnessed a boom and burst cycle in Hong Kong's retail market.
Hong Kong retail sales started to fall in 2014 after reaching a peak of HK$494.5 billion in 2013, as mainland austerity measures and its anti-corruption drive discouraged spending for luxury goods.
The falling trend accelerated last year and into this January, with the Census and Statistics department releasing data on Thursday that showed the city's retail sales in January dropped 6.5 per cent year on year to HK$43.6 billion.
Sales of durable goods such as cars, electronics and furniture were among the hardest hit, slumping 20 per cent year on year in January. Sales of jewellery, watches, clocks and valuable gifts fell 16.5 per cent.
But the softening of the retail market has not deterred SHKP from planning new shopping malls in Hong Kong and first- and second-tier mainland cities.
Q:
Has sales performance at Hong Kong shopping malls been affected by fewer tourists from the mainland and have weakening Asian currencies also lured tourists away from the city?
A:
Despite the diminishing number of big spenders from the mainland, we have seen our regional malls record healthy sales growth. Most of these malls are located along MTR railway lines and cater to local consumers.
Q: How should mall operators react to the softening retail market in Hong Kong?
A: Landlords of shopping malls have to change as shopping behaviour also changes abruptly. There is still room for development in the food and beverage sector which could see shoppers stay longer in the mall.
Q: Have you seen new brands wanting to expand to Hong Kong amid a depressed retail market?
A: Yes, there are some foreign brands that directly expanded into China. After they established a strong presence on the mainland, they are now considering diversification. We see it as an opportunity to lure them to diversify to Hong Kong.
Q: In China, the group's Shanghai IFC in Pudong and iAMP in Puxi, Shanghai, houses the world's most luxurious brands such as Louis Vuitton's largest single-floor store worldwide and Prada's biggest flagship store in China. How has Beijing's anti-corruption drive and its discouragement of luxury spending and the growing number of shoppers going online affected sales?
A: For global retailers, they still see China as a fast-growing economy in global terms.
Most of online shopping transactions are focused in second- and third-tier cities which have fewer shopping malls than first-tier cities such as Shanghai, Beijing, Guangzhou and Shenzhen.
Even e-commerce giant Amazon will have physical stores to serve as a showroom and let its customers try on the products.
Most online shoppers buy books, electronic goods or furniture but they seldom shop for luxury items.
In China, shoppers spent about US$45 billion on online shopping in 2015, but e-commerce accounted for US$1.53 billion in Hong Kong
Q: Will the oversupply of shopping malls on the mainland speed up market consolidation?
A: From now to 2018, there will be an average of 1.6 million square metres of new supply of shopping mall space every year. In a fiercely competitive market, professional landlords like us will enjoy an edge over rivals. The key elements of a professional landlord are strong management vision, financial soundness, provision of quality property developments, detailed planning and a high sense of accountability and credibility.
Q: SHKP has announced the conversion of 150,000 sq ft of office space at APM in Kwun Tong for retail use is under way. Can you tell us more details?
A: It is in the process of planning and will be announced later.