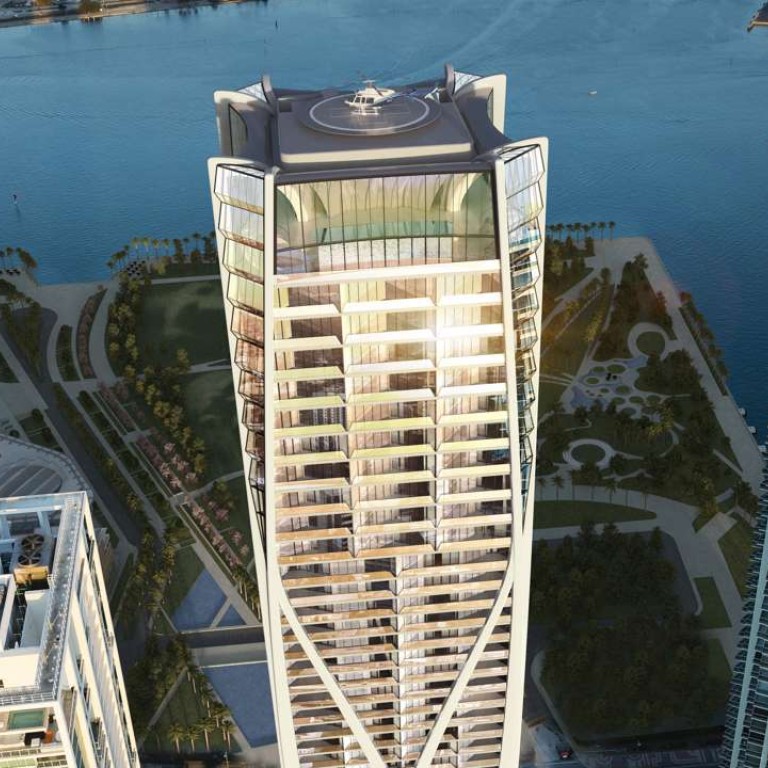 US developers reach for the skies with jazzy rooftops
Spaces that were used to house water tanks and other elements are being given makeovers as observatory decks, luxe lounges and community gardens
In the world of new high-end apartment buildings, rooftops have become as alluring as the flats themselves, being lavished with the same attention as the lobby and other public spaces. Previously consigned as places for water tanks or other functional elements, or ascribed for the sole use of the penthouse dweller, these spaces are increasingly being turned into observatory decks, luxe lounges and even community gardens for everyone in the building to enjoy.
"[Developers of] new buildings now do like to take into consideration rooftop access for the use of all the residents of the building," said Mark Higgins, senior vice president of sales and marketing at Trumark Urban, the San Francisco-based developer of a number of luxe buildings, including the upcoming The Pacific in that city's Pacific Heights neighbourhood. The nine-storey building, which is slated for completion by September, features a glass-enclosed rooftop space with a 23-foot ceiling and chandelier, and prospective clients are invited to step outside, recline on a lounger next to an outdoor fireplace with a glass of wine, and take in the views of the Golden Gate Bridge.
The approach of The Pacific – where flats will range in price from US$2 million to US$20 million – is one that is being embraced by a number of high-end developers around the world, who are viewing the rooftop as another amenity that can be mined to appeal to the buyer who is spoilt for choice.
At Paramount Miami Worldcenter, an upcoming development in Miami, there is a literal observatory at the top of the 60-storey building. Called the SkyDeck, the glass-encased room comes with a telescope attached to a digital screen, allowing all residents to pop up to star gaze. 
Miami, with its plethora of extravagant buildings, is seeing a spike in such developments. One Thousand Museum, by Zaha Hadid Architects, has a helipad at the top of the 62-floor building – the only rooftop helipad in the city, and a feature virtually unheard of in residential buildings anywhere in the world.
"[Our] future residents are coming from all over the globe seeking privacy, security and a home equipped with amenities unlike any other," said Louis Birdman, co-developer of the building. "It also gives our well-travelled residents control over entering and leaving on their own terms and unnoticed."
Miami properties do lend themselves to innovative rooftop offerings, given the year-round sunshine and expansive waterfront views. 
"[We] make it a point to create extraordinary outdoor spaces, especially on our rooftops," said Carlos Rosso, president of The Related Group's condominium development division.
Among the company's properties are Brickell Heights, where dwellers can enjoy access to a rooftop herb and vegetable garden.  At its HYDE Midtown property, residents can venture to the top of the building to take a dip in the pool, enjoy "elevated" tennis and relax at the rooftop bar. Celebrity chef Jose Andres has designed a menu for exclusive use of residents at the 5,000 square foot Sky Roof Pool Deck at SLS Brickell. 
The trend is being seen elsewhere too: the rooftop at the Piet Boon-designed The Oosten in Brooklyn has a reflecting pool, fountain, lounge areas and allows residents to have grilling get-togethers. The upcoming Gasholders London project, scheduled for completion in late 2017, will boast a residents' roof garden created by award-winning landscaper Dan Pearson. It is being envisaged as a series of spaces featuring timber seating and enough greenery to recall the tranquility of a meadow.
"I see gardens as places of escape and immersion,"  Pearson said of the space. "They can provide you with an enormous sense of freedom."
It's a welcome escape, particularly in cities that are notoriously short on space, such as New York. 
 At the hip Urby in Staten Island, a 900-flat rental building, the rooftop "urban farm" is 5,000 square feet in size and features its own "farmer-in-residence". Some 50 varieties of produce are being grown, which is then sold every Saturday at a farmer's market held in the communal kitchen on site, or enjoyed by residents dining at the cafe in the building.
Higgins, of The Pacific, agrees that buildings with an innovative rooftop that is open to all residents have an inbuilt appeal. "Nobody in [our] building will purchase a home there without going up to the lounge and seeing the views," he said. "It's a boutique building, so it feels intimate – but still has those billion dollar views. It's a place where people go to show off their home, their view, to enjoy conversation and reflection."
This article appeared in the South China Morning Post print edition as: High-end homes with rooftop views to kill for