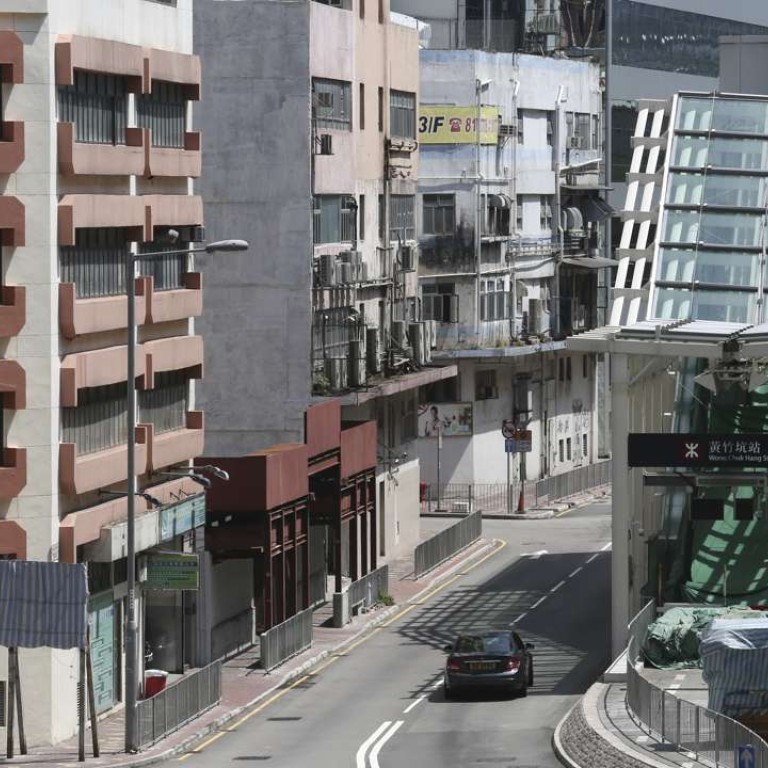 Commercial site in Aberdeen attracts 24 bids as developers' confidence grows
The site in Wong Chuk Hang is likely to fetch between HK$1.42 billion and HK$2.4 billion, or HK$5,000 to HK$8,000 per square foot
The government has received 24 bids for a commercial site in Aberdeen, part of Hong Kong Island's Southern District, with analysts saying the response reflects developers' confidence in the market outlook.
The 19,000 square-foot site in Wong Chuk Hang is likely to fetch between HK$1.42 billion and HK$2.4 billion, or HK$5,000 to HK$8,000 per square foot, according to property agents.
The wide range of estimates reflects uncertainty over the maintenance costs of a nearby slope which, according to the land sale particulars, the winning developer will need to take care of.
The total gross floor area of the commercial site will be as much as 284,900 sq ft. The particulars also require the developer to construct another building covering 30,000 sq ft as a cultural and arts centre as well as office premises.
Thomas Lam, head of valuations and consultancy at Knight Frank, said the high number of bidders indicated developers' optimism for the city's property market.
On Wednesday,
Kerry Properties
beat 10 other bidders to win a site in Kowloon Tong's Beacon hill for HK$7.27 billion or HK$21,016 per sq ft, the most expensive government land sale this year.
According to JLL's latest Hong Kong Residential Sales Market report, six out of eight public residential land sales tenders were awarded at prices above market expectations in the third quarter.
Among the most notable transactions, Gingerlily Investments, a company held by local investor Angela Leong - also known as the fourth wife of Macau tycoon Stanley Ho Hung-sun - acquired a residential site in Tuen Mun for over HK$ 1.4 billion, or an accommodation value (the cost of buildable area) of HK$6,800 per sq ft. The price was 70 per cent higher than market forecasts.
The recent streak of aggressive bids reversed a trend from earlier in the year, when only three out of eight awarded tenders managed to scrape the lower end of estimates.
JLL said the pick-up in the land sales may signal the restoration of developers' confidence in the market.
The increased keenness among developers to get their hands on land comes amid a rebound in property prices and strong sales in the primary market.
In the first nine months, mainland developers placed bids in half of the land sales tenders, on par with their participation rate in 2015.
With the focus of investors currently on mass residential projects, JLL expects the luxury market to gain a greater share of the limelight in the coming months, as some new projects such as Mount Nicholson on The Peak, 38 Inverness Park in Kowloon City and St. Moritz in Kau To are due to be launched onto the sales market soon.
This article appeared in the South China Morning Post print edition as: Bids for Aberdeen plot sign of faith in market outlook