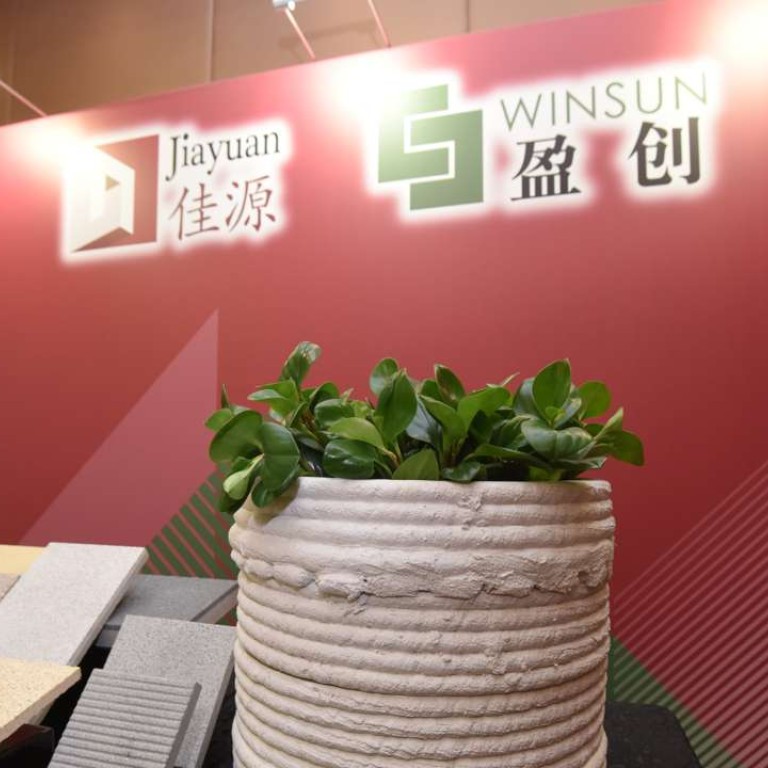 HK-listed Jiayuan teams up with 3D printer for customised outdoor features
3D printer-maker WinSun to let developer 'output' landscape features, aiming to move on to buildings after standards for the technology are set
Hong Kong-listed property developer Jiayuan International Group is making a push into 3D-printing construction through a strategic partnership with WinSun Decoration Design Engineering, a Chinese company known for its technology that can 3D-print entire buildings.
Jiayuan International would work with WinSun to apply 3D printing technology for landscape gardening and outdoor products in its upcoming property projects, the company said. Once 3D-printing construction standards had been finalised in China, Jiayuan International would explore the possibilities of using the technology to construct buildings.
"Adopting 3D-printing technology helps to reduce both time and costs for construction ... [and] enables us to provide customised designs," Jiayuan International chief executive Cheuk Hiu Nam said earlier this week.
"We believe that 3D printing is a technology that will become more mature and more widely used in the future. Right now, we're still at the beginning ... in our new projects, we will start from landscaping gardening and outdoor products," she said.
WinSun chairman Ma Yihe said the technology could cut building costs about 10 per cent compared with traditional construction methods at present but the company aimed for its 3D-printing construction technology to slash building costs 50 per cent once building standards had been finalised.
"For customised buildings, those savings will be much more, because it's usually expensive to construct such buildings," Ma said, adding that 3D printing made it easy for customisation at no extra cost because it was only a matter of inputting data to finalise the designs that would be printed.
"Right now our technology is mature enough that ... any building that can be constructed by man, can also be constructed through 3D printing."
But Ma acknowledged that most people were not yet ready to accept 3D-printed buildings as a norm.
"3D printing is already a very mature technology, it replaces human labour with machines. But many people are still not able to accept 3D-printed buildings as a norm since it is still a novel technology," Ma said.
"It's a process. We'll start from simple objects for landscaping [for Jiayuan International], before gradually moving up to building high-rise buildings as people get used to this technology."
WinSun said it had active projects in cities like Dubai in the United Arab Emirates, along with countries such as Germany, France and Egypt.
The company first drew attention in 2014 when it built 10 homes measuring 200 square metres (2,152 square feet) using its 3D printer within a span of 24 hours. An "ink" comprising of materials such as cement, fibreglass and sand was used to print different sections of the buildings, which were then assembled on-site in Shanghai.
Last January, WinSun also 3D-printed a six-storey apartment building, which it unveiled in Suzhou Industrial Park in eastern China's Jiangsu province.
3D-printed buildings had three to five times the seismic capacity of traditional buildings, thus withstanding earthquakes better, WinSun claimed. The technology could also cut back on construction waste and pollution.
This article appeared in the South China Morning Post print edition as: Jiayuan adopts 3D technology to 'print' features