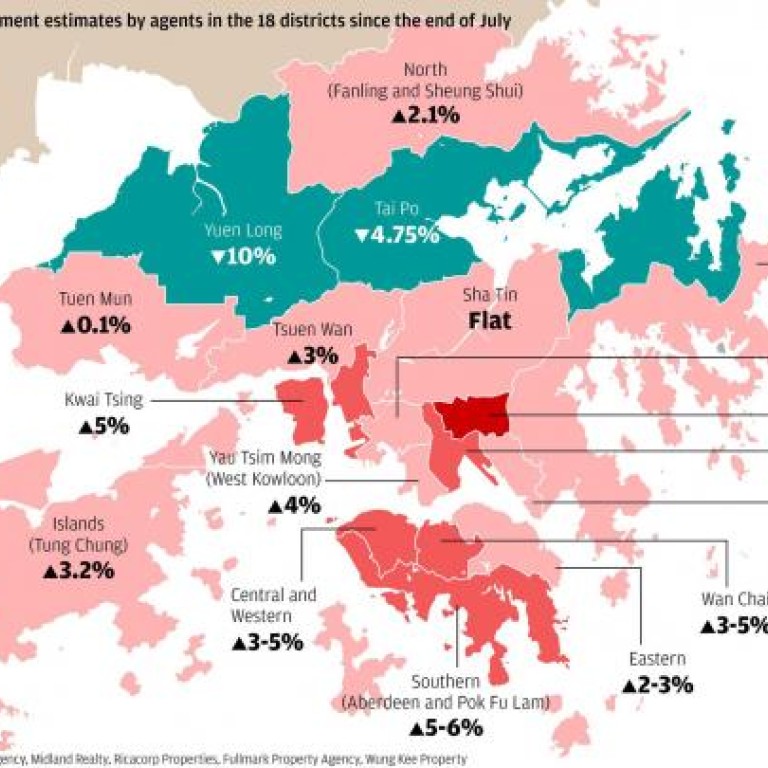 Home prices in HK record slight increase in first three weeks of August
Despite concerns chief executive may seek to cool demand, several areas see values climb moderately, including a few record busters
Hong Kong's home prices continue to rise, though sales in some districts have started to slow amid concerns further policy measures may be introduced to curb resurgent demand.
Property agents said that after several record-breaking deals in certain areas this month, early evidence emerged last week of a slowdown in sales transactions. Weekend sales at 15 selected housing estates were down 19 per cent on the previous weekend, to 48.
Deal numbers may be declining, but there is no sign yet prices will follow.
Prices in 16 out of all 18 districts in the city are up to varying degrees. Driving the positive change in sentiment in the market, agents said, was Chief Executive Leung Chun-ying's announcement last month that 5,000 eligible public housing tenants would be allowed to buy flats under the Home Ownership Scheme without having to pay a land premium.
Prices in such areas as Kwai Tsing, Tseung Kwan O, Tuen Mun, Tai Po and West Kowloon have risen 3 to 5 per cent this month, according to agents. The biggest rise was seen in Wong Tai Sin, where prices rose 10 per cent, while Aberdeen and Pok Fu Lam saw prices increase 6 per cent this month.
Record-breaking deals were reported in several areas, including Tai Po, Tseung Kwan O, Kwai Tsing, West Kowloon, and Kowloon Bay.
A 1,137 square foot flat in Taikoo Shing's Marigold Mansion sold for HK$15.5 million, or HK$13,632 per sq ft, up from the HK$14.8 million paid for a similar-sized flat in the same estate in July. A three-bedroom flat at Liberte in West Kowloon went for a record HK$9,300 per sq ft this month.
At Amoy Gardens in Kowloon Bay, a 482 sq ft flat sold for HK$3.93 million, or HK$8,160 per sq ft, the highest yet for a flat in the estate.
But faced with a sharp rebound in sentiment and demand, the government might bow to political pressure and unveil further measures to cool the market, cautioned Cusson Leung Kai-tong, an equity analyst at Credit Suisse.
Possible steps might include banks limiting loans to half the purchase price of a home for buyers of second homes, non-local residents or company buyers, Leung said.
The government could also consider imposing a higher stamp duty on property transactions.
Chief Executive Leung warned on Wednesday he would act to curb property speculation to prevent "over-expansion" of bank credit and ensure the healthy development of the residential market.
Angus Hui, sales director of northern New Territories at Centaline Property Agency, said sales volumes in Fanling and Sheung Shui were down by half last weekend, compared with the previous weekend.
Meanwhile, sales remained strong in other districts. In West Kowloon nearly 60 deals have been recorded so far this month, up by about a third over the same periods in July and June.
In the upmarket Mid-Levels West, nearly 60 flats have been sold so far this month. The total could reach more than 100, according to Dennis Wong Chun-lam, senior sales director at Ricacorp Properties.
Jonas Kan, a senior vice-president who tracks property at Daiwa Capital Markets Hong Kong, said in a report released this week he no longer factored in the possibility of major adverse policies into his property estimates. Daiwa has revised its forecast of a 6 per cent fall in prices for 2012 to a rise of 12 per cent year on year.
"Before the new government came into office, the market was overly concerned about the policy risks, but the situation has now normalised," said Paul Louie, head of regional property research (Asia ex-Japan) at Nomura Hong Kong. With actual end-users behind the new demand, there was no need for the government to suppress it, he said.
Analysts' views
Analysts believe the recent surge in local home prices will continue, thanks to low interest rates, strong demand and limited supply.
 
Paul Louie, head of regional property research (Asia ex-Japan) at Nomura Hong Kong.
We expect a gentle increase of about 5 per cent in flat prices in the next 18 months, based on our earlier estimates that home prices should go up by 10 per cent this year and another 7 per cent next year. Since flat prices have already surged 12 per cent this year to date, we believe there will be room for another 5 per cent increase by the end of next year. This is driven by stable rental growth at a similar rate. Interest rates in Hong Kong and the US are expected to remain stable at a near-zero level amid inflation, so people will continue to switch from saving to consumption.
Nicholas Brooke, chairman of Professional Property Services.
We are going to see some further price increases because of international buying interest, as the Hong Kong market has become a safe haven for them and they see the residential market here as attractive. We will see not only mainland buyers in the market, but investors from Russia, Singapore, Indonesia, and elsewhere. Also, there is strong local demand and interest rates are low. The top-end residential market should see a 5 to 10 per cent price increase in the next 12 months. For the mass market, we think prices will stay as they are, while flat prices in the bottom-end market, sized about 700 square feet or below, may ease a little by 10 to 15 per cent as [Chief Executive] Leung Chun-ying should launch measures which target this market. Maybe there will be some new schemes, such as offering financial help to first-time buyers.
Lee Wee Liat, managing director and head of property research at BNP Paribas Securities (Asia).
The first-hand property market should be good in the second half because of strong liquidity as well as insufficient supply in both the first and second-hand markets. Driven by the primary market, home prices should go up by 10 to 15 per cent by the end of 2014 although we may see some fluctuations before then. The government may launch some measures if prices and sales volume continue to rise. But it should focus on the supply side by considering how to boost private supply.
Alfred Lau, property analyst at Bocom International, the investment banking unit of the Bank of Communications.
We're positive on the property market outlook for the coming year or two. If there is no major deterioration in either the local or global economies, home prices should remain firm and stable at the current level.
This is because prices should still be supported by a rising income base and low interest rates, which are expected to remain low until the end of 2014.
Paggie Leung
This article appeared in the South China Morning Post print edition as: Home prices nudge upwards HK home prices climb slightly but volume dips