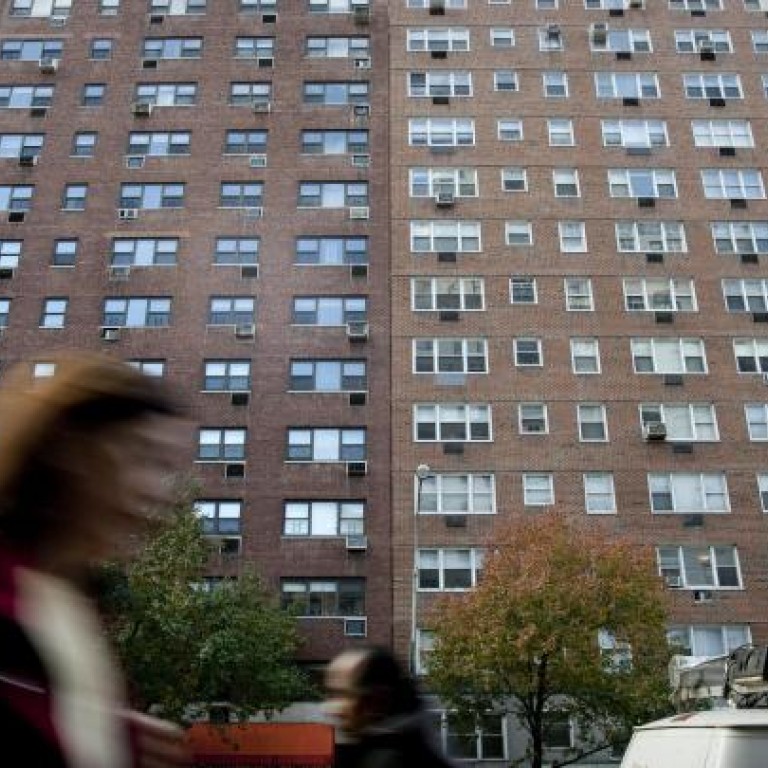 Manhattan property attracts investors from Hong Kong and mainland China
Hong Kong and mainland investors see the Big Apple as a less risky place to buy
Hong Kong resident Jacky Yeung is going to complete the purchase of two Manhattan flats in one go.
Like many buyers of New York property, the purchases were made, he said, based on the drawcard of the city's status as an international financial centre.
But another key reason why many mainland Chinese and Hong Kong buyers shop abroad for property investments, agents say, is the growing policy and investment risks of real estate markets at home - both in Hong Kong and on the mainland.
Property agents based in New York say they have seen a big rise in sales activity from Hong Kong and mainland buyers since the beginning of this year, and Yeung was typical of the new wave of buyers.
"Hong Kong property prices are too high, so [I] considered buying overseas," said Yeung, a 30-year-old financial sector employee. He said he also aimed to "diversify his investments and avoid any potential blow-up in China both economically and politically".
Growth in the mainland economy slowed to its lowest level in three years to 7.6 per cent in the second quarter, and analysts predict that full-year growth could be as low as 7.9 per cent.
Yeung said he chose Manhattan because the limited supply of apartments on the island means they will appreciate in value faster than other areas. "Manhattan has a limited supply and it is the number one financial capital of the world. Also, the US will still be the biggest economy in the world for many years to come," said Yeung, who is in the process of completing the purchase of two 700 sq ft flats, for which he has paid about US$1 million each.
Weimin Tan, managing director of Castle Avenue Partners at Rutenberg Realty based in New York, said his firm's sales volume jumped five times in the first eight months when compared with the same period last year.
"Most buyers come from Hong Kong and China," said Tan. "They bought to diversify and wanted to get a piece of Manhattan, attracted by its brand name."
In some cases buyers were establishing homes for children studying in New York, he said.
In the Wealth Report by Knight Frank and Citi Private Bank, New York was voted the second most important global city after London, and also the second in importance for high-net-worth individuals. It was ranked third in the quality of life category, second in the knowledge and influence category, and third and second in political and economic activity respectively.
Tan said mainland buyers of New York apartments were on the rise. 'We have Chinese clients buying every week," he said. "They come from Chengdu, Shanghai, and Guangzhou.
"Average property prices in Manhattan increased 9 per cent per year from US$328 per square foot in 1997 to US$1117 per sq ft in 2011," said Tan.
Another property agent based in the US confirmed the growing impact of Hong Kong and mainland buyers.
"The number of Hong Kong and China buyers heading to Manhattan has doubled in the past six months," said Patrick O'Neill, the chief executive of O'Neill Group, a Hong Kong-based property firm specialising in international real estate. "Officially Chinese buyers are now the second-largest group of international buyers in the US, making up over 10 per cent of the market segment," said O'Neill.
Commenting on the recent increase in buying, O'Neill said prices in Manhattan bottomed out in late 2009 and have steadily marched upwards since. "Many buyers have been sitting on the fence and now realise they may have waited too long," he said.
A projected increase in interest rates was another important component of current buying patterns, he said.
"Currently we can arrange 30-year fixed rates mortgages for four per cent or less, but this will probably change after the US presidential elections.
"Prices in the prime areas are up 10 to 15 per cent compared to the bottom and inventory is down nearly 25 per cent since last year. The supply and demand imbalance is expected to drive prices up another 10 per cent this year," he said. O'Neill said average property prices in Manhattan now are averaged around US$1,200 per sq ft.
Most buyers were looking at residential properties to buy and then let. The most popular areas continue to be Upper East, Upper West and Downtown.
"The trickle of Hong Kong and China buyers in 2010 became a river in 2011 and now a surging flood in 2012 as prices in Manhattan are increasing and rises in interest rates loom," he said.
This article appeared in the South China Morning Post print edition as: Chinese buyers flock to Manhattan Chinese buyers seek flats in Manhattan