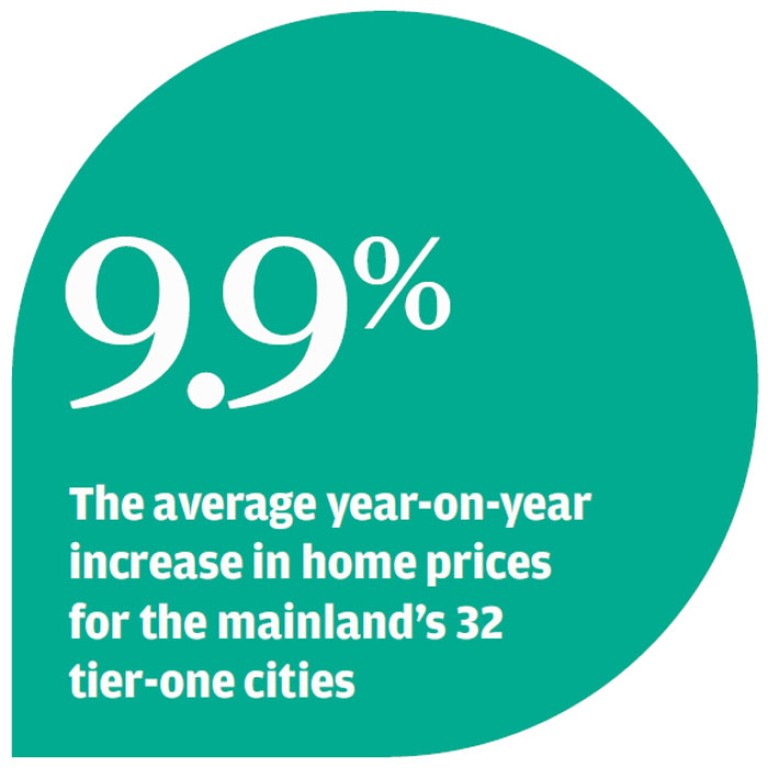 Increase in China home prices expected to slow with new launches
Flurry of new launches over next few months to impact strong momentum recorded in May
Strong presales momentum in leading mainland cities continued and prices kept rising this month, but the pace of price growth is expected to slow in the wake of a strong pipeline of new launches in the next few months.
Transaction volumes in 32 key cities increased by 7 per cent week on week and 21 per cent year on year on average, according to a report from investment bank Jefferies.
Home prices rose in 96 per cent of the key cities monitored last month on the back of strong demand and an improved credit environment, it noted.
According to the National Bureau of Statistics, tier-one cities led the increase with a 1.7 per cent month-on-month and 9.9 per cent year-on-year rise.
However, rising prices increased pressure on local administrations, and the central government reportedly may expand the property tax trial into several new cities this year. The policy will vary from city to city and the tax will be levied mainly on newly purchased homes, according to mainland media. Shanghai and Chongqing imposed the property tax trial in January 2011.
It was also reported by mainland media that in future the granting of pre-sales permits in Beijing will need the final approval of the deputy mayor. The city government has implemented stringent controls on the granting of pre-sales permits since last month, essentially banning any pre-sales price rises from either their respective historical transacted levels or the average price in their surroundings, according to Xinhua.
Nomura said it would not be surprised to see more developers raise their asking prices.
"Nevertheless, any aggressive move would also likely come at the expense of sales slippage since the market is still primarily driven by the price-sensitive end-user demand," Nomura said in its report yesterday.
As sales remains the priority and more supplies are scheduled to launch, Nomura expects developers will stay largely disciplined on their pricing strategy, especially in the mainland's non-first-tier cities.
This article appeared in the South China Morning Post print edition as: Pace of growth in home prices expected to slow