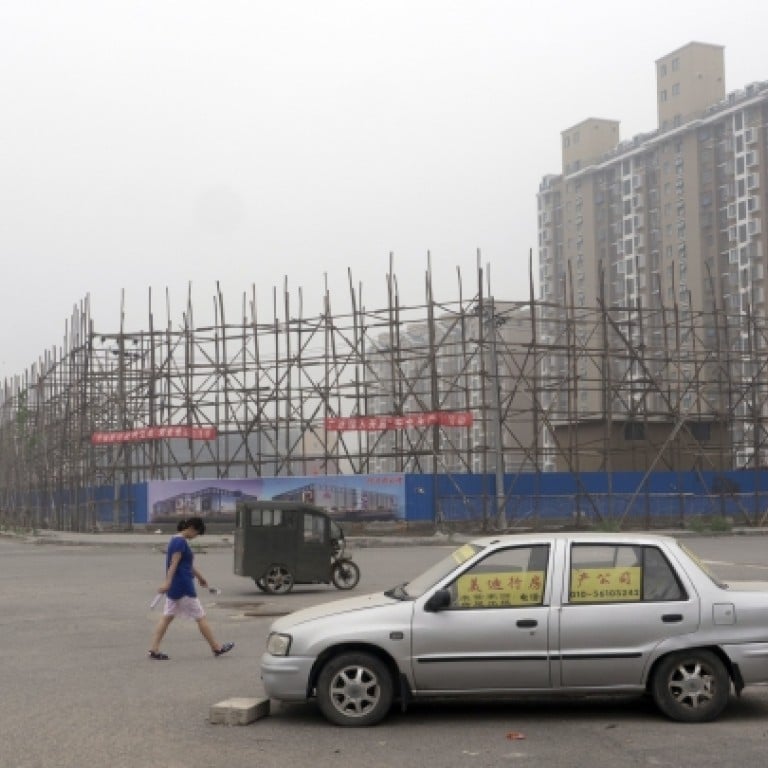 Housing challenges of China's urban explosion
While China is world's largest construction market and cities expand rapidly, the supply of social housing could become a major problem
Tomorrow's world will be an increasingly urbanised one, with the volume of global construction output set to grow by 70 per cent to US$15 trillion by 2025. And China will be one of three countries making up the majority of that increase.
A study from Global Construction Perspectives and Oxford Economics shows that, along with India and the United States, China will contribute to almost 60 per cent of the growth.
Since overtaking the US as the world's largest construction market in 2010, China now accounts for 18 per cent of total global construction, and by 2025 it is forecast this share will have jumped to more than a quarter.
While on the surface the numbers are positive, the economic outlook is looking less robust than previously expected, with investment subdued and trade flows, particularly in Asia, weaker than expected.
Beijing is committed to rebalancing the economy towards higher consumption and accepting a slower rate of growth. Nonetheless, we forecast that GDP growth will, in the short term, be supported by a more stimulatory fiscal policy and generally loose monetary conditions.
The rising middle class will underpin strong consumer spending as the number of Chinese households with incomes over US$30,000 a year increases by nearly 20-fold over the coming decade. Overall, we expect GDP growth to moderate in the next 10 years and average 7.1 per cent over the forecast period as a whole. But what does this look like day to day?
In the 1980s, only 15 per cent of China's population lived in urban areas. Economic development since then has been more rapid in coastal provinces, with people moving to more urban areas for work.
This means the urban population is currently around 50 per cent, but by 2020 it's likely to be 60 per cent (compared to 75 per cent in Western developed nations).
We're seeing strong and rapid growth of China's cities. At the moment Shanghai, Beijing, Shenzhen, and Guangzhou are the only four cities with more than 10 million residents, but by 2025 another four are set to join that list - Chongqing, Wuhan, Tianjin, and Chengdu - with Foshan close behind. And every year there are around 12 to 24 new cities being built.
The landscape has no choice but to become urbanised.
Housing accounted for 40 per cent of 2012's construction output in China and we are expecting that to be the slowest-growing sector in the next 10 years. We've already seen the emergence of "ghost towns" - for example the city of Ordos in Inner Mongolia, where developers built enough homes to support a population of one million people, but most of it remains vacant.
The big question for the future is how to put a roof over the heads of those in need of social housing. The 12th five- year plan outlined the building of 36 million low-income homes from 2011-2015, but only 4.3 million of those were completed by the end of 2011. The Ministry of Housing states seven million affordable homes were started in 2012 and six million at the beginning of this year, suggesting a marked slippage.
That, in part, is down to private developers not wanting to build low-cost housing without subsidies.
The biggest jump in construction has been in the amount of shopping centre space being created. China accounted for half of the 15 per cent growth in the sector in the past year. There are 16 million square metres of shopping centre space currently under construction, with 2.9 million square metres in Chengdu alone. A further one million square metre each is due to be delivered over the next three years in Shenyang, Chongqing, Wuhan, Guangzhou, and Hangzhou. By 2025 there will be nearly 10,000 shopping malls in China, up 7,000 from today.
The development of hospitals will also be a key growth area in China to 2025. In the most recent five-year plan, efforts were outlined to develop 200,000 health care facilities across the country, including 2,000 hospitals with more than 1,000 beds each.
There are also ambitious plans to address the fact that most hospitals are in the cities, a long way from rural areas; and for a clinic to be placed in each village across the country.
Housing apart, there are vast infrastructure needs.
There are perhaps overly ambitious plans to increase China's airport network by nearly 50 per cent by 2015 by building 82 new airports. Only 53 of the country's airports carried more than one million passengers in 2011 and most internal travellers take advantage of the relatively low high-speed train fares.
The 55 major infrastructure projects announced by the National Development and Reform Commission last year include subway, port and sewage projects, but it is difficult to imagine how these will be procured and financed. Highway construction was a key element of the five-year plan, but investment in terms of volume has gradually declined.
It is no surprise, then, to conclude that lower population growth and a redressing of the economic balance suggest that construction is going to slow in the years to 2025, more considerably after 2020. The future of China is one in which increasingly affluent consumers demand larger homes, which in turn will drive the retail and wholesale distribution networks essential for a consumption-oriented society.
Nonetheless, even in a period of marked slowdown, we can't deny that there will still be growth, which will still average over 6 per cent per annum - keeping the country among the five fastest-growing construction markets in the world.
This article appeared in the South China Morning Post print edition as: Challenges of the urban explosion