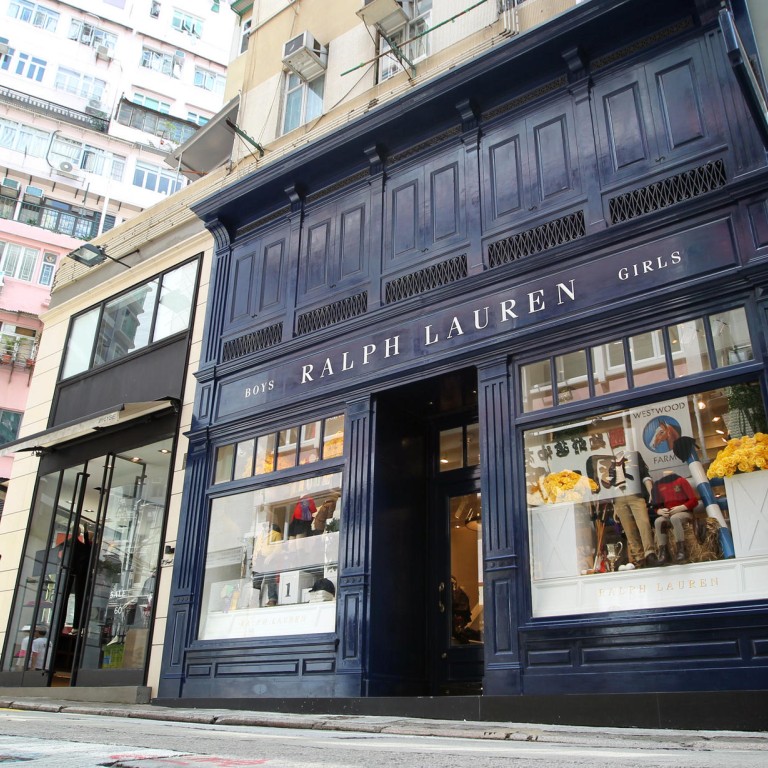 Retailers keen on fringe areas such as Gough Street and Hollywood Road
Slowdown in trade and rocketing rents in prime districts are causing top brands to move out to areas such as Gough Street and Hollywood Road
Hong Kong's retail sector is going through a transformation, driven mainly by a slowdown in the growth of retail sales.
The slowdown has ended the relentless rise in rents in prime shopping areas such as Russell Street in Causeway Bay.
Meanwhile, in secondary shopping areas such as Percival Street in Causeway Bay, shops are being left vacant as retailers either quit the market, call a halt to expansion plans or go in search of cheaper rentals.
But the movement away from overpriced upmarket locations has delivered benefits to several districts formerly regarded as being on the shopping fringes and has injected new life into areas such as Gough Street and Hollywood Road.
Ralph Lauren leased a ground-floor shop at 2-10 Gough Street in Sheung Wan for HK$240,000 a month last year, while Malaysian pewter manufacturer Royal Selangor International has just opened a 2,000 sq ft store in Hollywood Road.
Chen Tien Yue, director of Royal Selangor, said: "The area is evolving. The mixture of tenants will continue to change in the next of couple of years."
Chen said the company wanted to secure a good location before rents in the area increased.
US fashion brand J.Crew is due to open a shop for men's clothing in Gough Street.
The moves are being driven by cheaper rents, say agents.
"You can pay HK$250,000 for a shop in the area, or pay a million plus for a shop in the city's core area,'' said Nicholas Bradstreet, deputy managing director of property consultant Savills.
While shoppers might welcome the arrival of the brands in the area, existing residents may think otherwise, regretting the increased traffic and attention in what was a quiet corner of the city until now. But the trend is likely to gather momentum.
More mid-priced European brands have now expressed interest in opening in Hollywood Road and Gough Street, which could be on track to becoming a stylish new shopping area close to the core Central district.
Helen Mak Hoi-lun, a director of retail services at consultancy Colliers International, said: "The streets are in better shape nowadays and our international customers have identified the area as one of their leasing options outside the traditional shopping districts."
The area around Gough Street and Hollywood Road could even become comparable to London's Covent Garden as a shopping and tourist site, she said.
Mak said its growing appeal to retailers had already seen a year-on-year increase in rents of more than 10 per cent to between HK$150 and HK$200 per sq ft.
Some longer-term leases coming up for renewal were being rewritten at double their previous rates, she added.
This is in stark contrast to what is happening to rents in prime shopping areas. Shops in Russell Street, Causeway Bay, and Queen's Road Central are being offered at unchanged rents, as the city adjusts to the slowdown in spending on super-luxury items by mainland visitors.
As a result, retailers who once clamoured to enter the Hong Kong market and were willing to pay sky-high rents are looking for hard bargains. Some, such as the cosmetics retailer Bonjour, have shut some stores. Landlords have responded by cutting rents to re-let their premises.
Mak said: "The owner of a 2,000 sq ft street shop in Percival Street was asking for a rental of HK$1.2 million, but has now cut that to HK$1 million."
This article appeared in the South China Morning Post print edition as: Retail shift is bringing new life to fringes