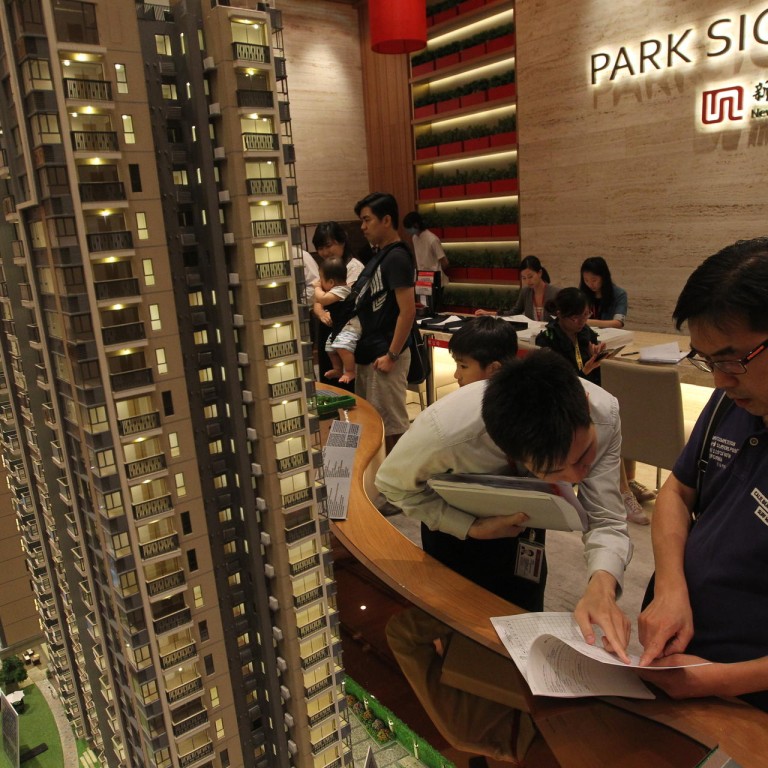 Hong Kong property cooling rules make strong case for 'buyer beware'
Agents warn that some would-be buyers of new homes are finding government regulations blocking their investment plans
With the introduction of a range of cooling measures including increased stamp duties, the age-old watchwords "buyer beware" have never rung more true for those seeking a home in Hong Kong, say property analysts.
"There are now so many cooling policies in the market that buyers often do not fully understand how they change the down payments they will have to make, and how big their monthly loan repayments will be," said Ivy Wong Mei-fung, managing director of Centaline Mortgage Broker.
"As a result. many are walking away from deals when they realise they have got their sums wrong."
The government's figures on sales of new homes show that 42 offers to buy have gone uncompleted since its website opened on April 29.
Agents warn that this is because the cooling measures have changed the arithmetic of calculating maximum loan amounts and therefore the size of the down payment buyers have to make and what their monthly loan repayments will be.
Data from the website shows that since June 29, 10 buyers walked away from offers they put in for flats at The Bayview in To Kwa Wan, forfeiting their deposits. There were also nine non-completed deals at Park Signature in Yuen Long, and eight at The Rise in Tsuen Wan.
"We are seeing more buyers walk away from the deals where the flats are being sold for HK$8 million or above," Wong said.
"We had a client who bought a flat for more than HK$9 million who made the offer because he believed he could get a mortgage of 60 per cent of the value of the flat. He was not aware that the Hong Kong Monetary Authority had introduced a cap of HK$5 million on loans that may be advanced for buying properties priced between HK$7 and HK$10 million. So he had to walk away from the deal."
Wong said many buyers also misunderstand the calculation of the maximum debt-to-income ratio test required by the banks under a guideline stipulated by the HKMA, and the confusion left them unable to raise a big enough loan from their banks.
As an example, Wong cited the hypothetical example of a buyer with a monthly income of HK$100,000 who already owned a flat and who decided to buy a second home.
The hypothetical buyer proceeded on the view that if he were to raise a loan to buy a second home he could afford monthly repayments of HK$20,000, and his repayments on both loans would fall below the 50 per cent maximum rate allowed by the HKMA. However, he did not realise that the ratio had been cut to 40 per cent in the case of loans on the purchase of second homes, and as a result he would have to walk away from his offer because he could not afford it.
David Chan, a director at Ricacorp Properties in the New Territories, said some buyers walked away from deals because they were unable to sell their existing flats within the allowable period of six months.
The uncertain market outlook also led some buyers to cancel deals, said Midland Realty director Sammy Po Siu-ming.
"Some buyers worried that property prices would drop sharply after they saw developers cutting the asking prices of their new projects," he said.
This article appeared in the South China Morning Post print edition as: 'Buyer beware' vital amid cooling moves