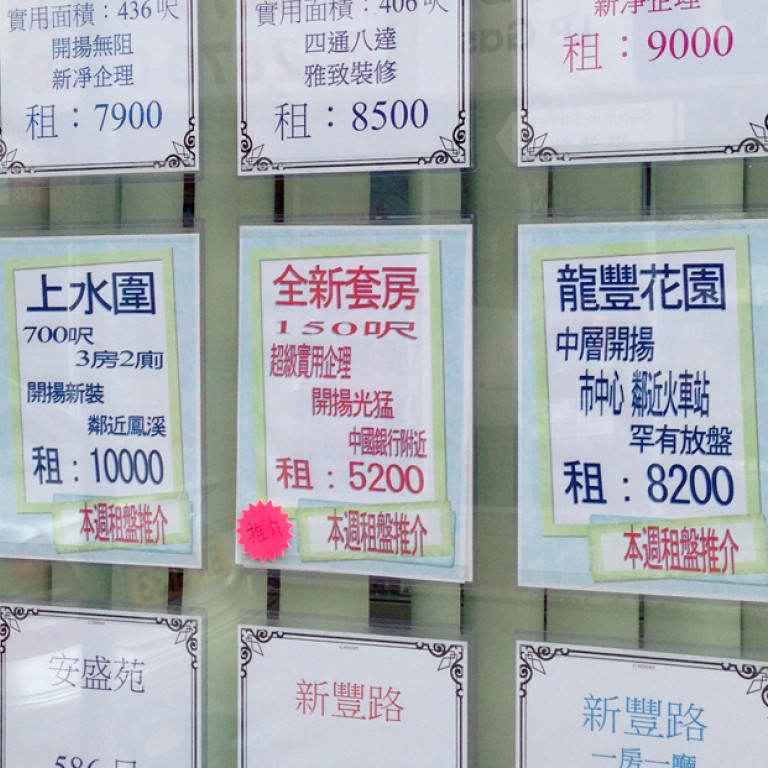 Rents near border on par with Taikoo Shing as mainland parents move in
Cost of renting subdivided flats in Sheung Shui hits level of blue-chip homes in Taikoo Shing
Demand from mainland parents for accommodation close to kindergartens and primary schools near the border has driven rents for subdivided flats in North District to levels on a par with those in blue-chip housing estates in Taikoo Shing.
Midland Realty says an estimated 60,000 children born in Hong Kong to mainland parents will reach kindergarten or primary-school age over the next two years.
Many of the parents of those children are now seeking accommodation close to schools in the northern New Territories. They want to live in the area after education authorities and 60 kindergarten principals in Tai Po and North District said earlier this month that Hong Kong parents who lived in the area would receive preference in admission but that surplus places would be allocated to families living closest to the pre-schools.
While children born in Hong Kong enjoy permanent resident status, their mainland parents do not, and many keep renewing three-month tourist or business visas in order to care for their children in Hong Kong schools.
"Those mainland parents are now seeking to rent accommodation in the border area to ensure they have a better chance of gaining admission for their children to a Hong Kong school," said Sammy Po, a director at Midland Realty.
Sham Wai-tong of Lung Fung Properties said he had witnessed an increase in the number of mainland parents renting flats in the area for older children over the past two to three years. "The trend is becoming more pronounced this year."
He said many parents, mostly from the mainland, had lined up overnight earlier this month to collect application forms for places at kindergartens in Sheung Shui and Fanling, adding that since July nearly 70 per cent of the leases handled by his agency were signed by mainland parents. Many of the flats were subdivided units of just 100 square foot in size in old buildings in Sheung Shui, which is one MTR station from Lo Wu, he said.
Over the past three months, rents in estates close to Fung Kai Kindergarten in Sheung Shui - the most popular school among mainland parents - have increased 10 per cent to HK$4,000 a month, or HK$40 per sq ft; those in Fanling have risen to HK$35 per sq ft.
"The rents are the same as those in some blue-chip housing estates, like in Taikoo Shing. Local residents are unlikely to pay such high rates," said Sham, adding that he expected rents to continue rising.
Jacyln Pun of Many Wells Property Agency said the firm recently found accommodation for a couple from Hunan. The couple rented a 350 sq ft flat in Siu Hong Court, Tuen Mun, for HK$8,000 a month in late August after their child was admitted to a primary school in a nearby area.
"Since they did not have proof of income, the landlord demanded they pay 14 months' rent upfront," she said. "That included a two-month deposit."
This article appeared in the South China Morning Post print edition as: Mainland parents push rents near border higher