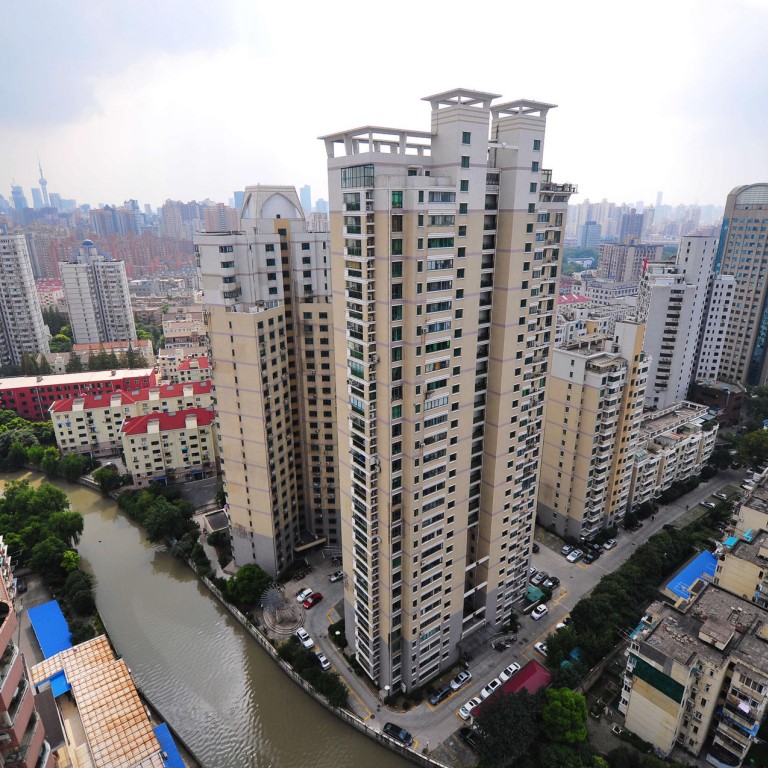 Chinese cities await Beijing cue on housing price curbs
Officials in property hot spots such as Shanghai and Guangzhou will hold off on fresh cooling measures in lead-up to key party meeting
Mainland cities such as Shanghai and Guangzhou are unlikely to initiate fresh measures to curb home prices in the run-up to a key Communist Party meeting this month.
They are expected to wait until the central government maps out long-term guidelines to guide the mainland's frothy real estate market to a soft landing.
The Communist Party Central Committee's meeting, from November 9, will cover tax, land and credit policies for the property market.
During the four-day meeting, the authorities are expected to announce a long-awaited expansion of a property tax scheme to more cities.
Trials have been carried out in Shanghai and Chongqing since 2011, but with low rates ranging from 0.5 per cent to 1.2 per cent of a property's sale price.
Beijing and Shenzhen took new steps last month to contain surging home prices amid expectations of further rises.
"It's not necessary and desirable for other cities to issue new cooling measures," said Eliza Liu, the chief economist of CCB International, citing strained government budgets as the whole economy slows.
Gross domestic product grew 7.8 per cent in the third quarter from a year earlier, picking up from an annual increase of 7.5 per cent in the second quarter. But the figures confirmed the era of double-digit growth of the past three decades has gone.
With the slowing economy and measures taken in the past four years to cool the real estate market, home prices have stopped rising and even fallen in some small cities. Young people are moving out of these small cities to seek a better life in big cities, where prices are still rising.
"Polarisation is now very serious. Home prices in some second-tier cities are also shaky," Liu said. "Not many people are complaining about rising home prices now since many families have got two or three homes. I do not see a point for more tightening measures."
Her view is partially shared by Yang Chenqing, an analyst with China Real Estate Information Corp, a real estate data provider.
Yang said Beijing should, and would, give local governments more say in deciding their own property policies.
For cities that rely heavily on land sale proceeds, a buoyant real estate market has become a lifeline that sustains economic growth as other industries such as manufacturing, shipbuilding and machinery, lose momentum. Income from land sales exceeded 150 billion yuan (HK$190 billion) in Shanghai in the first nine months of the year, about half of the city's total fiscal revenue during the period.
Property investment grew 20.7 per cent in the same period, accounting for 53.5 per cent of its fixed-asset investment.
Under such circumstances, the country's top leaders would accept annual home price rises of about 10 per cent, Liu said, which reflects the gains in most of the 70 cities that the official home price database covers. "The property market is really an industry the government wants to protect the most," she said.
Chen Sheng, the dean of the China Real Estate Data Research Academy, a state think tank, said the Shanghai government held a meeting at which officials decided to step up implementation of existing property measures.
The city government faces strong pressure to introduce more cooling measures after data showed home prices rose 20.4 per cent year on year in September and transactions increased more than 20 per cent in the third quarter.
"Despite the price pressure, Shanghai will not issue new property measures before the [party meeting]," Chen said.
Six or seven cities would be ordered to levy a property tax after the key party meeting under a broadening of the scheme, said Chen, who was briefed about the plan but declined to name the cities involved.
Earlier, mainland media reports listed Hangzhou, Shenzhen, Guangzhou, Qingdao, Nanjing and Xiangtan as candidates. "Let's see how strongly the guidelines will be worded," Chen said.
With the expected broadening of the property tax, many industry figures and home buyers hope officials will phase out the strict home purchase restrictions imposed since 2010.
The market would decide the price of expensive homes, while the government would increase the supply of affordable homes, President Xi Jinping said on Wednesday.
Xi said he would keep a promise made by his predecessor to build 36 million state-subsidised homes for poor families between 2011 and 2015. About 14 million units have been built since the start of 2011.
This article appeared in the South China Morning Post print edition as: Mainland cities await Beijing cue on housing price curbs