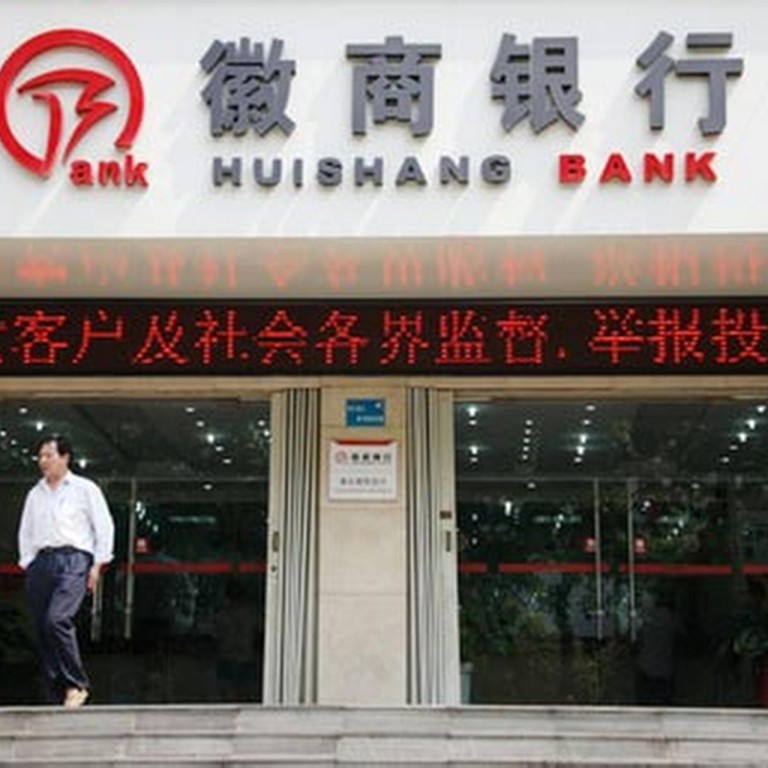 Developers cover bases in move to buy bank stakes
China Vanke deal for Huishang Bank shares highlights funding and diversification benefits
The mainland's big property developers are mobilising their huge cash balances to take strategic stakes in domestic banks.
The moves are seen by analysts as a way to secure control of funding sources both for themselves and individual home-seekers who want to buy their properties, as well as a diversification of their assets to sustain profit growth.
China Vanke, the nation's largest developer by market value, caught the market's attention with an announcement on October 30 that it would acquire 883.99 million shares in the US$1.3 billion initial public offering of Anhui-based Huishang Bank. That eventually translated into a stake of 8.2 per cent in the city commercial lender.
The announcement followed just days after Yue Xiu Group, an investment arm of the Guangzhou city government, said on October 25 that it had agreed to buy 75 per cent of Chong Hing Bank - the smallest of Hong Kong's family-owned lenders - for HK$11.6 billion.
The deal, which is subject to approvals from shareholders of the bank's parent Liu Chong Hing Investment and the Hong Kong Monetary Authority, would give Yue Xiu, which operates real estate, securities and transport infrastructure businesses, access to Chong Hing's 53 branches in Asia's sixth-biggest bank loan market.
In August, Shanghai-based Greenland Group signed a co-operation agreement with the Guizhou provincial government to look into the possibility of establishing a commercial bank in the city.
"Vanke and Yue Xiu are testing potential synergies with banks," said David Hong, the head of research for China Real Estate Information Corp. "The acquisitions provide better control of funding both for the firms themselves and individual home buyers of their properties."
Hong said developers could look into the possibility of launching asset securitisation products with banks they had invested in, which would provide lower-cost funding sources when liquidity was tight, and enable them to finance their customers' home-buying. Overall liquidity in the economy is expected by analysts to tighten further next year.
In the first half of this year, M2, the broadest measure of money supply in the economy, expanded by 14 per cent year on year. That was its slowest pace since the third quarter of 2011 when a liquidity crunch crippled the market, said Alan Jin, a property analyst at Mizuho Securities.
"We do see tightening of liquidity among developers towards the year-end and into the early part of 2014," Jin said.
Heightened policy risks following rapid home price rises amid tightened liquidity and slower sales growth had made him cautious on the outlook, he said. Developers needed to diversify to sustain their high profit margins. "In terms of business scale and profit margins, the banking sector meets their requirements," he said.
This article appeared in the South China Morning Post print edition as: Developers cover bases in move to buy bank stakes