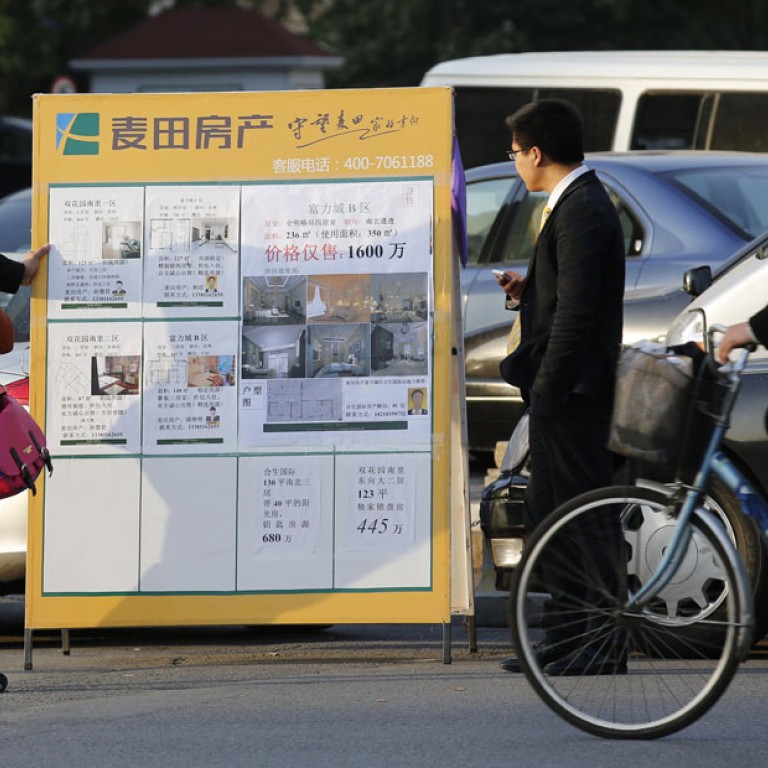 Urbanisation expected to drive down home prices
Real estate experts say a freer land transfer system is required if the mainland is to successfully integrate residents from rural areas
The mainland's urbanisation push will drive down home prices as the government allows freer transfer of vast areas of rural land and steps up efforts to help farmers integrate into city life, property sector experts said.
Exactly how the authorities will redefine urbanisation is anyone's guess, as the mainland's top economic planner is still finalising a proposal for submission to the State Council.
However, earlier comments from top leaders and a communiqué issued after a key Communist Party meeting that ended on Tuesday offer some clues and indicate that it is more about ensuring the quality of people's lives instead of the pace of growth.
"China's home prices will stabilise in the next few years," said Huang Yu, an executive deputy dean of the China Index Academy, a private real estate research institute and data provider.
Reform allowing farmers to eventually sell their land for urban development would increase the supply of land for home construction, and proceeds from land sales would give farmers a chance to buy new homes on the outskirts of cities, even though prices in core urban areas would remain unaffordable to them, Huang said.
The third plenum of the party's Central Committee decided to "establish a unified urban and rural land market for construction" and to "give farmers more property rights". That confirmed previous pledges from the country's top leaders to step up efforts to narrow the gap between urban and rural areas.
Data from the National Bureau of Statistics showed farmers' average annual income was 7,917 yuan (HK$10,074) last year, compared with a per capita urban disposable income of 24,565 yuan.
Just 0.6 per cent of the 263 million migrant workers on the mainland last year had bought homes in cities, down from 0.7 per cent in 2011, as home prices surged to record highs despite repeated tightening campaigns.
Economists said that if Premier Li Keqiang really meant it when he said that "new urbanisation is about people", home prices would have to come down or else the government would need to build more subsidised homes to accommodate poor city dwellers.
Cities such as Beijing and Shenzhen have many "villages within cities", which house millions of poor families, particularly migrant workers. Land there is collectively owned by the whole village and cannot be sold freely at present.
Analysts said that once free trade of such land was allowed – directly to developers instead of through local governments – it would drive down land and home prices.
"Soaring home prices are mainly due to short supply," said Zhang Ping, the head of research at Insite China, a real estate asset management company. "The transfer of collectively owned rural land will solve the problem and thus weigh down home prices to a certain extent."
In the past three decades, urbanisation on the mainland has mainly been about pushing outside the boundaries of cities and pulling down everything hindering expansion, including forced demolition of farmers' homes. That process saw the total urban area grow to 43,603 square kilometres in 2011 from 20,214 sq km in 1996, while the urban population rose to 691 million from 373 million during the same period.
This article appeared in the South China Morning Post print edition as: Urbanisation expected to drive down home prices