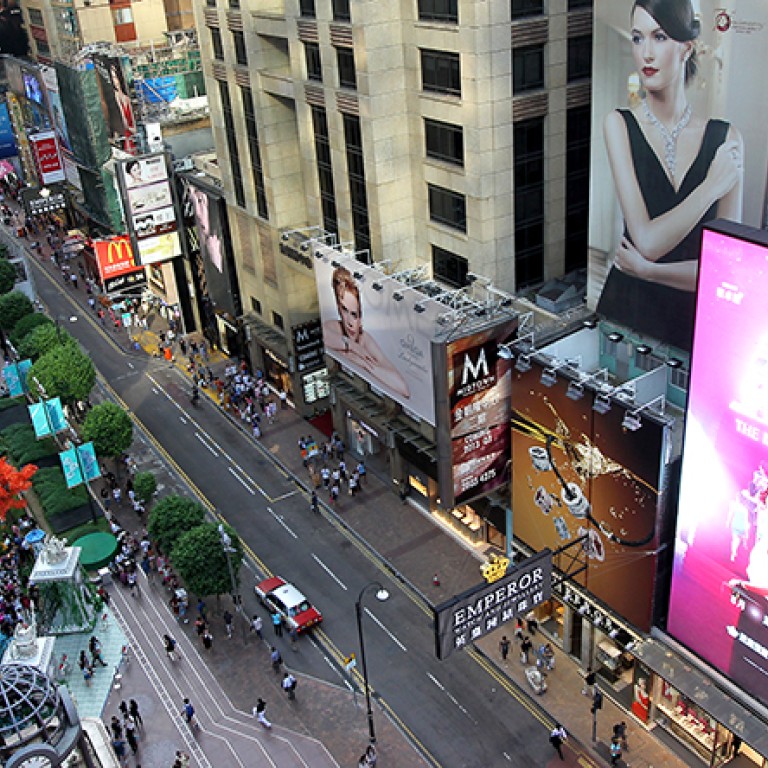 Opinion
Oliver's Twist
by Chris Oliver
Oliver's Twist
by Chris Oliver
Causeway Bay rents continue to outpace New York's Fifth Avenue
For the second year running, Causeway Bay ranks as the world's most expensive retail hub, outpacing New York's Fifth Avenue by a widening margin, according to data released by Cushman & Wakefield.
For the second year running, Causeway Bay ranks as the world's most expensive retail hub, outpacing New York's Fifth Avenue by a widening margin, according to data released by Cushman & Wakefield.
Average prime rents in Causeway Bay jumped 14.7 per cent for the year to just above US$3,000 per square foot on an annual basis. The level is a record for the district, and sees Hong Kong extend its lead over Fifth Avenue, where rents were little changed at US$2,500 per sq ft, according to C&W's survey Main Streets Across the World. Avenue des Champs-Élysées in Paris ranked third at US$1,601 per sq ft.
Holding on to the crown as costliest shopping district for an extended period – as New York did for 11 years before ceding the No 1 spot to Hong Kong – might prove difficult for landlords. It's likely that rents won't grow quite so quickly in the immediate future amid what's seen by some as the twilight of the mainland tourism boom.
Last year, HSBC calculated that 2.7 million visitors from mainland China streamed across the border on average each month from January to September. They accounted for US$1 in every US$4 exchanged at retail locations.
Visitors from the mainland made up nearly three-quarters of total arrivals in Hong Kong last year. This year their impact on the local economy is expected to be even larger with arrivals from China forecast to reach 38.01 million.
But recently, the focus has shifted to revelations of cooling growth.
Capital Economics flagged what they see as the end of the easy growth era. Total Chinese tourist arrivals should continue to edge higher, but nothing like the surge over the last four years when arrivals jumped 144 per cent, they said.
"The rate at which visitor numbers is growing is unlikely to increase much from here," said analysts at leading macro-economic research firm, Capital Economics.
Data for July to September backs the case that the low-hanging fruit is gone, with arrivals from China easing to its weakest pace of growth since the third quarter of 2009.
Meanwhile, slowing retail sales growth, which eased to 4.9 per cent year-on-year in September – down from 15 per cent in the first half of the year– were even flagged by Financial Secretary John Tsang Chun-wah in a weekend blog post as a cause for alarm.
Other changes underway in China could undermine reasons for tourists to shop here. A glut of newly-completed shopping centres in big cities has sparked a price-war among rival malls to attract international fashion brands. Mainland landlords are reportedly offering sweet leasing deals that forego base rent and instead seek a low percentage of the store's turnover as inducements.
So far, the cut-rate leasing deals have been targeted at Zara, Hennes & Mauritz (H&M), Uniqlo and other brands in an effort to attract young people and draw foot traffic into the malls.
More options to shop for international brands at home, will likely mean fewer visitors will make the trek to Hong Kong for shopping.
Add to that, retail prices in China could fall to levels in line with Hong Kong, especially if Beijing proceeds with reforms to boost domestic consumption.
Still, duty-free Hong Kong is likely to remain attractive for mainland shoppers who want to avoid the luxury goods tax that would otherwise be applied in China, while a strong yuan also bolsters further growth. Surging watch sales, which were up 22.4 per cent year-on-year in August, suggests these trends will remain intact.
Avoiding fake goods is another reason to shop in Hong Kong and helps explain the appearance of pharmacies stocked heavily with baby formula that continue to spring up around Causeway Bay.
Property group CBRE remains upbeat on the prospects for prime rents, but concedes main street locations are probably the only sector set for gains. Other areas, such as secondary street rents appear to have "peaked", the property group said.
The Hong Kong government body that oversees tourism is foreasting growth in arrivals from China will ease to 8.8 per cent this year, down from last year's 24.2 per cent surge.
We're likely to soon find out if expectations of the mainland consumer market have been set too high.
Video: Massive crowd rushes into a Hong Kong department Sogo store's 20th anniversary sale