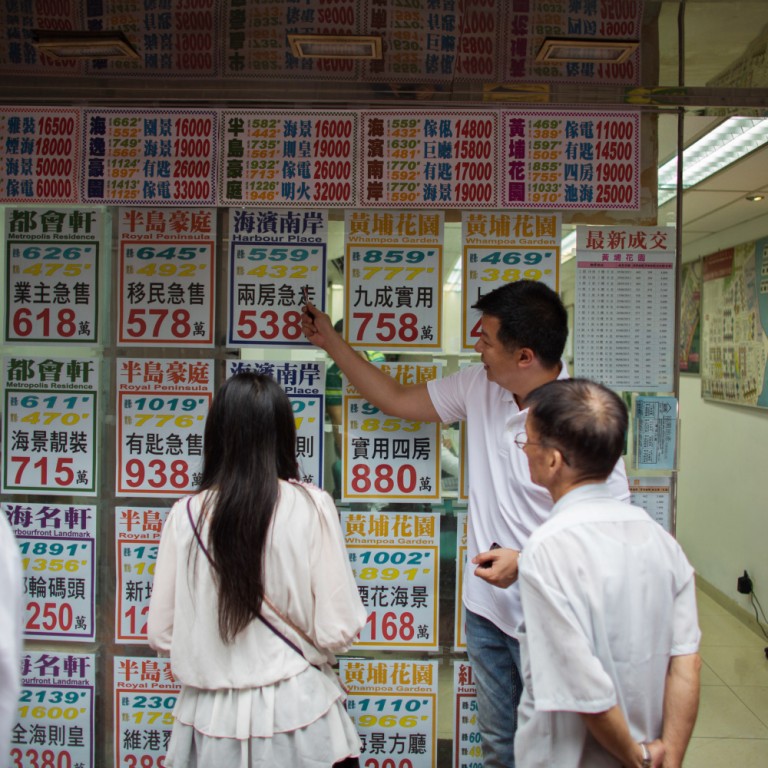 Chinese buyers of new luxury property set to fall in fourth quarter
Aggressive pricing strategies are expected to lure back Hongkongers looking for new luxury homes in the fourth quarter, analysts predict
The proportion of mainland buyers in Hong Kong's new luxury home market will drop to 20 per cent in the fourth quarter as developers' aggressive pricing strategies lure back local investors and buyers wanting to upgrade, property analysts say.
But sales in the secondary market will remain slow, they warn, as individual sellers will not offer incentives to attract buyers.
"More Hong Kong investors have returned to the primary market since developers offered sweeteners and set prices lower than secondary [market] prices in October," said Wong Leung-sing, head of research of Centaline Property Agency.
A Centaline survey found mainland buyers of new luxury homes - those valued at HK$12 million or more - accounted for 29.5 per cent of transactions in the segment in the third quarter.
"The ratio will drop to 20 per cent, with 80 per cent from Hong Kong buyers, in the fourth quarter," Wong said.
Hong Kong buyers were being lured by developers offering prices below secondary market prices in the same area, he said.
Analysts said the strategy had revitalised the primary residential market. For the first 21 days of this month, developers generated HK$8.32 billion in revenue from the sale of new homes, up 63 per cent from HK$5.1 billion for the whole of last month, according to Midland Realty.
"Prices of The Avenue to be sold [today] are also lower than the secondary market," Wong said.
Phase two of The Avenue, in Wan Chai, has 1,096 units. On Thursday and Friday the developers, Sino Land and Hopewell, released two price lists for 330 units at a headline price of HK$23,045 per square foot, Barclays said.
With discounts of up to a 17.5 per cent offered on the headline price, the net selling price was only HK$19,012 per square foot, about 10 per cent below the average secondary market price of HK$21,190 per square foot at the nearby J Residence, the bank said in a report released on Monday.
Nan Fung released the price list for 318 units at its 1,419-unit The Visionary in Tung Chung at HK$9,686 per square foot. With up to a 22 per cent discount offered, the net price is HK$7,672 per square foot, 3 per cent below the average secondary market price at the Caribbean Coast in the same district.
Investor appetite has been crimped by the double stamp duty on residential and non-residential purchases of more than HK$2 million, and buyer's stamp duty - the 15 per cent tax on purchases by non-permanent residents and companies.
The latest strategy was triggered by Sun Hung Kai Properties' release of 118 units at The Cullinan atop Kowloon Station and discounts from Wheelock and New World Development for The Austin above Austin MTR station in October.
This article appeared in the South China Morning Post print edition as: Locals set to muscle in on mainland buyers