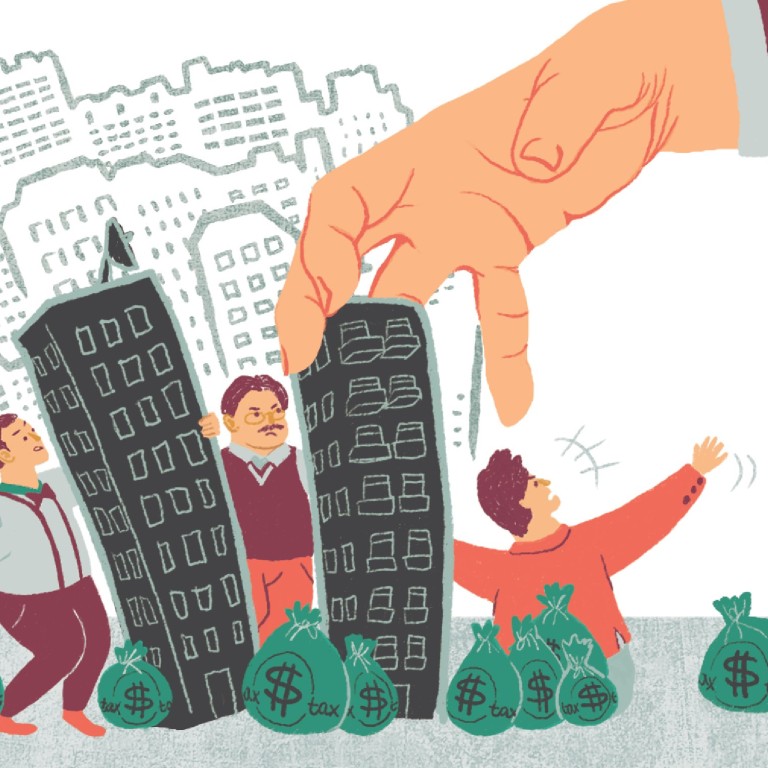 Chinese developers reply to questions over unpaid land appreciation taxes
A TV broadcast alleging trillions in unpaid dues on land appreciation has resulted in an ugly war of words between state media and developers
An escalating public dispute between state media and developers about unpaid land appreciation tax is shedding light on the deep-seated opposition facing mainland leaders as they expand economic reforms.
On the surface, the dispute is about how much tax is unpaid but analysts say it runs deeper. The power of local authorities and money from developers are closely mingled, they say, making the push by central authorities to collect more tax a politically tough and sensitive challenge.
The dispute was sparked when state television quoted an estimate from Beijing lawyer Li Jinsong as saying that developers had unpaid land appreciation tax of 3.8 trillion yuan in the eight years between 2005 and 2012. The programme named dozens of top developers including Agile, Soho China, Guangzhou R&F and China Vanke.
A few hours after that broadcast, Ren Zhiqiang, the outspoken chairman of Huayuan Property, a medium-sized state developer, posted a video on his weibo account and pointed out eight "mistakes" in the programme.
"Can't the state CCTV be professional and rational? Don't always try to fool people!" Ren wrote on his microblogging account.
He later said he was considering a lawsuit against CCTV and also initiated a press conference on Wednesday by the China Real Estate Association about the broadcast. Apart from Ren, reaction from other developers has been more measured. Some decided not to attend the conference at the last minute, but over a dozen have published statements denying any tax evasion.
"The two parties fighting each other in the front are the weakest groups [involved in the dispute]. The biggest beneficiary and the one that has discourse power are hiding behind them," said Rosealea Yao, a senior analyst with GK Dragonomics in Beijing.
It is not known whether the controversial report, contained in two broadcasts on November 17 and 24, was conducted on the directive of top leaders. CCTV's news section often receives guidelines from high-ranking officials and is perceived as representing the state's stance.
The government has pledged for the past decade to step up collection of land appreciation tax, but with little success. "The root problem is that developers and local governments are an interest coalition," Yao said.
Mainland cities are heavily reliant on the property market and at least 30 per cent of their revenues come from land sale proceeds. But soaring home prices and widening wealth gap has fomented social discontent.
Former premier Wen Jiabao had sought to steer the discontent towards developers. He told an online chat before parliament in March 2011 that: "I haven't checked every developer's profits, but you should shoulder certain social responsibility as a member of the society. What flows around your body should also be moral blood."
Developers, particularly Ren, have fought back, criticising the government for having too much control over market activities. On the ground, they find allies in local officials who need their money to build everything from public toilets to railways.
Land appreciation tax is collected by local governments, who have much leeway on deciding the actual tax rate. When a developer gets a pre-sale licence, it needs to pay a certain amount of land appreciation tax based on the asking price of the project. When the project is sold out, the exact amount of the tax will be calculated, deducting the cost of land, construction, marketing and other expenditures from the sales revenues, and multiplying the result by progressive tax rates.
In reality, sales of a property project can span several years - unintentionally or intentionally - so developers often set aside a certain amount each year, which after many years end up amounting to billions of yuan of tax due on financial reports.
"It's simple in theory, but very complicated, troublesome and costly to collect the tax," Liu Shangxi, a deputy research head at the think tank of the Ministry of Finance, told CCTV.
For now, a statement from the State Administration of Taxation has temporarily settled the dust on the issue of unpaid tax by developers. "The method used recently by a relevant person in the calculation of enormous unpaid [land appreciation] tax, which attracted public attention, is not correct. [The person] has some misunderstanding and misinterpretation about tax policy and collection," the tax ministry said.
But the public debate goes on, with questions still unanswered as to whether and how much mainland developers owe in land appreciation tax.
Li, estimator of the 3.8 trillion yuan unpaid tax, said the key was to collect the tax due, regardless of the number.
"The real problem is with the tax bureau itself," he said.
He was joined by an independent economist Ma Guangyuan. "We have many things in China that can withstand however many barks but not the determination to reveal the truth," Ma wrote on his weibo account.
This article appeared in the South China Morning Post print edition as: A taxing situation