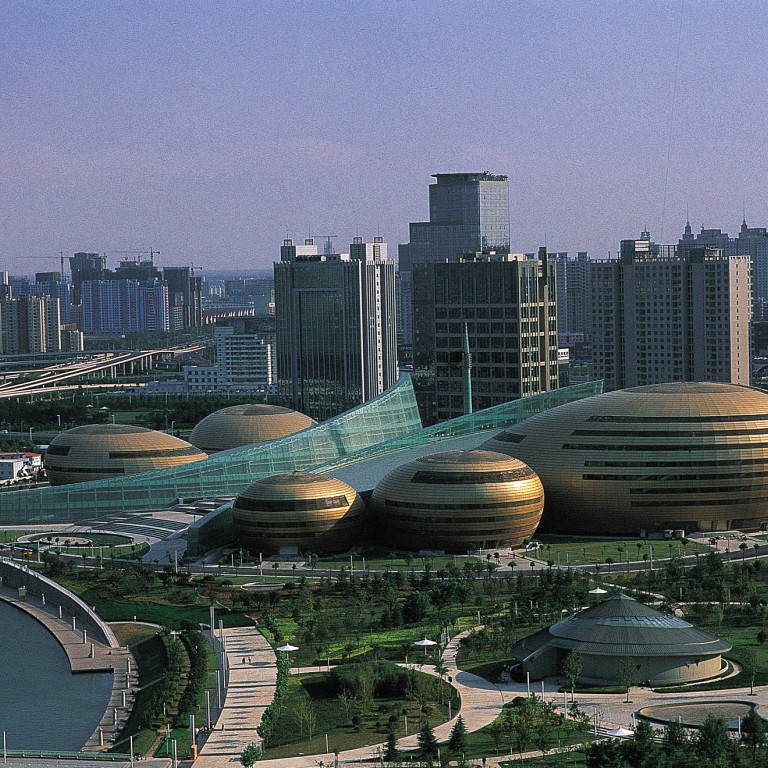 China Merchants Property's ambitious push to join the big leagues
Buying second-tier land, tripling sales and holding a 7 billion yuan private placement among mainland developer's strategies to become a top 10 player
China Merchants Property has set its sights on becoming one of the sector's top 10 players over the next few years, with a strategy that includes buying more land in first-tier and second-tier cities – although prices might pose a big challenge, a senior executive says.
China Merchants Property is the 12th-largest mainland developer in terms of sales and is targeting contracted sales of 100 billion yuan (HK$127 billion) a year by 2018, up from an estimated 40 billion yuan this year.
"[Mainland developers] are swimming in the same pool and will all catch cold if there is a virus, except for one or two strong swimmers," board secretary Liu Ning remarked on the current market. "The company's scale is an indication of its immune response."
"We want to enter the top 10," she said. "It's difficult, as the threshold will be constantly pushed up."
The developer has requested permission from regulators to raise 6.5 billion yuan (HK$8.3 billion) via a private placement, and Liu says they hope to receive a response towards the end of next month.
To fuel expansion, China Merchants last year bought a Hong Kong-listed shell company, Tonic Industries Holdings (renamed China Merchants Land) to serve as its overseas fundraising platform. It issued its first bond in Hong Kong last week, raising US$500 million at a coupon rate of 4.021 per cent.
Buying a Hong Kong-listed shell company and using it to issue bonds has become a vital refinancing channel for mainland developers since 2009, when Beijing virtually closed the capital market for property firms as it sought to rein in house prices.
The developer has accelerated its land purchases in the second half of this year, buying 12 parcels worth a total of 14 billion yuan between July and November – double the amount it spent in the first half.
"We will buy more. We have set our eyes on some lots for more than a year now," Liu said. "But because we are very cautious not to buy any 'king land' [those fetching the year's highest prices outright or per square metre], it's been difficult for us. We have also been asking ourselves whether we have been too conservative."
That strategy has kept China Merchants Property out of the most lucrative markets, Shanghai and Beijing. The company is now looking for opportunities to team up with other state-owned enterprises to develop land they already own in these two cities, Liu said.
"Our focus for future development now lies in second-tier cities," Liu said. This year, it has bought land mainly in Foshan, Suzhou, Hangzhou, Chengdu and Chongqing, among the 26 cities where it has a presence.
It also has eyes on regional hubs such as Zhengzhou for future expansion, but will refrain from entering third- and fourth-tier cities which are now suffering from oversupply.
To combat falling profit margins – a headache for the whole industry – the company has been trying to shorten development cycles, reduce financing costs, conduct research into construction technologies and build strong local teams.
It last raised funds from the domestic stock market in 2008 and is now awaiting a nod from the Ministry of Land and Resources, following the China Securities Regulatory Commission's (CSRC) acceptance of its private placement application late last month. After receiving the cases, the ministry must respond within 30 working days.
The CSRC is overhauling rules for public listings and has accepted about 40 fundraising applications from domestic property firms in the past four months. However, it has yet to announce approval.
"I've heard that the result for the first batch of applications has come out already and the examination is very strict," Liu said. "I don't know when our second batch will be handed over [to the land ministry from the CSRC], probably in the next one or two weeks."
Falling stock prices since the announcement of the proposed private placement have posed a new issue for China Merchants Property, with investors disappointed that its parent company, China Merchants Shekou Industrial Zone, has no plan to inject its land reserves in Qianhai, a Shenzhen test bed for financial reforms where land prices have been soaring.
Liu said that due to the launch of financial reforms in the zone, the parent company might need to pay extra to local governments for land reserves, as the use rights were changed from industrial to commercial.
Because of that, "any asset injection plan involving Qianhai is not clear", she said.
China Merchants Property shares closed at 21.30 yuan in Shenzhen on Monday, compared with an agreed price of 26.92 yuan apiece that the parent company is buying at through the private placement.