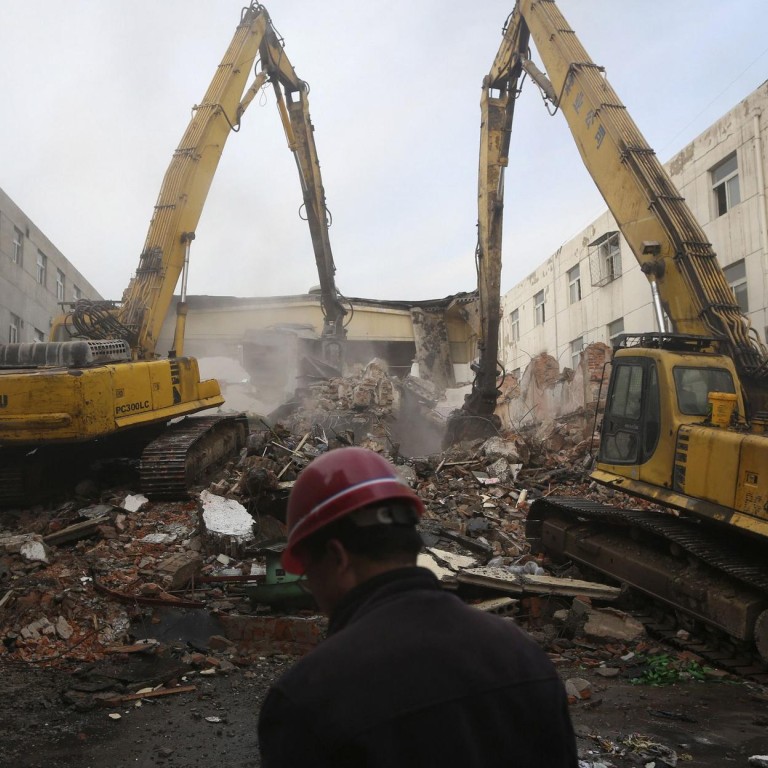 Soaring land prices raise profit fears
Beijing seeks to rein in aggressive bidding by developers after land sale proceeds hit record
Soaring prices have pushed mainland cities' revenues from land sales to record highs this year, a trend industry analysts fear will erode developers' profit margins.
Reports on "king land" - land parcels fetching mega prices - prompted the Ministry of Land and Resources to call in officials from 16 cities including Shanghai, Beijing, Guangzhou, Shenzhen, Suzhou, Nanjing, Hangzhou and Tianjin in September, ordering them to eliminate misleading price signals and ease hopes of more appreciation.
But big listed developers with bulging war chests following massive fundraising abroad and strong property sales at home have bid up land prices, particularly in top-tier cities. To them, sufficient land reserves and a growing market share are more important as their share prices are more sensitive to sales than profits.
"We expect China's land market to continue growing in terms of [gross floor area] purchased, but with fewer cases of 'king land' bidding as the market is now aware that the regulator is on the lookout for this kind of practice," said Edison Bian, a property analyst with CCB International in Hong Kong.
The problem of aggressive bidding came to the fore when Sunac China, a mainland developer in which United States buyout firm Bain Capital holds a stake, bought a prime plot in Beijing in September for more than 70,000 yuan (HK$88,780) per square metre, the highest ever in the country.
Others such as Evergrande and Kaisa have also been aggressively building up their land reserves in top-tier cities, where home prices have been surging and demand has remained strong despite the government's tightening efforts.
Such deals have pushed up land sale proceeds in Beijing to 167 billion yuan by December 5, already exceeding the previous full-year record of 164 billion yuan in 2010 and last year's 65 billion yuan. To put the figure into perspective, the proceeds are 46 per cent of the city's targeted government revenue for this year.
The capital is not alone. According to real estate data provider CRIC, proceeds from land sales in 53 key cities surged 211 per cent in the first 11 months of this year from a year ago to 589.7 billion yuan. At 179 billion yuan, Shanghai raked in the highest revenue.
Apart from a 36 per cent year-on-year increase in floor space sold, the record revenues were also driven by soaring prices. The average cost of floor space per square metre in Shanghai surged 88 per cent in the 11 months from a year ago to 23,303 yuan, the highest across the country, according to CRIC.
Vice-Minister of Land and Resources Hu Cunzhi told officials at the September meeting that they needed to include stable land prices as a target of the local property tightening campaign and warned them to desist from pursuing excessive profits from land sales.
"Land cost has been rising," said Franco Leung, a property analyst at global ratings agency Moody's Investors Service. "For some developers, land cost has been rising as a percentage of the total contracted sales [with developers willing to pay more as contracted sales increase]."
Typically, land cost is between a fifth and a third of the price of homes built on it. In some extreme cases, it could rise to half.
"Falling gross profit margin has become an industry trend," Liu Ning, board secretary of China Merchants Property Development, told the . "In future, we need to care more about how to maintain gross profit margin."
Take Logan Property, the mid-sized developer whose shares will start trading in Hong Kong on December 20 in a HK$1.6 billion initial public offering. It paid 1,800 yuan per square metre on average for the land parcels it bought in the first half of this year, almost double the price it paid last year. Its gross profit margin fell to 31 per cent in the first six months from 39 per cent last year, although the company said projects sold in the second half would push up margin for the full year.
As home prices on the mainland are vulnerable to government policies, developers will need to cut the cost of funding, speed up construction, enhance branding and optimise product mixes and geographic distribution. That explains their strong demand for funds in Hong Kong, which is easier and cheaper to obtain than on the mainland.
Mainland developers raised a total of US$24.5 billion offshore through bonds and loans from January to November 20 this year, according to data from Moody's.
This article appeared in the South China Morning Post print edition as: Soaring land prices raise profit fears