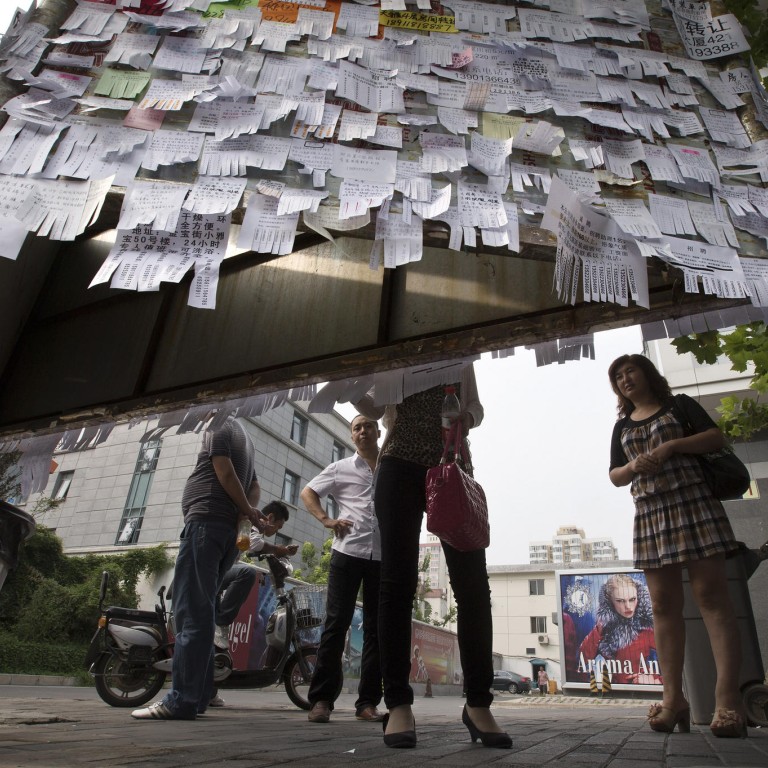 Beijing's 'rat race' migrants, unable to afford high rents, live underground
Thousandsare fleeing the increasing cost of renting accommodation in major cities by making their homes in squalid, windowless basements
Zig-zagging left and right through a maze of dark, narrow corridors in the basement of a high-rise apartment block, 35-year-old kitchen worker Hu has joined the many thousands fleeing fastrising property prices by heading underground.
Hu and his wife live beneath an affluent downtown apartment building, in a windowless 4 square metre space he rents for 400 yuan (HK$508) a month. The bathroom is a fetid, shared toilet down the corridor.
"I can't afford to rent a house," said Hu as he showed off his meagre basement room.
Hu, who guts fish for 2,500 yuan a month at a hotpot restaurant on the street above, added: "If I weren't trying to save money, I wouldn't live here."
Locals have dubbed Hu and his fellow subterranean denizens the "rat race" - casualties and simultaneously emblems of a housing market beyond the government's control. Despite efforts to discourage property speculation and develop affordable housing, a steady stream of job-seekers from the countryside and a lack of attractive investment alternatives have kept prices soaring.
Residential property prices rose 10 per cent in November from the same month of 2012, according to data released last week, and have been setting new records every year since 2009.
Prices in Beijing are rising even faster - 16 per cent a year - with rents climbing 12 per cent a year. The rising costs of accommodation are pushing more and more newly-arrived urbanites underground.
Of the estimated 7.7 million migrants living in Beijing, nearly a fifth live either at their workplace or underground, according to Xinhua. Beijing's housing authority refuted this statistic, saying that a government survey last year found only about 280,000 migrants lived in basements and only a small percentage of Beijing's basements were being used as dwellings.
Last month, the authorities sealed Beijing's manhole covers after local media discovered a group of people living in the sewers below, with one, a 52-year-old car washer, reported by the local media to have been living there for at least a decade.
The sewer dwellers were relocated and those not from Beijing sent home. "Some people can buy several homes. Some people can't even buy one," said Mao Yushi, honorary president at the Unirule Institute of Economics, an independent think tank in Beijing. "There will be an impact on society."
But with the promise of employment and education beckoning in big cities like Beijing and Shanghai, the problem appears likely to only get worse.
Beijing saw another 316,000 migrants arrive in 2012, lifting its population to 19.6 million.
That has made housing in Beijing more expensive relative to average incomes than in many developed countries.
The median price for residential property in Beijing is over US$4,500 per square metre, according to property developer Soufun, with rents running at US$9.50 per square metre in a nation where the average annual income is just over US$6,000.
Not surprisingly, public opinion polls routinely rank rising home prices as one of the biggest sources of anxiety among Chinese adults.
A 2012 survey by the Hong Kong media website Phoenix found that couples in Beijing, Shanghai, Guangzhou, and Shenzhen spend on average 42 per cent of their combined monthly income on mortgages.
This article appeared in the South China Morning Post print edition as: Migrant 'rat race' scurries underground