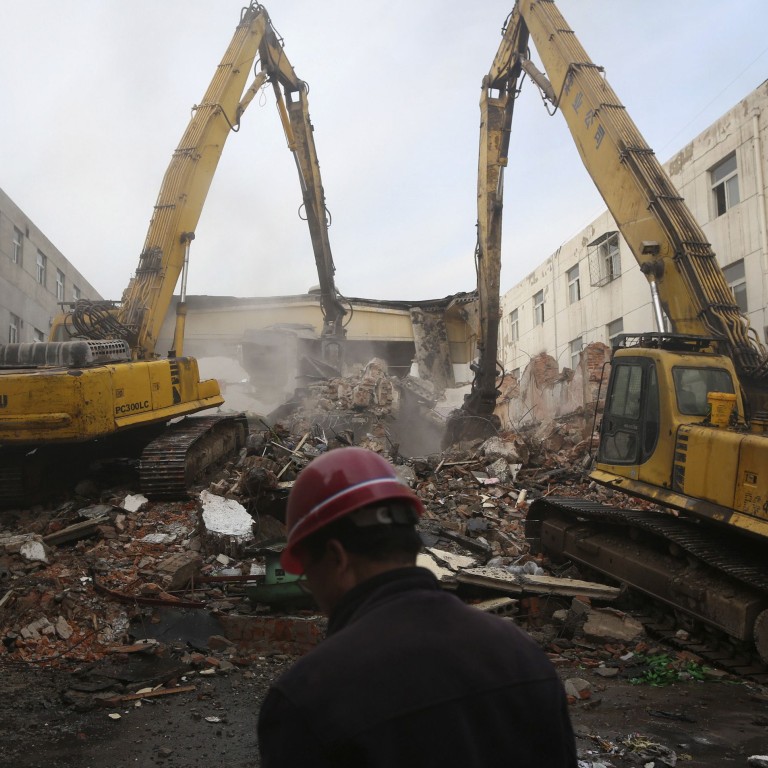 Record land sales revenues leave local governments worried about further property curbs
Record revenues from land sales last year were a mixed blessing for heavily indebted local governments on the mainland.
They worry the central government will be provoked to launch a fresh round of curbs to prevent overheating of the property market.
Their worries may not be without basis, as land prices soared 35 per cent and home prices in major cities surged more than 20 per cent last year.
Prices remain firm and show hardly any signs of falling despite a series of tough measures to cool the real estate market.
By Thursday, the Beijing municipal government had sold seven residential sites in the first two land auctions this year for a total of 13.9 billion yuan (HK$17.6 billion), more than 40 per cent higher than the combined floor prices.
"No other source of income will grow as fast as land sales," said Frank Chen, head of research at CBRE China.
He said the mainland's first-tier cities recorded a 50 per cent year-on-year rise in land sales revenue last year.
Chen's comment came a week after the China Index Academy, the country's biggest private provider of real-estate research and data, estimated land sales revenue last year in the 300 cities it monitors reached a record level of well above 3 trillion yuan.
There were 34 "land kings" – development sites that went for record prices – last year, more than double the 16 in 2012, according to data from research firm China Real Estate Information Corp. Average land prices jumped 35 per cent year on year to 3,396 yuan per square metre, CRIC said.
Market observers estimate that land sales account for more than 50 per cent of local governments' income.
Chen said local governments desperate to reduce their debt would increasingly rely on land sales revenue. The revenue would also be used to fund the building of roads and bridges to support the boom in property development.
The National Audit Office reported last month that local government debt on the mainland had swollen to 17.9 trillion yuan by the middle of last year, 70 per cent higher than in 2010.
"High housing prices are definitely not something that the government would like to see," said Andy Chang, associate director at credit rating agency Fitch Ratings.
"We believe that the mainland government will try to curb land prices by adopting more market-oriented 'long-term mechanisms', such as enhancements in the tax system, reform of agricultural land, reallocation of revenues and expenses of the local and central governments and other related measures."
Chang said, however, that these long-term mechanisms would take a long time to become effective. In the near term, he said, home purchase restrictions remain the simplest and most direct way of curbing spiralling prices.
A survey by Centaline's mainland property agency showed Shanghai fetched record land sales revenues of 218 billion yuan last year, the highest among the first-tier cities – and its home prices also registered the fastest annual growth: 21.9 per cent.
"Logically, higher land costs would imply higher average selling prices," said Johnson Hu, a property analyst at CIMB.
However, he said, average selling prices also depend on demand and supply.
"If demand changes, like in 2008 or 2011, or supply is very abundant, developers could sell at a thin margin or a loss. This is a key concern of investors," Hu said.
"That's why the land market is heating up but [developers'] stocks are coming down, particularly after aggressive land acquisitions by the developers."
Hu said that while the central government is more concerned about increases in home prices than land prices, since higher land prices lead to stronger government revenue, an "overheating land market is not a good sign for the property market".
Chen said land prices in first-tier cities had been driven to new highs because developers had shifted their land acquisition binge from smaller cities to the major cities, where there was an undersupply of flats.
"In Beijing, we see an additional 500,000 to 600,000 people move into the capital, and it creates a demand of 120,000 units," Chen said. "Home prices are unlikely to have a big drop, because of the strong demand for housing. But price growth will slow a bit this year."
In addition, he said excess liquidity would continue to flow into the property market because of the limited alternatives for investment available on the mainland.
Chen said local governments were, however, facing increasing pressure to rein in home prices. He noted that Beijing had frozen applications for presale permits for projects in which units were priced above 40,000 yuan per square metre.
"Capping the price growth for luxury units will help to drag down average selling prices in the city," he said.