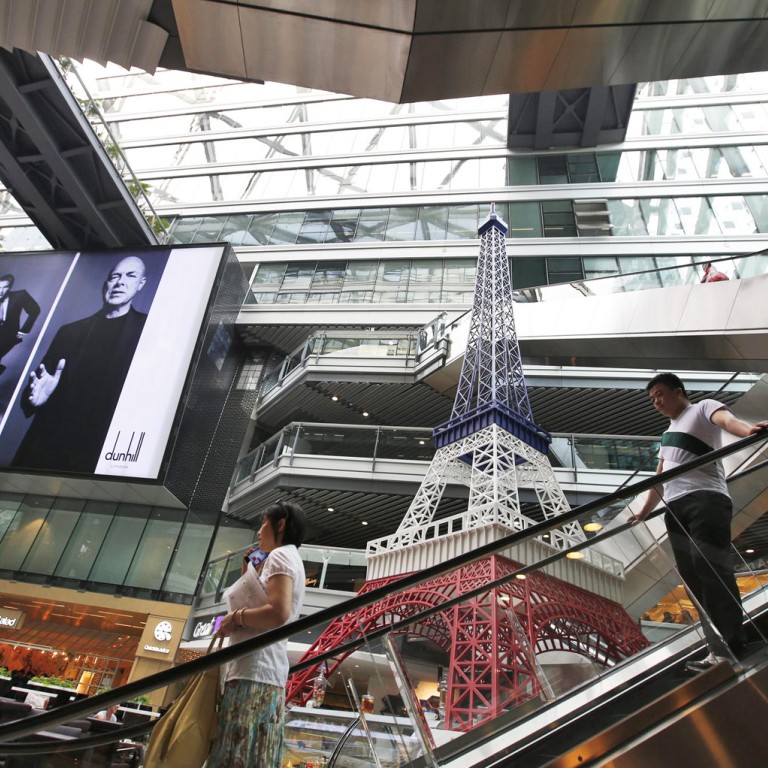 Rise of online shopping forces mainland malls into rethink
Mainland operators providing more entertainment and food and beverage outlets to boost customer traffic as internet market booms
The rise of online shopping on the mainland is forcing malls to restructure their retail mix to provide more entertainment and food and beverage outlets in order to boost customer traffic.
The winners in the mainland battle for customers will be the best-located shopping centres in prime districts, while super-sized malls in remoter areas will battle to maintain rentals, according to property analysts.
Old-format department stores were once courted by mall operators on the mainland as anchor tenants that could lure shoppers.
Then, as shoppers turned to the internet for merchandise offered by such stores, shopping centres looked to fast-fashion stores to play an anchor role, property consultancy Knight Frank notes.
China is set to overtake the United States as having the world's largest online retail sales market by total value. Online retail sales are expected to have accounted for 7.4 per cent of China's total retail sales last year, up from 6.3 per cent in 2012.
In a public forum earlier this month, Fosun International chief executive Liang Xinjun warned of a looming oversupply of mega malls. He said that as Beijing rolled out measures to cool the housing market, local governments had sought alternative revenue sources and encouraged developers to build mega malls.
Now operators faced a challenge to compete in an over-supplied market.
Last year, 68 new shopping centres opened in the tier-one cities of Beijing, Shanghai, Guangzhou, and Shenzhen, as well as tier-two cities such as Tianjin, Shenyang and Wuhan. This compared with 52 in 2012, according to Knight Frank.
"Developers lacking experience, particularly those with oversized centres in peripheral, poorly located areas, will now find it increasingly difficult to maintain high occupancy levels and customer traffic," said Paul Hart, an executive director at Knight Frank. As a result, rents would drop.
He said that in the new retail environment, entertainment had become more important, resulting in a rapid rise in the number of cinemas. In response to the e-commerce challenge, the area allocated to food and beverage outlets, which until recently had accounted for 20 to 25 per cent of the retail space, was set to increase to between 30 and 40 per cent to retain customers.
"You cannot eat online," Hart said.
In a report on the industry, Knight Frank noted that nine of the 14 luxury fashion and accessories retailers they analysed had missed their expansion targets.
Gucci had targeted opening 10 more stores last year but failed to open one. Prada opened four shops, against its planned seven, and Longchamp, which announced it would open nine new outlets, also did not open one.
Hart said the slowing of expansion plans by the big fashion labels was partly because of Beijing's crackdown on corruption and conspicuous spending.
Also, as the population travelled more, retailers would begin targeting gateway cities outside China rather than opening shops on the mainland, he said.
This article appeared in the South China Morning Post print edition as: Online shopping surge forces mall shake-up